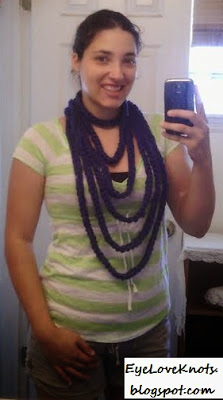 This Finger Knit Scarf is also part of my Finger Knitting kick I mentioned in my Finger Knit Chain Scarf Using Bargello Yarn post.

I had a ball of the Hometown USA Yarn in Fort Worth Blue sitting around from the 4th of July. I was working on some Mini Blankets for my sister-in-laws photography stuff – Briana Lugo Photography – and had an idea in mind to make an American Flag blanket. I did start it, but I didn't like how the blanket was working up. The yarn is VERY thick. It worked great for this Finger Knit Scarf though!

This scarf works great for late Fall, Winter or early Spring. This yarn is different than the Bargello and Sashay yarns I've made the Finger Knit Scarves with. This particular yarn is much warmer. While the other two could pass as Spring and Summer scarves, this one I would only recommend for cold weather.
Check out my post – Finger Knit Chain Scarf Using Bargello Yarn
Check out my post – Finger Knit Scarves with Sashay Boutique Yarn
Now, on with this pattern!
Materials:
-P15/11.50mm Hook (does this make me a cheater? Hehe.)
*You can absolutely use your fingers for this! Find a video tutorial by Mikey of the Crochet Crowd HERE.
-1 (or 2) balls of Hometown USA yarn – I used the color Fort Worth Blue
*1 Ball will suffice, but 2 will make it easier

Time Spent:
I was able to go through and complete this in about 15-20 minutes.

Measurements:
100″ long in circumference

Notes About Pattern: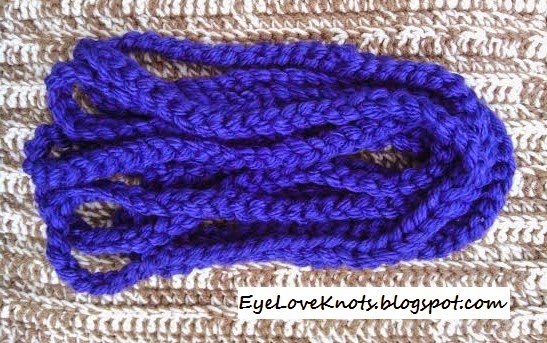 I used a large hook for this scarf to make the chains more consistent.

I used one ball of yarn and just used 1 strand from each side of the ball equaling 2 strands to work with. To make this easier on yourself, you can just use 2 balls.
*Side note, if you choose to use 1 ball like I did, it may be helpful to rewind your ball. Otherwise, be prepared to deal with yarn tangling.

Pattern:
Make a long, continuous chain of 480 (or desired length).
After finishing your last chain, pull the yarn tail through that chain. To make it a continuous chain, take the beginning and end tails and tie them in a knot. I like to triple knot it just to be sure. Then you can cut off the remaining yarn.
*When you wrap this around, you will not even notice the knot as it will be covered BUT you could crochet a small wrap piece to put around it.

Please feel free to make and sell this scarf, but please DO NOT claim this pattern as your own nor should you sell my pattern, and DO NOT re-publish my photos as your own. DO NOT copy and paste my pattern anywhere, rather you should link to it. Thanks!

With so many size, yarn type and color options, I would love to see them! Join the EyeLoveKnots Crafting Community to share your creations, and see what other's are up to!

Check out the EyeLoveKnots Ravelry page to keep track of all your EyeLoveKnots favorites in your que, and share your WIPS and finished projects!

Don't miss out on new crochet patterns, reviews, jewelry tutorials and more! Subscribe to EyeLoveKnots by using the box on the right side toolbar, or follow me via Bloglovin! You can also find me sharing on the EyeLoveKnots Facebook page, and @EyeLoveKnots on Twitter!
Linked Up To:
The Creative Collection Link Party – The Cards We Drew
Hookin' On Hump Day #75 – Moogly Blog
6 Pallet Projects & Inspiration Monday Party – Scattered Thoughts of a Crafty Mom
Summer Creativity_Im Lovin It #217 – Tidy Mom
Show & Tell Saturday – Be Different Act Normal
Nifty Thrifty Sunday #165 – Nifty Thrifty Things
Think Pink Sunday #174 – Flamingo Toes
Craft Schooling Sunday – Creative Jewish Mom
Sharing Time Week 2 – Raising Memories
Serenity You #142 – Serenity You
Craft Showcase Link Party – Bowdabra Blog
Finding Peace Share Your Creativity Party #121 – Its Overflowing