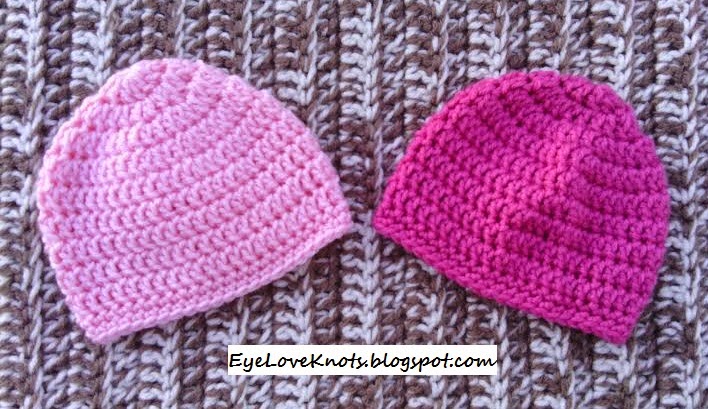 In a few other posts I have mentioned that a co-worker of mine is having a little girl soon. I have taken it upon myself to make up some cute little girl items for her to enjoy on her new little princess.


This morning I worked up three hats with one ball of yarn (and still have plenty of yarn left!). This is one of three (for now) hat patterns I will be sharing!


Materials:
– Worsted Weight Yarn – I used Deborah Norville's Everyday Soft in Baby Pink
**This yarn is one of my favorites to work with. It is very soft, has some stretch to it but still holds it's form and is 100% acrylic. All of these qualities are great for baby items as per guidelines I have received from the Winnie Palmer Hospital for Women and Babies. PLUS! It's an anti-pilling yarn which means it will hold up better from wear and being washed!
– H8/5mm Hook
– Tapestry Needle for Weaving in Ends


*You could easily change your hat color to blue for a little boy, or a beige/green if you aren't sure of the gender. The hospital does not suggest putting yellow on a newborn as it could make the baby to falsely appear jaundice.
Time Spent:
I was able to finish this hat in half an hour.
Measurements:
Newborn Size. Crown is 4.25″ in diameter to equal a hat size of almost 13.5″, and it measures 4.75″ in length.
Abbreviations:
CH – Chain
ss – Slip Stitch
ST – Stitch
DC – Double Crochet
ea – each
SC – Single Crochet
Pattern:
CH 5. Join to form a ring. CH 2. 11 DC into the ring. Join to the first DC.
Round 2: CH 2. 2 DC in ea ST around. Join. (22 DC)
Round 3: CH 2. 2 DC in first DC, DC in next DC, (2 DC in next DC, DC in next DC) around. Join. (33 DC)
Round 4: CH 2. 2 DC in first DC, DC in next two DC, (2 DC in next DC, DC in next two DC) around. Join. (44 DC)
Round 5 – 9: CH 2. DC in ea DC around. Join.
Round 10: CH 1. SC in ea DC around. Join.
Round 11: CH 1. SC in ea SC around. Join.
Fasten Off and Weave in Ends.
*Note: It is best to weave your work in and out in a zig zag kind of motion for baby hats, as recommended by the hospital.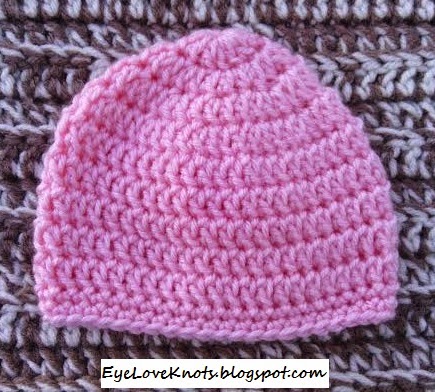 Please feel free to make and sell these basic baby beanies, but please DO NOT claim this pattern as your own nor should you sell my pattern, and DO NOT re-publish my photos as your own. DO NOT copy and paste my pattern anywhere, link to it instead.
Don't Crochet but Interested in Purchasing One?
I have some hats available in my

Etsy

shop. Feel free to send in your custom color or size requests. Some yarn options include: Deborah Norville's

Everyday Soft

, Red Heart

With Love

,
Hobby Lobby's
I Love This Yarn
.
Linked Up To…
Yarntasic Party #8

– The Philosopher's Wife