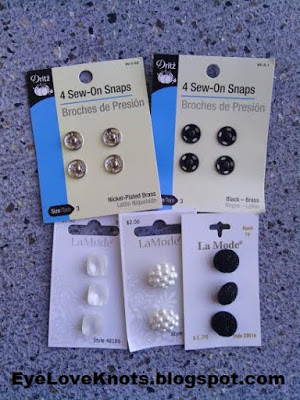 On

WIPS Wednesday

this week, I left you with an image of some granny squares and the message, "What will I make with these granny squares…"
Today, I wanted to share that project with you, but I need to snap another photo or two of one of the pieces and I couldn't today because by the time I got back home, it was storming and I couldn't get any good pictures hence the title, Called on Account of Rain.
I leave you with this image of snap buttons and decorative shank buttons and again the same message, "What am I making that incorporates these buttons?" Tune back in on Sunday to find out! Buttons found at my local

JoAnn

's store.
P.S. To those of you who have been keeping me in your thoughts and sending positive energy for finding a job – I went to a job interview today and was offered a position! More of it later. Thank You!