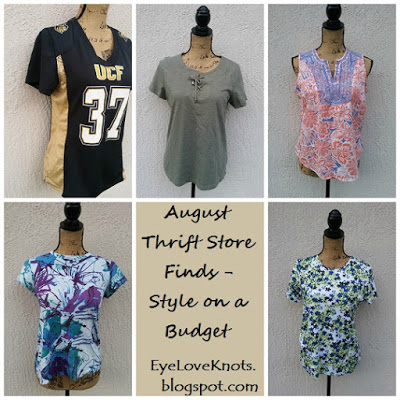 I don't know about you, but I love shopping at my local vintage and thrift shops, especially when I find great deals! I went shopping last week, and came across these tops. I checked the sleeves, necklines, bottom hemlines, armpits and for any staining throughout, and these passed the test. Five fun tops, and the damage was only $10! Score!

Top Left: Black and Gold #37 UCF Tee – Go Knights!
Growing up in Central Florida, the Knights have always been in everything I've heard throughout my time in school. I have attended lots of music concerts and performances, and a few math competitions (yes, I was a math-nerd) at UCF, and have several friends whom have gone to and graduated from here as well. This will be a great tee to sport this fall for the upcoming football season, and as for the #37? Well, I guess I will have to come up with a story for it. Hehe.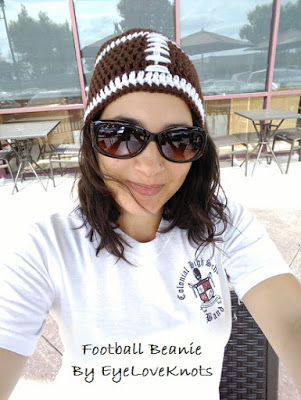 By the way, have you seen my Crocheted Football Beanie? I worked it up to wear to a friend's Super Bowl Party two years ago, and have found it quite handy for football season, and even wore it to my niece's flag football game when she was in high school. You can click the link above if you are interested in purchasing one.

Top Medium: Olive Green Lace Up Blouse from Chico's – BRAND NEW! What?!
This blouse is a great transition top from Summer into Fall with the Olive color. It's made of 100% cotton making it nice and lightweight – important for hot Florida weather – and it's so soft! This top is brand new with tags still attached. Retail is $36.95 – WOW! I really love the Y-Neckline here which features a small lace up design highlighted with silver colors tie ends and eyelets. One thing I found to be quite odd was that the top is noted as a size "0", but wears like a Medium size. I almost didn't pick it up because I saw "0".
I found a similar blouse on Amazon (shown above). This Short Sleeve Plunge Lace-Up French Terry Top from Shopglamla is available in sizes Small, Medium and Large, and in 7 colors. I will admit that the plunge is a little much, but with a cami underneath, it looks really comfy and lightweight.


Top Right: Orange Floral and Blue Embroidered Sleeveless Top from Talbot's
The moment I saw this top, I knew it'd be a great Summer top! This sleeveless top features bright orange flowers and calm blue embroidery at the shoulders and down the neckline, as well as bits of blue throughout in the floral pattern. Bottom hem is rounded, which makes it think it would be really cute with a pair of lightweight leggings – like these Ultra Soft High Waisted Jersey Leggings from Joni Fashion? – and some cute small heels, or a pair of white capris and some cute sandals.

Bottom Left: Purple and Blue Abstract Tee from Simply Vera
A few things grabbed my attention about this top: 1.) Vera Wang!; 2.) The beautiful purple, blue and green abstract splatter pattern; 3.) The long hemline along the bottom of the top – it's about two inches or so. This top is made of 100% cotton making it nice and lightweight, and a great top to pair with some jeans for a casual, laidback day.

Bottom Right: Blue and Green Floral Tee from Charter Club
I just LOVE the floral pattern on this blouse! This top has a white background with blue, green and purple flowers throughout. This top is comprised of 100% Pima Cotton – so soft, and cool to wear! I am picturing this top being worn with a pair of white capris or shorts.
Though not a tee, I found this really pretty and fun Fit and Flare Summer Tank Dress from Zeagoo that features a small floral print and is olive green, but there are 6 other pattern designs available, and this dress is available in Small through Extra Large.


Have you found any great thrift store finds lately? Or maybe you have some tips on thrift store shopping. Drop me a line below!


Join the EyeLoveKnots Crafting Community to share your creations and thrift store finds, and see what other's are up to!

Don't miss out on new crochet patterns, reviews, jewelry tutorials and more! Subscribe to EyeLoveKnots by using the box on the right side toolbar, or follow me via Bloglovin! You can also find me sharing on the EyeLoveKnots Facebook page, and @EyeLoveKnots on Twitter!

Adsense: