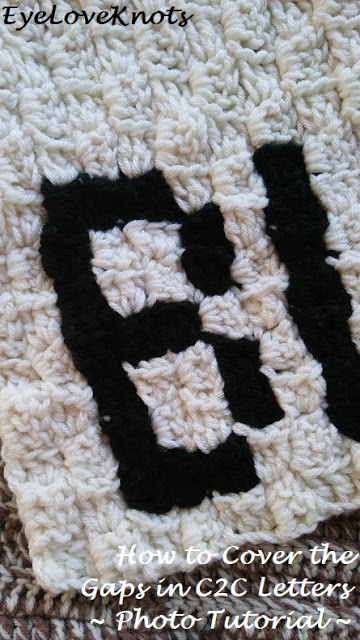 I have been working on a corner to corner blanket that I will be sharing here on the EyeLoveKnots blog soon. Before I do, I wanted to touch on the gaps that can be found at some connection points on a letter. In the "B" that you see above, there are two connection points that have met, and two that have gaps. The gaps are from the direction of crocheting, nothing you did wrong. Make sure when you cut your ends in these areas that you leave yourself a little extra so you can close up the gap before weaving them in.

For this tutorial, the sample has been worked with two strands of Hobby Lobby's I Love This Yarn held together, and an M13/9mm crochet hook. This technique is the same no matter the yarn weight or hook size. 

To close the gap, you'll need a tapestry needle. I am using a #18. 


*If you would like a printer friendly PDF version of this post, you may get one through my 

EyeLoveKnots Craftsy Shop

 (not available through Etsy) for a small fee. This fee is to compensate for the view/s lost once you no longer need to return to the blog for the information, as you will have your own copy. Plus! It helps fund supplies for new projects to share with you!

Adsense:





Tutorial: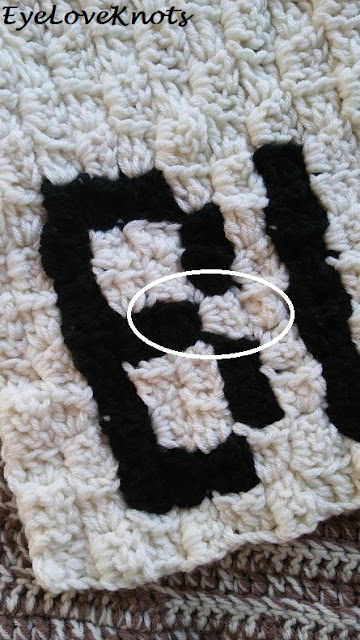 First off, what connection points am I talking about? See the area in the white oval? There are two connection points shown here – one that does meet, and the other that has an Ivory gap.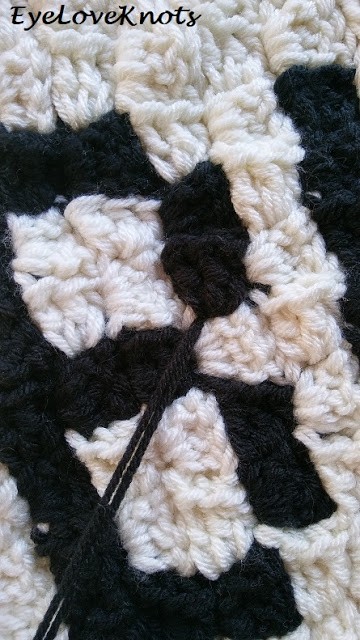 We want to work in a diagonal direction to cover this gap, and make it match the other connection point/s. Thread your tapestry needle.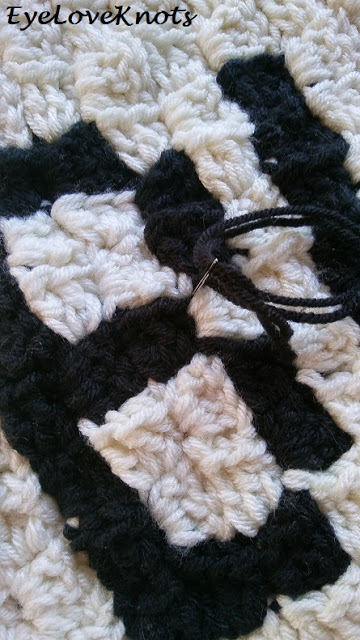 Coming from across the top (right side) of the piece, insert needle down – here I am catching part of a stitch worked in the black colorway to give the stitch some security and stability.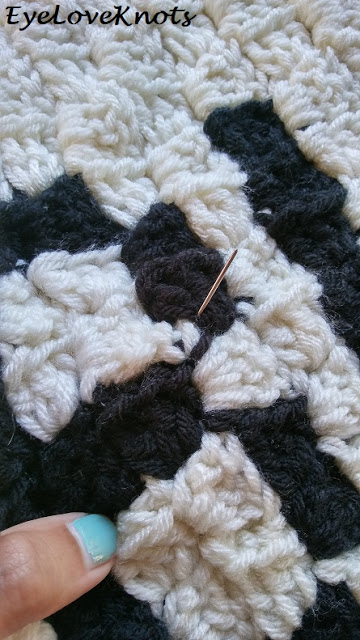 Bring the needle up from the wrong side catching some of the black cluster above to give more stability, and avoid the Ivory from showing through. Then, repeat until the connection point looks like the others.

Afterwards, weave in your end as normal. In this case, I weaved one strand in at a time.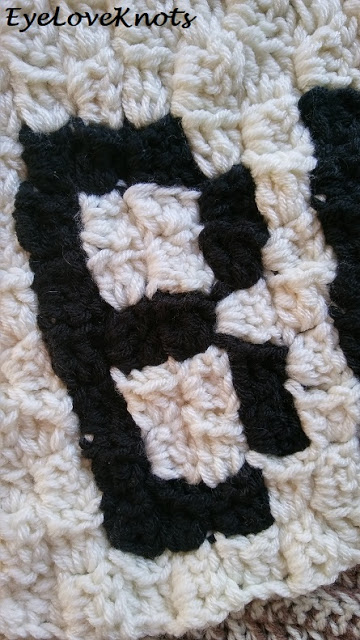 Repeat in the same manner to close up all gaps. 

Let's say you don't have an end to weave in near the gap. What to do? Cut a piece of yarn (or in this case, two strands to be equal to what you crocheted with), and thread your tapestry needle. From the wrong side, weave in the tail end of your thread about three times to secure, then close the gap up, and weave in as normal.

And there you go – so easy!

Stay tuned for a new corner to corner blanket pattern coming this Saturday!

DO NOT claim this as your own nor should you sell my tutorial. My words, and photos are my own intellectual property. DO NOT copy and paste them anywhere, link to this tutorial instead. Thanks!

Join the EyeLoveKnots Crafting Community to share your creations, and see what other's are up to! 

Check out the EyeLoveKnots Ravelry page to keep track of all your EyeLoveKnots favorites in your que, and share your WIPS and finished projects!

Don't miss out on new crochet patterns, reviews, jewelry tutorials and more! Subscribe to EyeLoveKnots by using the box on the right side toolbar, or follow me via Bloglovin! You can also find me sharing on the EyeLoveKnots Facebook page, and @EyeLoveKnots on Twitter!


Don't Crochet but Interested in a Crocheted Goodie?
     Visit the 

EyeLoveKnots Etsy Shop

 to see what I have available! Use the search box to type in what you have in mind, or feel free to send me a message with your custom request. I am happy to make in any custom size and/or color. 
Linked Up To…