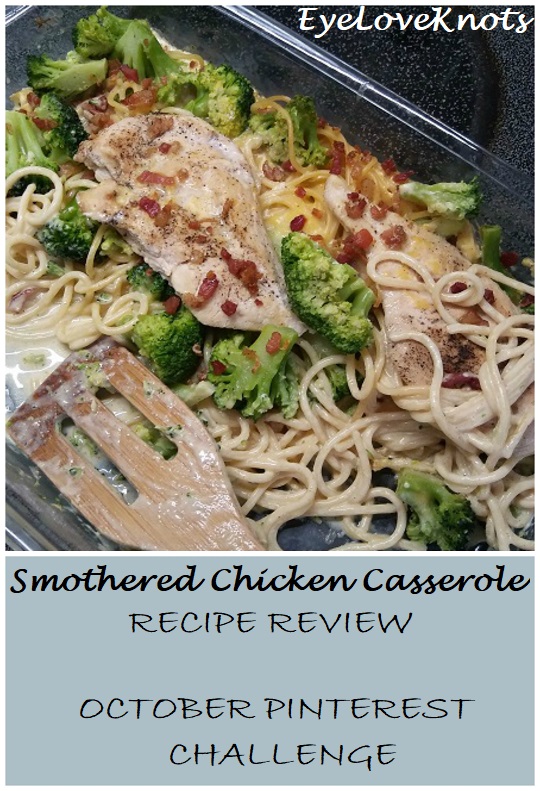 Welcome to the October Pinterest Challenge Blog Hop, hosted by My Pinterventures. The purpose of this Pinterest Challenge is to motivate all the participants of this hop (and you too) to not just pin, but to make it happen! This month, I chose to make the Smothered Chicken Casserole from Betty Crocker – something I had been wanting to try for dinner for awhile.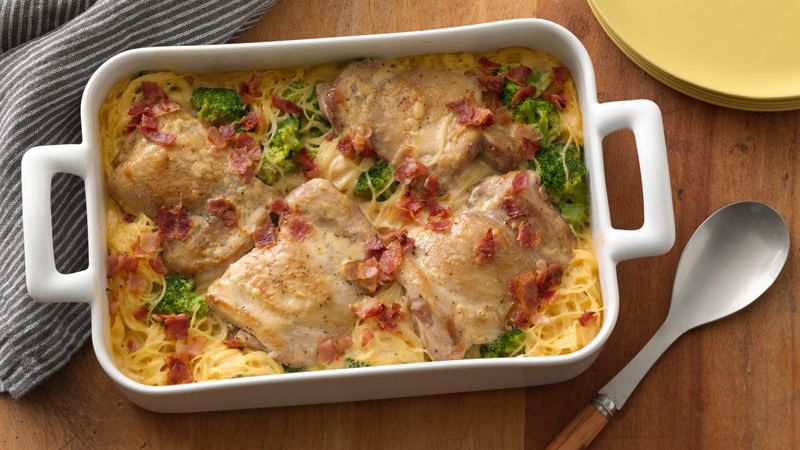 I have been a long time subscriber to Betty Crocker, but really haven't tried a whole lot of the recipes I am sent – though I pin quite a bit…::sighs::… With the push of this Pinterest Challenge, I decided to give the Smothered Chicken Casserole a try for dinner a couple weeks ago, and we loved it! And it was a recipe that I was quite proud of, whereas some of my recipe tries end up not turning out so good.
Serves:
4
Time:
20 Minutes Pre-Cooking + 35 Minutes Baking
Ingredients:
Oil (or Butter or Pam – whatever you use on a pan for cooking)
4 Boneless Skinless Chicken Breasts
Garlic Salt
Pepper
6 oz of Uncooked Angel Hair Pasta
1 10.75 oz Can of Condensed Cream Chicken
1.25 Cups of Half and Half
Paprika
2 Cups of Frozen Broccoli
Crumbled Bacon
Smothered Chicken Casserole Recipe from Betty Crocker
You'll Also Need:
Pan/Skillet for Cooking Chicken
13 x 9 Casserole Dish for Baking
Utensil for Cooking Chicken and Stirring Pasta
Measuring Cup
Aluminum Foil for Baking
Optional, Measuring Spoons
Ingredient Notes:
CHICKEN: I used some 1.32 pounds of Boneless Chicken Cutlets from my local Publix. Honestly, I don't know what a cutlet is, and haven't looked it up. I picked this because they were fairly thin, and boneless and skinless. You could do breasts, and cut them in half, but I was feeling too lazy to do this. Easy for cooking, and tasted good.
SPICES: I didn't measure anything out, I just sprinkled it over the chicken.
CONDENSED CREAM CHICKEN: This is found in the soup aisle, and it says exactly this. It's like chicken noodle soup without the noodles, and thicker.
BACON: I use the crumbled bacon you find in the salad aisle – quick, and easy.
Recipe Notes:
I started my pasta first, and then started the chicken so I could cook them both at the same time.
A lot of the reviews were in the middle range (or lower) for the comments on being bland. Personally, I did not measure out the seasons on the chicken – I just sprinkled it on, and I did not use the Paprika because I didn't know if Todd was going to be okay with it, and we really enjoyed this dish. One important thing when cooking meat is to season it after you flip it for the last time during the last few minutes before you take it off the stove/grill. This helps give it better flavor. Aside from this though, cooking is all about personal taste. Everyone likes things seasoned a different way – some like no salt, some like extra salt… Not every recipe is going to be perfect for everyone that way it is, but that's the beauty of being able to add your own little bit to it.
I read one person used Lemon Pepper seasoning on their chicken – definitely worth trying. Some others added cheese – also worth trying.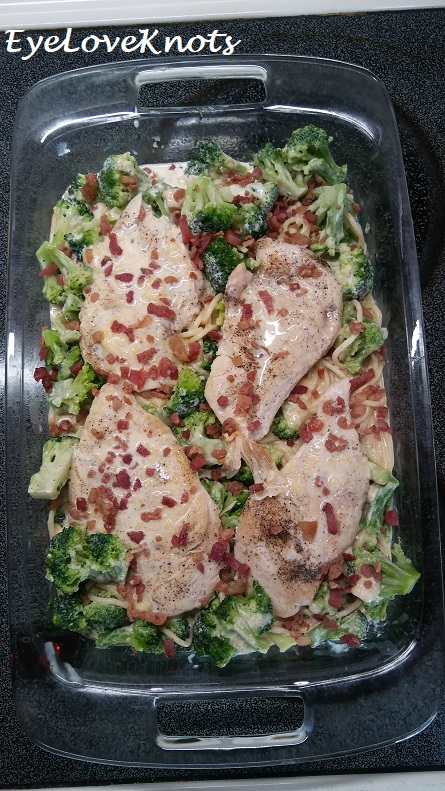 I will add, there really isn't that much sauce, so if you like a lot of sauce on your noodles, you may want to make some more. I thought it really was perfect the way it was though.
The only thing I would do differently is diced the chicken. I think this would give more chicken throughout, but this is a personal preference. As is, I think it's a really nice dinner perfect for family dinners, or a special something for when guests come over, or for sharing – we have family dinners a lot where we all bring something, and snack from each dish.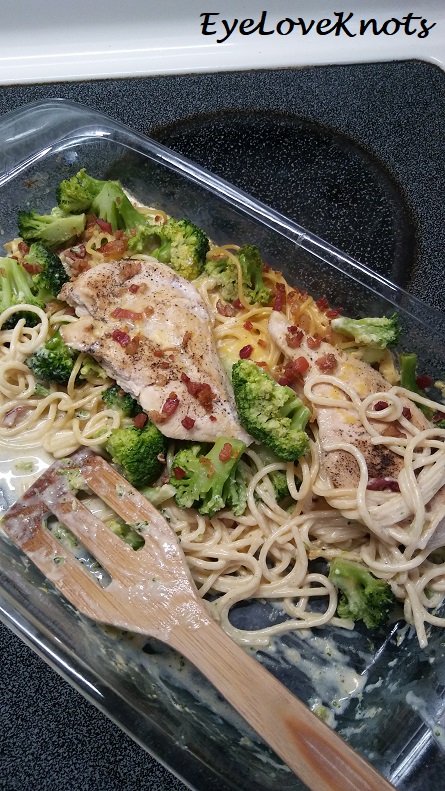 5 stars on this recipe from me. Definitely going to be making this one more in the future. It's quick, easy, doesn't use a whole lot of ingredients that aren't already on hand, or part of normal shopping trips, and can be made ahead of time and stuck in the fridge until later. If you do make it ahead, I would recommend leaving out for about half an hour before sticking in the oven, otherwise, you will have to experiment with baking times as it will take longer to bake. Technically, everything is cooked ahead of time, but that's what I would do.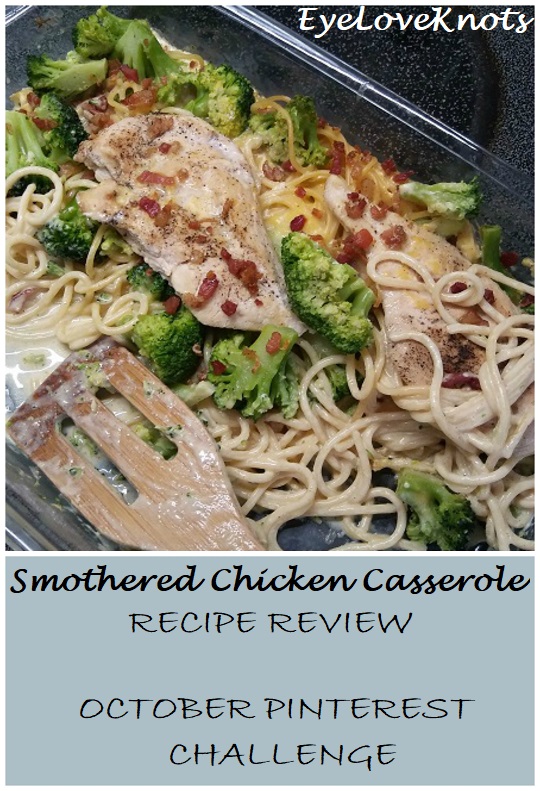 Join the EyeLoveKnots Crafting Community on Facebook to share your creations, and see what others are up to!
To join next month's #pinterestchallenge, click here to sign-up ⇒ November Pinterest Challenge
---
Now let's see what other things Pinterest inspired! Head over and visit the other hosts to see what they crafted, cooked, built, or tried!
Erlene – My Pinterventures • Gail – Purple Hues and Me
Kristie – Teadoddles • Lynne – My Family Thyme
Joanne – Our Unschooling Journey • Jenny – Cookies, Coffee and Crafts
Shirley – Intelligent Domestications • Debbee – Debbee's Buzz
Beverly – Across The Boulevard • Julie – Sum of their Stories
Chelsea – Making Manzanita • Katrin – Kreativ K
Michelle – Our Crafty Mom • Marie – The Inspiration Vault
T'onna – Sew Crafty Crochet
Laurie – My Husband Has Too Many Hobbies • Alexandra – Eye Love Knots
Katrin – Nothern Feeling • Emily – Domestic Deadline
Terri – Our Good Life 
Leslie – Once Upon a Time & Happily Ever After
Roseann – This Autoimmune Life • Toni – Girl, Just DIY
Kelley – Simply Inspired Meals • Lauren – Mom Home Guide
Debra – Shoppe No.5 • Lydia – Lydia's Flexitarian Kitchen
Susan – Suzer Space • Habiba – Craftify My Love

Linked Up To…
Sundays at Home 227 – Celebrating Everyday Life
Nifty Thrifty Sunday #357 – Meet Our Life
Craft Schooling Sunday – Creative Jewish Mom
Inspiration Monday – I Should Be Mopping the Floor
Creative Mondays Link Up – Claire Justine
Handmade Monday #98 – Sum of their Stories
Merry Monday #227 – A Wonderful Thought
The Really Crafty Link Party #140 – Keeping it Real
Craftastic Monday Link Party – Sew Can Do
Tutorials & Tips Link Party #371 – Home Stories A to Z
The Scoop Link Party #349 – Worthing Court Blog
Fabulous Party #238 – Lou Lou Girls
Talk of the Town 146 – My Repurposed Life
Sew It Cook It Craft It Link Party #76 – Sew Historically
{Wow Me} Wednesday #374 – Ginger Snap Crafts
Your Whims Wednesday #378 – My Girlish Whims
Wednesday's Link Party #268 – The Stitchin' Mommy
Wall to Wall DIY Wednesday Week 20 – Dabbling and Decorating
Pin Party #288 – The Pin Junkie
Home Matters #207 – Domestic Deadline
Sweet Inspiration Party #130 – Purple Hues and Me
Friday Frenzy Link Party – 10/26/18 – Kelly Lynn's Sweets and Treats
Best of the Weekend – Hello Litle Home
Link Your Stuff – Anniemarie's Haakblog
Snickerdoodle Create Bake Make Link Party #255 – Across the Boulevard