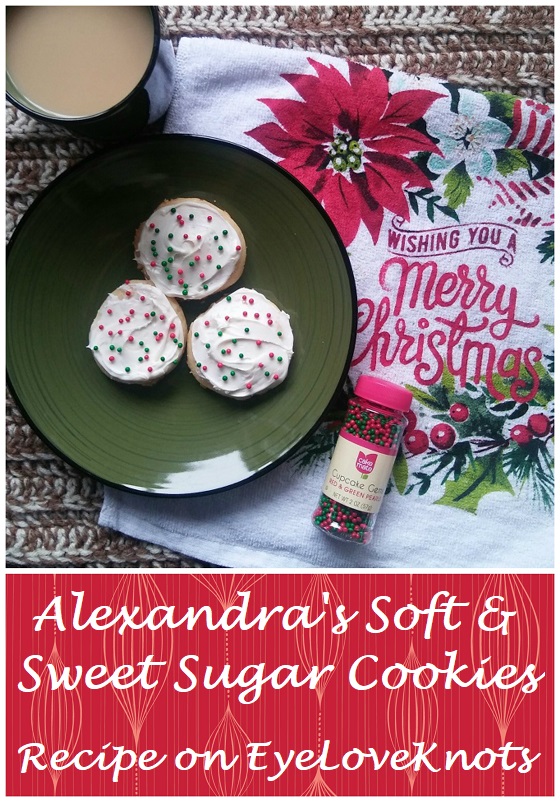 Earlier this week I was in the mood for some sugar cookies – something I think is a classic part of the Christmas season. Todd and I LOOVVEE those soft sugar cookies you see in the super market with the different colored frostings and matching sprinkles, so I decided to whip up a batch of my own. I named these Soft and Sweet because they are sooo soft, and very sweet with the added frosting.
For this particular batch I used Duncan Hines brand, which produces more cakey cookies. If you want less cakey, use a different brand. Once they are put in the fridge for a bit, and the frosting sets, the cookies really come together so deliciously.
I usually try to have step by step photos, and show my ingredients, but with these cookies, I really wanted to just enjoy the baking process, and photograph less.
Makes:
30 Cookies
Baking Time:
10 Minutes Prep + 30 Minutes Before Baking + 11 Minutes to Bake (x 3) + 2 Minutes to Cool (x 3) = 1 hour, 19 minutes
Ingredients:
1 Box of Vanilla Cake Mix – I used Duncan Hines French Vanilla
1 Stick of Butter (or 8 Tablespoons), Softened
2 Eggs
1 Teaspoon of Vanilla Extract
4 oz of Cream Cheese, Softened – this is half a rectangle
Frosting – I used Duncan Hines brand
Sprinkles
You'll Also Need:
Mixing Bowl
Mixer/Spoon/Spatula for Mixing Ingredients
Teaspoon for Vanilla
Pam, or Butter and Flour
Cookie Sheet
Cookie Scoop
Optional, Aluminum Foil
Plate or Cooling Rack for Cookies
Spoon for Frosting
Ingredient Notes:
CAKE MIX: I picked up Duncan Hines because I love their French Vanilla mix, but I forgot that Duncan Hines also bakes more cakier, so the finished cookies are more like little bits of delicious cake. Pillsbury and Betty Crocker are less cakier.
FOIL: Great for easy clean up!
Recipe:
Step 1: Mix the cake mix, butter eggs, vanilla, and cream cheese until a soft dough forms.
Step 2: Pre-Heat the oven to 350 degrees – mine takes 6 minutes, so I did it in the last 6 minutes of the dough being in the fridge (#3).
Step 3: Refrigerate the cookie dough for at least half an hour.
Step 4: Scoop out, and roll 12 cookie balls. Place unused dough back in the fridge.
Step 5: Bake cookies for 11 minutes!
Step 6: Let cookies cool on cookie sheet for 2 minutes, then move to a plate, or cooling rack.
Step 7 – 9: Repeat steps 5 and 6.
Step 10: When cookies have cooled completely – frost, and decorate. Cookies that aren't cooled enough will melt the frosting.
Store finished cookies in the fridge, as well as any unused frosting you may have left (if using from a store bought container).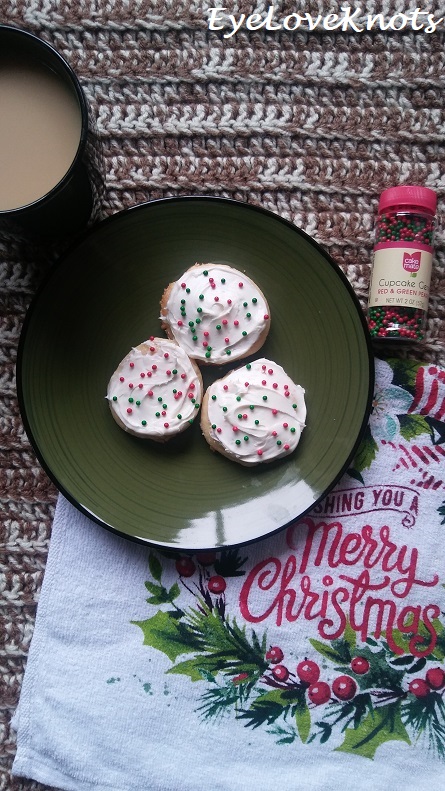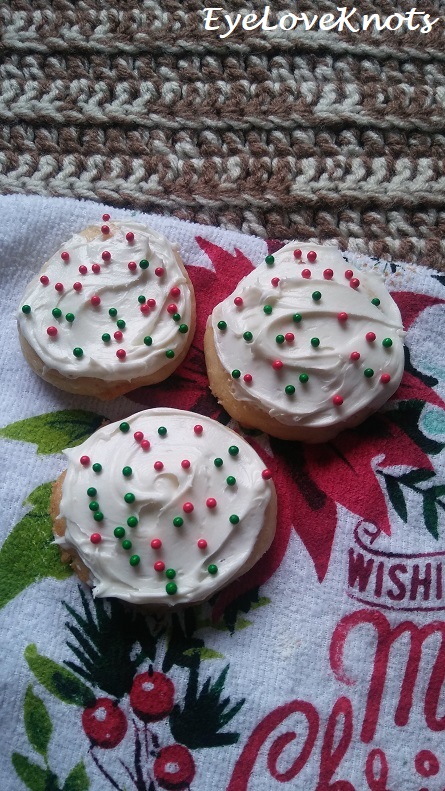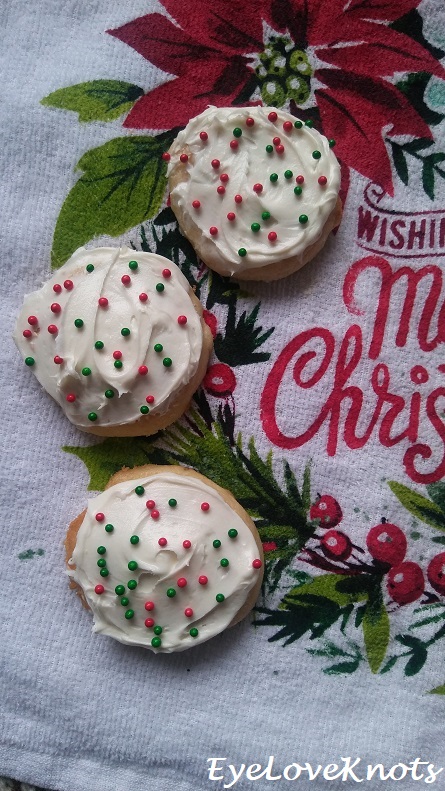 Please DO NOT claim this recipe as your own nor should you sell my recipe, and DO NOT re-publish my photos as your own. DO NOT copy and paste my recipe anywhere, link to it instead.
Join the EyeLoveKnots Crafting Community on Facebook to share your creations, and see what others are up to!
Linked Up To…
Ginx Woolly Linx Party December – Ginx Craft
The Linky Ladies Party #147 – The Purple Poncho
Hookin' on Hump Day 180 – Petals to Picots
Crafty Love Link Party #40 – Jessie at Home
{Nifty Thrifty Sunday #364} – Meet Our Life
Sundays at Home #234 – Celebrating Everyday Life
480th Inspire Me Tuesday – A Stroll Thru Life
Fabulous Party #245 – Lou Lou Girls
Sew It Cook It Craft It Link Party #83 – Sew Historically
Wow Me Wednesday #381 – Ginger Snap Crafts
Wall to Wall DIY Wednesday Link Up Party Week 27 – Dabbling and Decorating
Pin Junkie Pin Party #294 – The Pin Junkie
Sweet Inspiration Link Party #137 – Purple Hues and Me
Craftastic Monday Link Up – Sew Can Do
Handmade Monday #106 – Sum of their Stories
Inspiration Monday – I Should Be Mopping the Floor
The Really Crafty Link Party #148 – Keeping it Real
Merry Monday Link Party #234 – A Wonderful Thought