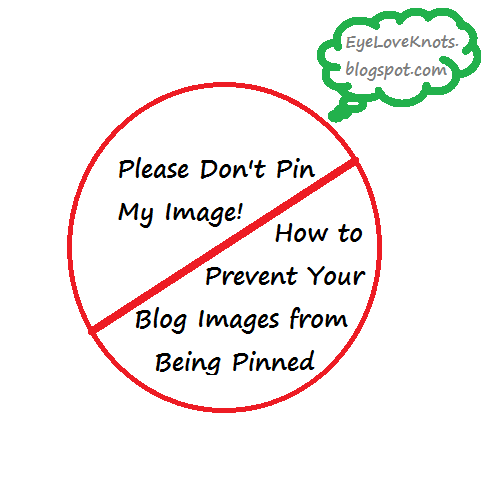 *This post is from a Blogger point of view. I am not sure if the process for other blog sites such as WordPress is the same.


I absolutely love Pinterest! And I spend way too much time on it everyday but I think it is a genius idea.


I also love sharing my creations and tips with everyone! However, some items I feel should not be repinned unless I choose to introduce it into the mix.


Some Examples of Items I Don't Want To Be Pinnable Include
– Crochet and Plastic Canvas Charts/Graphs
*I consider pinning of crochet charts and plastic canvas graphs to be stealing, and a copyright infringement. Whether the pattern is free or not, charts and graphs should not be shared unless marked "Free to Share". This not only takes away from the blog views one might get from returning and new viewers, but if they were "paid patterns", then it also takes away from the income that may have been earned.
– Pictures of My Family or Myself
*I do not want random images not pertaining to the project surfacing on Pinterest. For example – me giving the Thumbs Up sign after receiving my first order from Artbeads should not be shared on Pinterest.
– Images of My Process
*Sometimes I pin images of my process and include a "tip" in the caption. Unless I choose to share this image and/or tip, I consider pinning of my process to also be stealing.
– Images That Aren't Mine
*Pinning should be done from the original source. Take a trip over to the original source and do your pinning from there. An example of when you will find an image that does not belong to the one sharing it, is through a Round Up. I may show a collection of 10 crochet patterns with the main picture and then a short description on each pattern. If you are interested in pinning the round up, do so with the main collage or title picture, or click on the link of the project to pin from the original source itself.


After much research, I found lots of generic and questionable answers. This is what I finally came up with.


I apologize in advance for the lack of photos – I could not for the life of me, figure out how to get the Print Screen function on my laptop to work.


If using Blogger, follow these steps to Prevent Your Image From Being Pinned. You will need to do this for each image you don't want pinned, so it's best to do this on a post-by-post/photo-by-photo basis rather than saving it for later or to do all at once.


Step 1:
From the Compose/Edit Screen, you will want to click on the HTML tab located on the top left part of your screen just underneath the title of your blog.
You will see a lot of random combinations of letters, numbers and symbols, along with pieces of the text that you've included in that post. This is the code – instructions for the page to appear as you have put it together to appear.
Step 2:
Sort through the code for each image, and locate the following part:
<img border=" " src="http://…blogspot.com/…" height=" "
This should be the second part of your code. Do not insert the block code in the first section of the code. The first part has "imageanchor=" instead of "height".


Step 3:
Directly following the last quotation mark of the height text, insert a single space and then this text, nopin="nopin"
Your code should look similar to this:
<img border=" " src="http://…blogspot.com/…" height=" " nopin="nopin" width=" "
Step 4: Once you have completed this for all of the photos you do not want to be pinned, then you can click the Preview button located on the top right part of your screen, sandwiched in between the Save and Close buttons, to double check that the code has gone through.
At the Preview screen, scroll over one of your images, right click on the image and click on the "Pin It" option. You should get a similar message to:
The page at eyeloveknots.blogspot.com says:
Sorry, this image can't be pinned.
Except it will have your name on it, since you are testing this out on your page.
Another way to tell whether or not the code went through, is when you scroll over the image, the "Pin It" button should not show up.
Now you can click back on the Compose Tab on the left side of your screen, and then Publish or Update your post.
I hope you find this information to be useful!