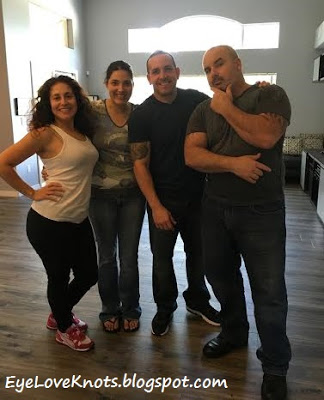 Usually Thanksgiving dinner is made by my mother at our house, but since our house is currently up on the market and one of my brothers recently moved into a new house, Thanksgiving lunch was hosted by him. My boyfriend, Chad, and his boyfriend, Lucas, went to visit their family for Thanksgiving so I went over by myself, but I definitely wasn't alone. My sister and her kids made a surprise visit. They live so close, but I don't get out to see them much. It was nice that she came though because we were able to snap this great photo of us siblings – one of the greatest things I am Thankful for. One brother is missing, but we were keeping him mind as he was celebrating with his family up north.

After the festivities winded down at my brothers, I rode over to see my cousin Tiffany and her kids. I dropped off some homemade muffins I made and headed back home to get some work done and lay around with my cat, Shiloh. I even snuck him a piece of turkey! He was very appreciative 🙂

I came home to a yummy little Thanksgiving dinner at home, cooked by one of my roommates and his friend. They did an AWESOME job, especially being two men. Hehe.

I missed Chad, but still had a nice, relaxing Thanksgiving with delicious food and am looking forward to his return tomorrow afternoon.

Hope you were able to celebrate with friends and family and delicious food.

Wishing safe travels to anyone away from home, and sending some warm wishes from the Sunshine State to my friends and family currently in big coats and snow.

P.S. Please don't share this photo of me and my family. Thanks!