This is a free crochet pattern for how-to crochet my Star Applique
This post contains affiliate links for Consumer Crafts and LoveCrafts. If you make a purchase by clicking on them, I make a small commission at no extra cost to you. Thanks for your support!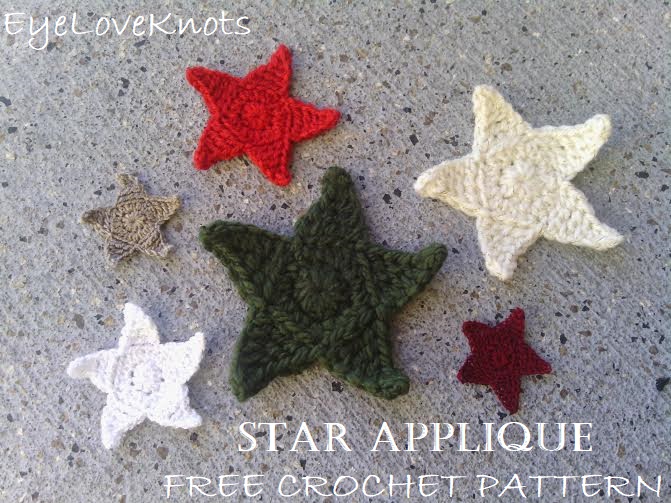 You may have seen this Star Applique in my recent Seeing Stars Basic Baby Beanie post, or my Star and Stripes Baby Beanie post. Ever since I put it down in writing, I have wanted to try out different yarn types to see what other size options I could get.
If you would like a PDF version of this post, you may get one through either my EyeLoveKnots Etsy Shop, Ravelry or LoveCrafts Shop for a small fee. This fee is to compensate for the views lost when you no longer need to return to the blog to for the information, as you will have your own copy. Plus! It helps fund supplies for new projects to share with you!
Shop EyeLoveKnots Etsy: Star Applique.
Shop EyeLoveKnots LoveCrafts: Star Applique.
Are you a Raveler? Share your version of this project on Ravelry – Star Applique.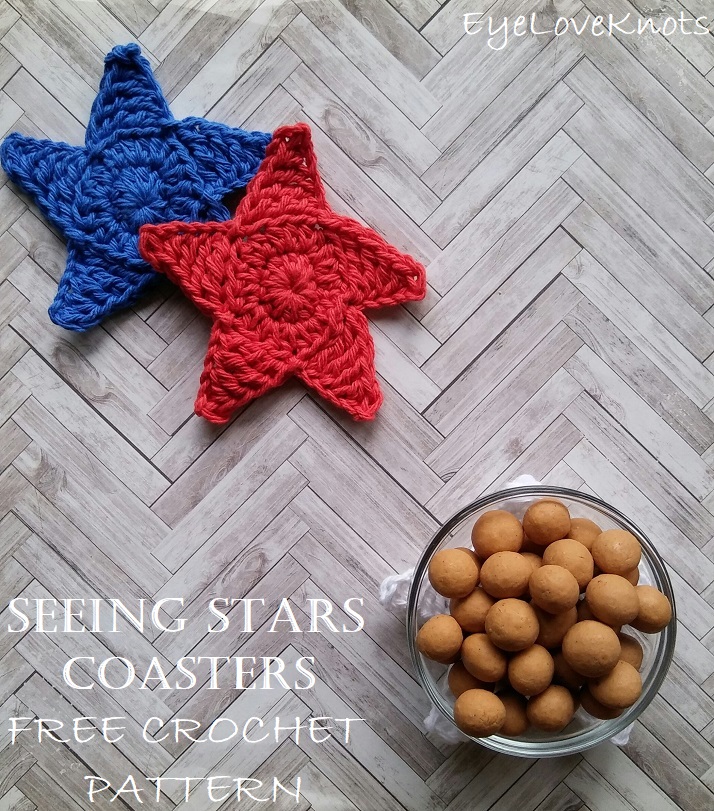 Want to make some coasters? I used this pattern to make my Seeing Stars Coasters.
Materials:
Material Notes:
Any weight yarn will do – star measurements will vary.
Some hook sizes listed above are not standard US hook sizes. You can change out to the closest one you have – for example, in my now old set I did not have a 2mm but I had a 2.25mm and I did not have a 4.5mm but I had a 4.25mm.
Time Spent:
I had each star ready to go in about ten minutes!
Measurements:
Burgundy Star Measures 2″ from point to point.
Pueblo Star Measures 2.25″ from point to point.
Diamond Star Measures 3″ from point to point.
Red Star Measures 3.5″ from point to point.
Ivory Sparkle Star Measures 4.5″ from point to point.
After Dark Star Measures 5.25″ from point to point.
Gauge:
Not essential for this project and will vary.
Abbreviations:
SC – Single Crochet
HDC – Half Double Crochet
DC – Double Crochet
TR – Triple Crochet [yarn over twice, insert hook into stitch, yarn over, pull through (4 loops on hook), (yarn over, pull through two loops) 3x]
QUAD – Quadruple Crochet [yarn over three times, insert hook into stitch, yarn over, pull through (5 loops on hook), (yarn over, pull through two loops) 4x]
Pattern Notes:
Join to first stitch, not beginning chain.
Pattern:
Chain 4. Join to form a ring. Chain 1, work 10 HDC into the ring. Join. (10 HDC)
R2: Chain 1, HDC in the 1st HDC, 2 HDC in each of the next 9 HDCs, HDC in the last HDC. Join. (20 HDC)
R3: (Chain 6 and work down the chain, SC in the 2nd chain, HDC in the 3rd chain, DC in the 4th chain, TR in the 5th chain and QUAD in the 6th chain; Back to the circle, skip the first stitch that the chain 6 is coming out of, and next three HDCs, slip stitch in the 5th stitch) 5x, ending with your slip stitch in the same stitch as you began the round.
Fasten Off, and Weave in Ends.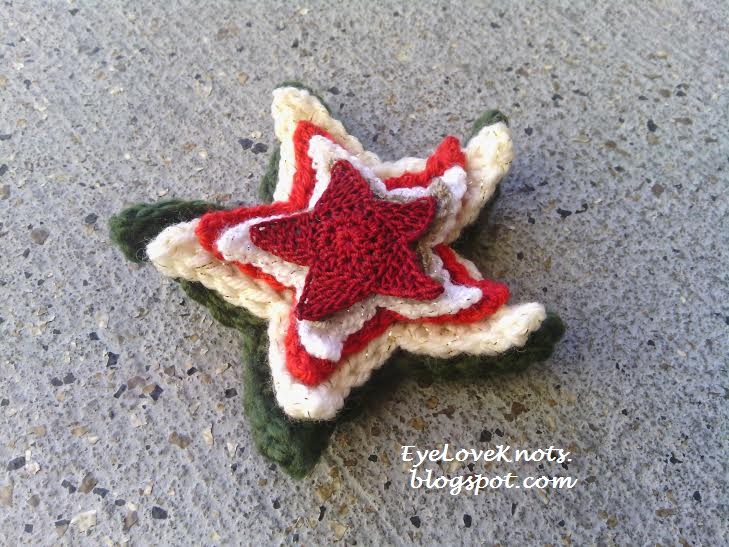 Please feel free to make and sell your own Star Appliques using this pattern, but please DO NOT claim this pattern as your own nor should you sell my pattern, and DO NOT re-publish my photos as your own. DO NOT copy and paste my pattern anywhere, link to it instead.
Join the EyeLoveKnots Crafting Community on Facebook to share your creations, and see what others are up to!