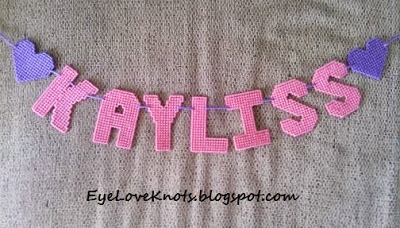 This post has been sitting as a draft since September of 2014 – YIKES! 

Back then: A couple weeks ago, I posted my Plastic Canvas Alphabet – Sugar Tart Crafts – Pattern Review. Ever since, I have been working on some name banners. Currently, I have three of them done – one for Kayliss (my niece), Tyler (my little cousin) and Madison (my little cousin).

The Plastic Canvas Alphabet by Toni of Sugar Tart Crafts is the PERFECT pattern for plastic canvas letters.

Before I tell you what they are great for, this is a fun, easy and rewarding project for a child to do! Craft stores carry plastic needles so no worries on that aspect, and you can do it together 🙂  I do sell the cut letters in my EyeLoveKnots Etsy shop should you be interested in purchasing them. Pair it with the rest of the materials, and you have a great gift idea for a crafty kid!

These banners are great for all shorts of celebrations including (but not limited to): Baby Shower, Bridal Shower, Nursery, Kid's Room, Play Room, Wedding, Anniversary, Graduation, Retirement, Birthday, Christmas, Halloween, Thanksgiving… They are also GREAT photo props for Baby's First Birthday, Maternity, Engagement…

Materials I Used:
   – 1 Sheet of Darice Stiff 7 Count in Clear. 
   

 *You can also use 
Plastic Canvas 7 Count 12″ x 18″ in Clear
, however, it is soft. I would suggest adding some stiff felt to the back of your letters, or whipstitching a coordinating colored plastic canvas piece to the back of the letter. Your letters shouldn't curl if you choose not to add the felt or colored canvas, but it could and your letters will not be as strong and sturdy.
   – Opt. Ribbon or Baker's Twine for Stringing
Time Spent:
    The average time for stitching each letter was 45 minutes.
How to String Together:
   First off, I cut a piece of yarn 60 inches long. I then threaded my yarn into a tapestry needle and began weaving it from front to back into the 5th hole down from the top of the letter on the left side and then from back to front on the right side.
Stringing your yarn in and out of the letters will cause the ends to fray. A great alternative to this is using ribbon in place of the yarn and heat sealing the ends – use caution!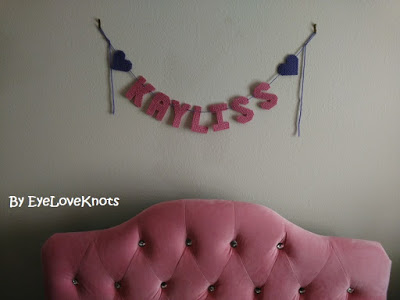 These banners are lightweight enough to use tape to hang up, but you could also create loops on the edges of your yarn/ribbon and use those to hang the banners – as we did above!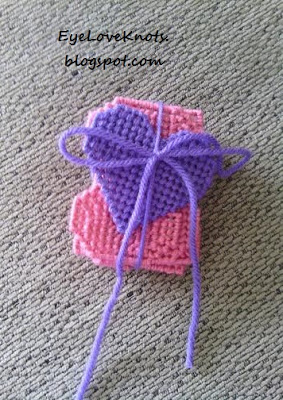 I gifted mine wrapped in the excess of the string to hang.