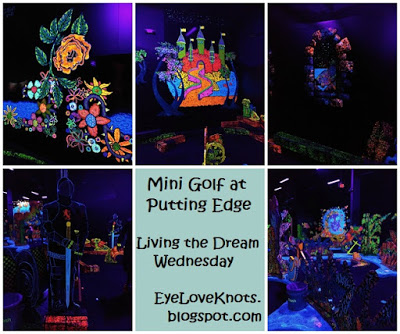 Todd and I loooovvvveeee to play putt putt. We go one or two times a month, and are always looking up new places to play… I have to take a moment out of what I am typing to share that my cat, Shiloh, is laying right next to me sleeping AND dreaming. His paws are moving, and he is growling. He must be dreaming about coming across another cat. Hehehehe! Anywho! We love to play putt putt, period. Please leave suggestions in the comments below on mini golf places you recommend (with city and state)! That way I can build a book on places to go when we are planning our vacations 🙂

Last weekend, Todd, my cousin Patrick and I went to Putting Edge here in Orlando. It's located in the Artegon Marketplace on International Drive, which has recently closed, but you can still access the mini golf, movie theater, and a couple other big shops for now. Looking online, Putting Edge has locations in four other states and several through Canada.

At Putting Edge you mini golf an 18-hole course illuminated by black light. You putt putt through different themes displayed in neon colors like a fairytale land, outer space, an ocean/lake, a garden (and jungle I've read online). Make sure you wear the appropriate clothing (white) so you can glow too!
Through the course you'll enjoy the challenges thrown out at you, like bowling the ball, kicking it with your foot and using a tiny putter (to name a few).

This is the first place Todd and I played mini golf together 🙂 We are sad that it is closing, and hoping they relocate somewhere nearby so we can keep going here. It is also a great rainy-day option as it is indoors.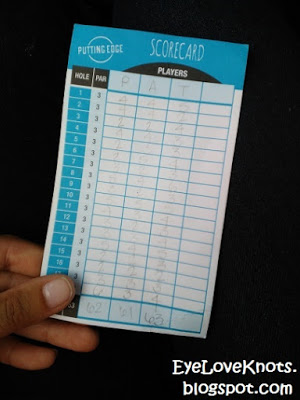 I can say that I was especially excited about this game because I won! And that never happens – haha! Only by one point, but woo hoo!


Enjoy your Wednesday!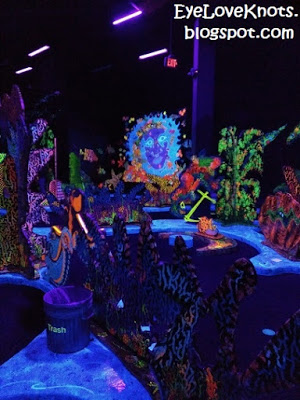 This image is part of the garden.
It's a woman made of flowers.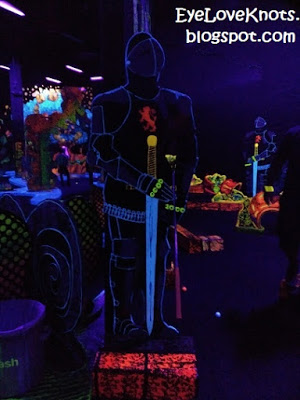 My Knight in Shining Armor – hehe.
This room had a few of them.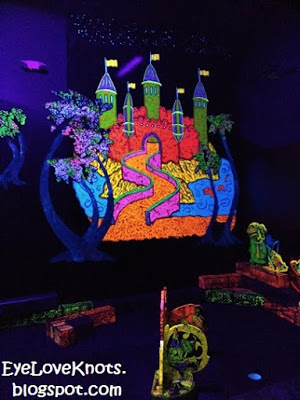 What a beautiful castle 🙂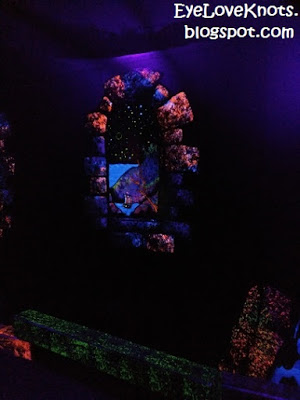 You can't see this one too well, but it's a window with a water view.
I would love to have a window like this in my house.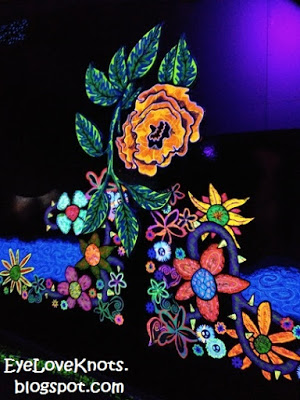 This one is my favorite! It's in the garden, near the woman's face
.
Join the EyeLoveKnots Crafting Community to share your creations, and see what other's are up to! 

Don't miss out on new crochet patterns, reviews, jewelry tutorials and more! Subscribe to EyeLoveKnots by using the box on the right side toolbar, or follow me via Bloglovin! You can also find me sharing on the EyeLoveKnots Facebook page, and @EyeLoveKnots on Twitter!