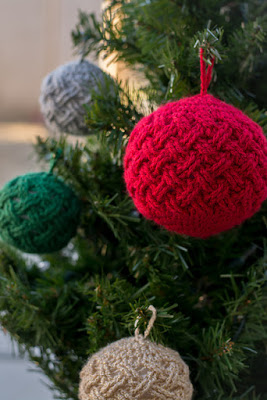 Photo Courtesy of Emily Truman Photography for the Pattern Pack Pro.
My Celtic Weave Ornaments can be found in December 2017, Issue 39 of the Pattern Pack Pro. This issue features "Ornaments", these and six others!

If you don't already subscribe to the Pattern Pack Pro, it's a great monthly crochet magazine that focuses specifically on a type of project to help build your repertoire. Use this link to subscribe now – this contains an affiliate link, meaning if you subscribe using it, I will earn a small commission at no extra cost to you!
I worked these ornaments up last December (2016) as part of the One Artsy Mama Ornament Exchange. Then, I had only done up one size, and worked over a store bought bauble ornament. For this submission, I decided I wanted to add two additional sizes for more variety, and since doing so, I went with a styrofoam base. You could easily find a bauble that measures the same, and it is as your base instead – it is a really nice finish to have the existing hanger sticking out.

To complete your own Celtic Weave Ornaments, you will need a small amount of lightweight (#3) yarn, 2.4″, 2.8″ or 3.8″ styrofoam ball/s (you can get them in a variety pack, or a pack of one size), and a G6/4mm crochet hook!

For mine, I used a combination of Baby Bee's Sweet Delight Yarn, Hobby Lobby's I Love This Sport Weight Yarn, and Lion Brand's Vanna's Glamour Yarn.

Issue 39 Also Features…

These Crochet Patterns:
– Santa Cube Ornament by Maxine Velasco
– Beaded Bauble by Heather Gibbs
– Snowman Ornament by Diana Moore
– Nordmann Tree Stockings by Debbie Richardson
– Upcycled Christmas Ball by Elena Lepretre
– Ornament Trio by Shannen Chua

This Article:
– Adding Beads in Crochet by Heather Gibbs
A couple of my favorites include the Santa Cube Ornament (left), and the Snowman Ornament (right)!
Hop on over to the Pattern Pack Pro to subscribe (affiliate link), and get the current issue – December 2017, Issue 39, Ornaments.

Share your version of this project on Ravelry – Celtic Weave Ornaments. Check out the EyeLoveKnots Ravelry page to keep track of all your EyeLoveKnots favorites in your que, and share your WIPS and finished projects!

Don't miss out on new crochet patterns, reviews, jewelry tutorials and more! Subscribe to EyeLoveKnots by using the box on the right side toolbar, or follow me via Bloglovin!