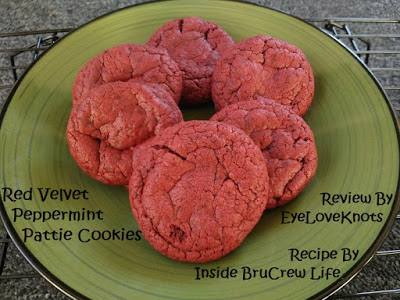 Remember last holiday season when I told you I had been doing A LOT of baking? I even shared a little about my Christmas Baking in my Living the Dream segment. Anywho, these cookies were part of that marathon, but I never got around to posting my review. Being that they are peppermint, I decided to save them for now (even though peppermint patties are available year round, hehe). Enjoy 🙂

Back Then: Christmas Baking!! I L.O.V.E. baking, but I don't really do it as often anymore as I used to. I do, however, make sure that every year for Christmas, we have tons of cookies! 

After working up the Chocolate Chip Cookies & Cream Cookies last year, I decided to turn back to Inside BruCrew Life for some more delicious, soft baked cookie recipes and found this Red Velvet Peppermint Pattie Cookie recipe. Since the cookies and cream ones, I had red velvet in my mind – couldn't have worked out more perfectly, with an added bonus – peppermint patties!

Yields:
     24 Cookies (though I got 22 this go 'round)

Time Spent:
     Prep: The first half up to sticking the dough into the fridge took me about 20 minutes, then I waited on it for half an hour, worked up my balls in about 20 minutes and then popped in the oven.
     Bake: 22 minutes
     Cooling: 2 hours, 6 minutes
     Total: Nearly 3 hours, 45 minutes

Ingredients:
     – 1 Red Velvet Cake Mix – I used Duncan Hines Brand Cake Mix
     – 8 tablespoons of butter, melted – I used a whole stick of Country Crock
     – 1 egg – mine was medium sized
     – 4 oz of cream cheese, softened – I used half an 8 oz box of Philadelphia Original
     – 6 Peppermint Patties

**All ingredients were easily found at my local Winn Dixie – not a sponsored post.

You'll Also Need:
     – Spatula
     – Mixing Bowl 
     – Baking Sheet
     – Measuring Cup
     – Knife (I used a butter)
     – Cooling Rack – I found a 3-Tier Cooling Rack at my local Sav-a-Lot for $7
     – Red Velvet Peppermint Pattie Cookie Recipe by Inside BruCrew Life

Ingredient Notes: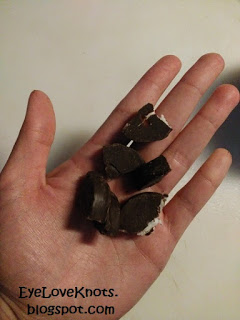 – Peppermint Patties: Recipe calls for minis, but that word did not make it onto my shopping list so I came home with a family size bag of regular sized peppermint patties thinking that's what I'd need, but after I relooked at the recipe, I found they should have been minis. To accomodate, I cut each peppermint pattie into fours.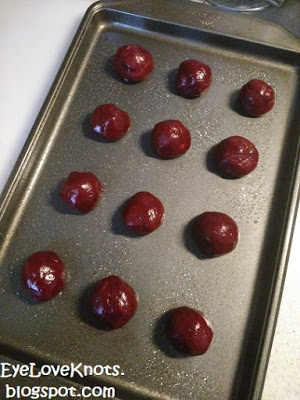 I rolled all my balls out at the same time, but only managed to get 22 balls. Then I took the peppermint pattie quarters and broke each ball in half, stuffed and re-rolled. After the first 12 were re-rolled on the baking sheet, I stuck them in the oven, and went back to finish up the others.
*When I worked the Chocolate Chip Cookies & Cream Cookies (also by Inside BruCrew Life), I found that my cookies really needed one extra minute to take the correct shape, so for these, I just went ahead and added the extra minute to the baking time (even though the recipe says not to over bake), and they came out perfectly to taste and shape.

In between batches, I put my dough back into the fridge. It definitely gave the dough a nice, solid feel so rolling was quick and easy, and not a big mess.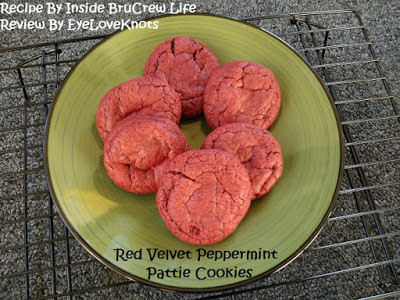 Now to make your own, go check out Jocelyn's Red Velvet Peppermint Pattie Cookie Recipe!


If you love to bake (and/or craft) too, I would love to see your photos and get your recommendations! Join the EyeLoveKnots Crafting Community to share your creations, and see what other's are up to!

Don't miss out on new crochet patterns, reviews, jewelry tutorials and more! Subscribe to EyeLoveKnots by using the box on the right side toolbar, or follow me via Bloglovin!

You May Also Like…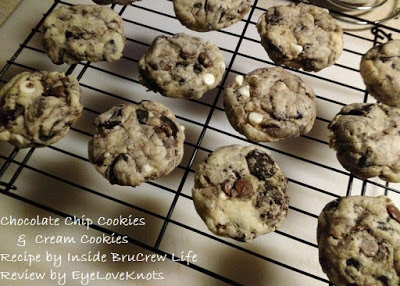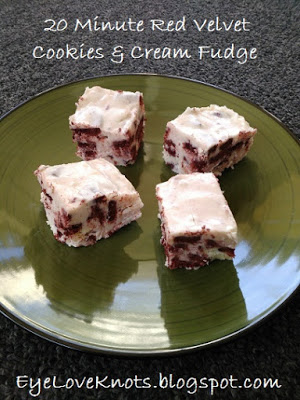 Linked Up To…
Link Your Stuff – Anniemarie's Haak Blog 
{nifty thrifty sunday #312} – Nifty Thrifty Things
December 2017 Sharing Time – Raising Memories
Snickerdoodle Create Bake Make Party #211 – Across the Boulevard