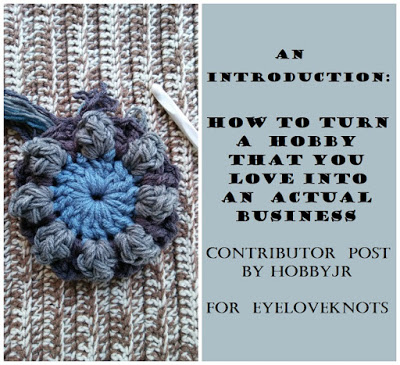 Remember back in June when I shared The Importance Of Hobbies For Seniors: Staying Connected, Sharp, And Healthy? It was a contributor post by Maria of Hobby Jr., and she is back to share this introduction into turning a hobby into an actual business. 

I have been wanting to talk about different aspects of being a blogger and business owner for a while, but just haven't gotten around to actually finalizing all the posts I've started. When Maria reached out to me about sharing this post, it really put it into gear in my mind. Consider this introduction just the beginning! 

Are you interested in learning about a specific aspect? Feel free to drop me a line below with any questions you may have, and I will try my best to answer them!


It's everyone's dream to love their work, but it's an elusive concept for many. Instead of trying to force yourself, to love a business created by someone else, why not try to create your own business based on something that you love doing? It's not a pipe dream to turn a hobby into a successful business, but it does take hard work, vision, and persistence. Here are some tips on how to do it.
Don't Assume That Just "Doing" Your Hobby is the Only Business Plan…

Just because you are good at something, it doesn't mean you can build a successful business around it. You may carve the best wooden horse statues in the world, but is there a market for your product? Enough to sustain a business? That's why it's important to know that there is more than one way to build a business around a hobby. Beside just doing your hobby, you can also build a business around things like designing products and accessories for enthusiasts of your hobby, teaching people how to be better at your hobby, writing or speaking about your hobby, or fixing or repairing items associated with your hobby for others.
For example, if you are a crochet pattern designer, you might also dye your own yarns to accompany the designs, create your own crochet kits of the designs, create a line of clay ergonomic crochet hooks or custom stitch markers, or even have a line of t-shirts or tote bags with fun crochet related sayings and pictures.
Hit the Marketing Hard (and Focus on the Internet)…
When it comes to hobby-themed businesses, the marketing is key. You are not just selling your product or service, you are selling yourself too.
"You can be the best in the world at what you do, but if you don't market your business, you'll never get customers. Read up on small business marketing and observe how similar businesses promote themselves. Set up a website for your new business and get comfortable using social media. Start making connections online and in your community,"

says
LegalZoom.com

.
A dedicated web designer or social media marketing expert may very well be your first hire, and that's okay – it's that important. The first step in your business plan should be what you want your brand to look like. Brand consistency is the number one way a new business can generate traction. Spend money designing t-shirts for your brand. Take time to design logos for stickers, business cards, and other merchandise. If you think that you can get by on the quality of your product alone, you are mistaken.
Why Doing What You Love is So Important…
Whether you're working in an office or from home,
job stress is the leading cause of stress in many people's lives. While you may think working from home is a walk in the park,

Redfin describes it as

, "depending on how you structure it, [it] from home will either be the most rewarding or the most stressful job you've ever had."
There's no way to fully eliminate job-related stress, and in reality, you wouldn't want to as it provides motivation in limited doses. But by doing something you truly love,
you can reduce many of the negative aspects, and actually

live longer, according to Laura Garnett for Inc.

. Not only does doing something you love help reduce stress and anxiety, but it also gives you a better sense of satisfaction and accomplishment. Stress, as we know, is a factor in mental and physical illness. By choosing to build a business out of something you love, you can literally make yourself healthier.
Not all hobbies are destined to be successful businesses, but if you can envision a market for your product and/or service, know how to market not just it, but yourself as well, and have the persistence and drive to succeed, you can definitely turn something that you love into something profitable.
Thanks again, Maria, for sharing with us!
If you are interested in guest posting, please send me an email!

Join the EyeLoveKnots Crafting Community to share your creations and stories, and see what other's are up to! 
Don't miss out on new crochet patterns, reviews, jewelry tutorials and more! Subscribe to EyeLoveKnots by using the box on the right side toolbar, or follow me via Bloglovin! You can also find me sharing on the EyeLoveKnots Facebook page, and @EyeLoveKnots on Twitter.