Today, I am sharing something special to me – a little bit about the wild birds (and squirrels) that come to my yard!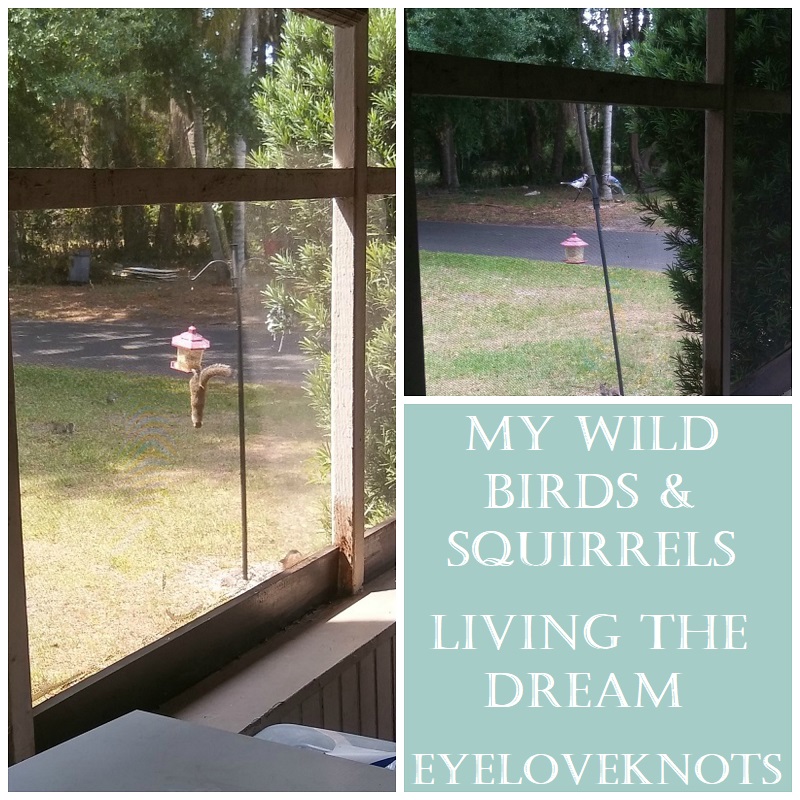 Today is my birthday! And so I wanted to share a special post with you about my wild birds and squirrels – something that I really love!
Before I get started, I live in Florida, and keep my feeder out all year because the birds and squirrels are pretty much out all year. If you put it out at all, the birds and squirrels will learn they can always come there to get food, and by taking it away, you are taking that away from them.
Also note, that it is best to set up a bird feeder near a bush or tree because the birds like to be able to hide in the bush or tree first to make sure it is safe for them.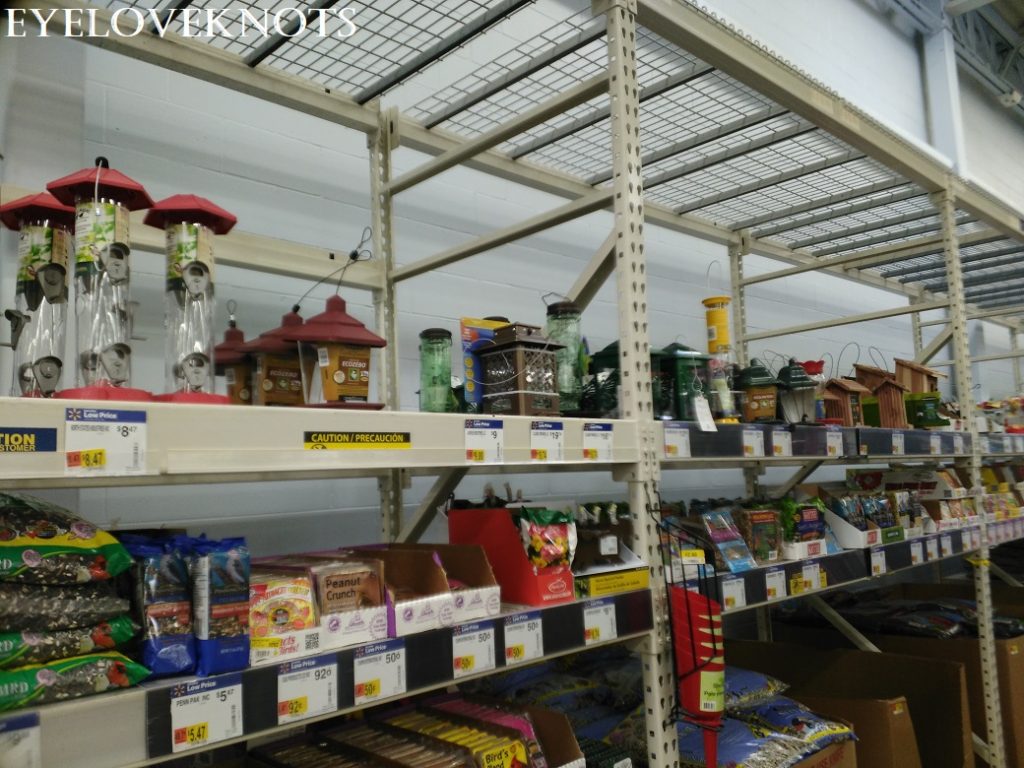 Back in April of 2017, I purchased a Kaytee 5′ Feeder Pole and Hanger from a local bird store, and some wild bird seed, then stopped at Walmart to pick up a bird feeder.
I got home, had Todd hammer the pole into the ground – NOTE, hammer in the bottom piece first, then attach the top because we split the pole a little by doing it as one piece, then set up my feeder.
Originally, I picked the smaller Gazebo feeder you see just above the yellow Caution sticker, but it really was quite small for my birds to land on well, and the squirrels chewed the sides up, so…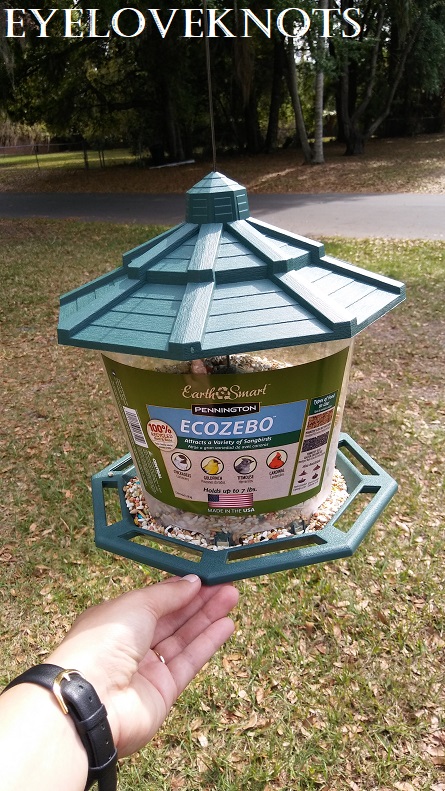 This Spring, I went back, and bought the larger one.
Since I no longer shop at said bird store, I now order my bird food online from a supplier I found at a local bird show, and the new food I use for the wild birds is Independent's Choice Feed Fortified Cockatiel Seed. At a local store, Parakeet or Cockatiel will work. I go with the Cockatiel because it has shelled sunflower seeds.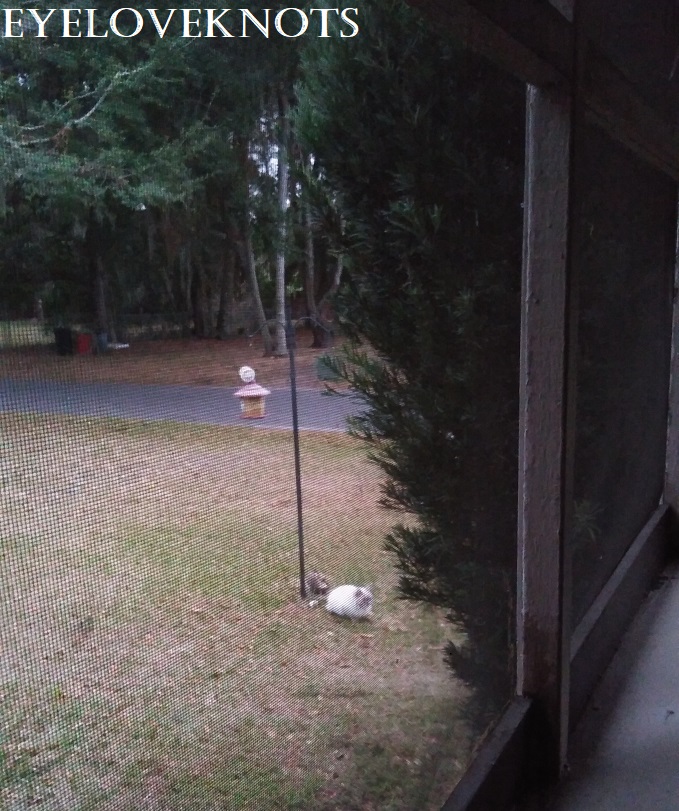 I get a lot of different types of birds to visit my feeder (more than photographed), but a couple months ago, while the birds were hiding (in the cold part of our Winter), I found a little white cat eating my bird food – community feeder, hehe.
My Squirrels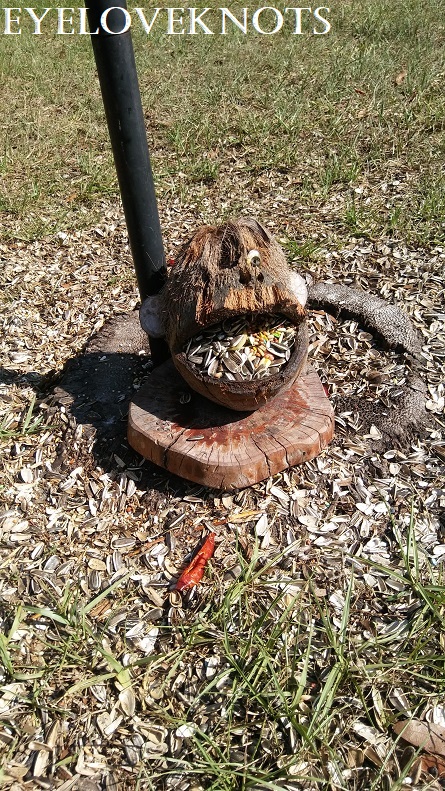 As soon as I put my bird feeder up, I realized that the squirrels were climbing my pole to eat the food, so I went and bought this monkey head from a local bird store (it's a toy), and I use this to feed the squirrels. Inside is a generic parrot food.
The new food I use for the squirrels is Independent's Choice Feed Fortified Parrot Seed. I like this one because it has fruit pieces in it too. The squirrels don't like the safflower seeds (the small white ones) or the Oat Groats (flat brown ones), but the Doves love these, and they will eat after the squirrels.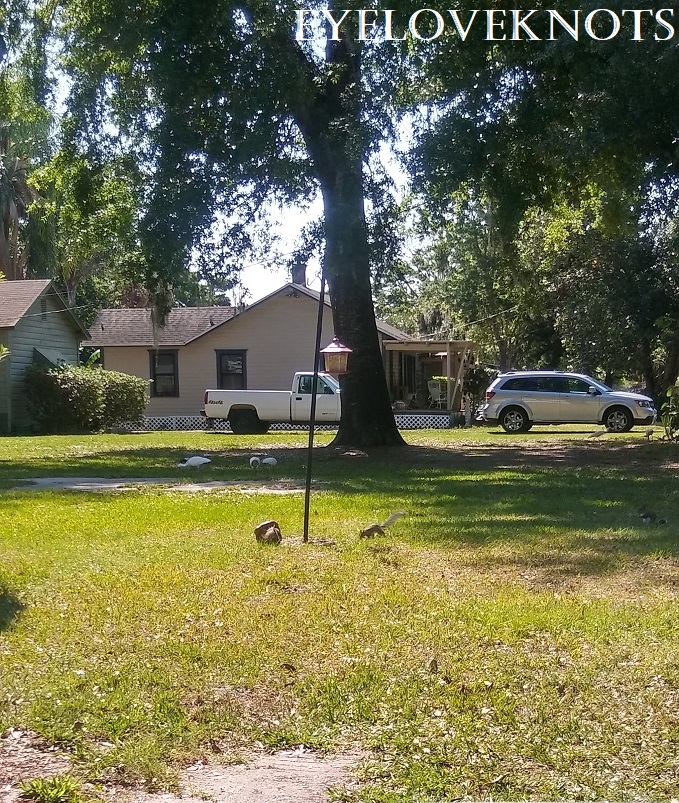 When the monkey head is empty, the squirrels get upset – you can see here they've turned it over. I try to fill it every morning. Usually it's pretty good for the day.
If I forget, the squirrels climb the pole, and go after my bird feeder. I know this can be extremely frustrating, but do not use auto grease (or similar) on the pole. Yes, it works, but it is also toxic to the squirrels. Use a non-toxic method.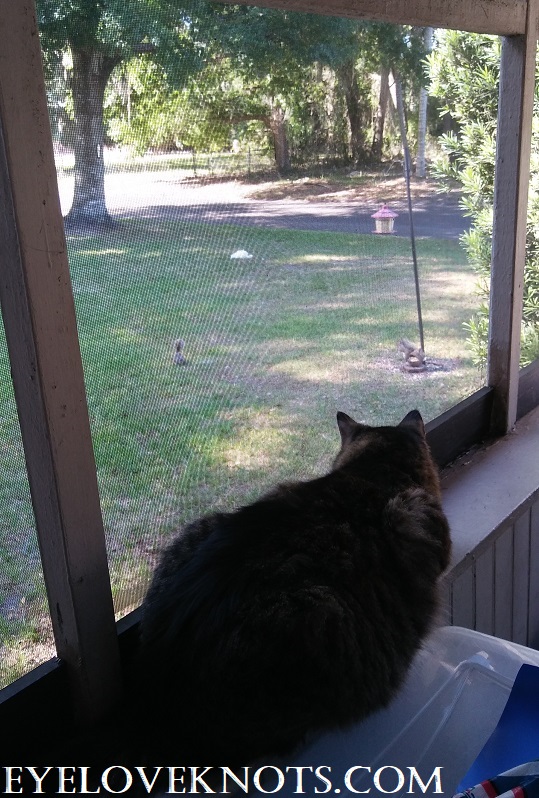 Shiloh gets excited watching the birds and squirrels.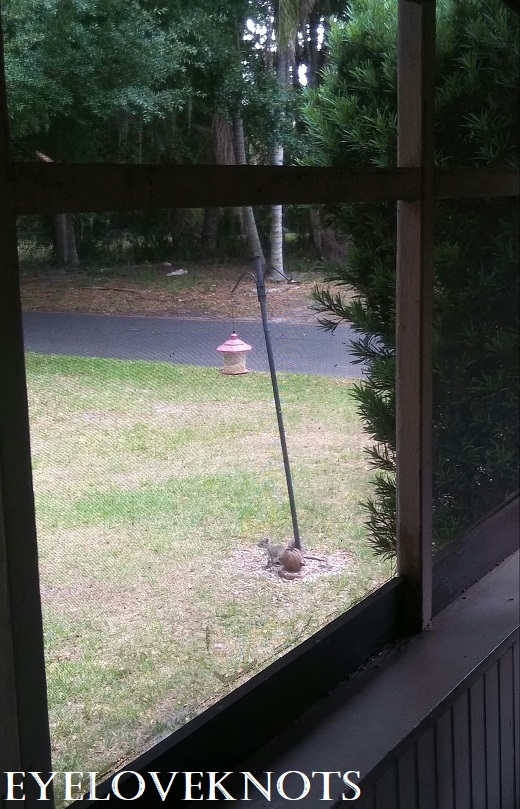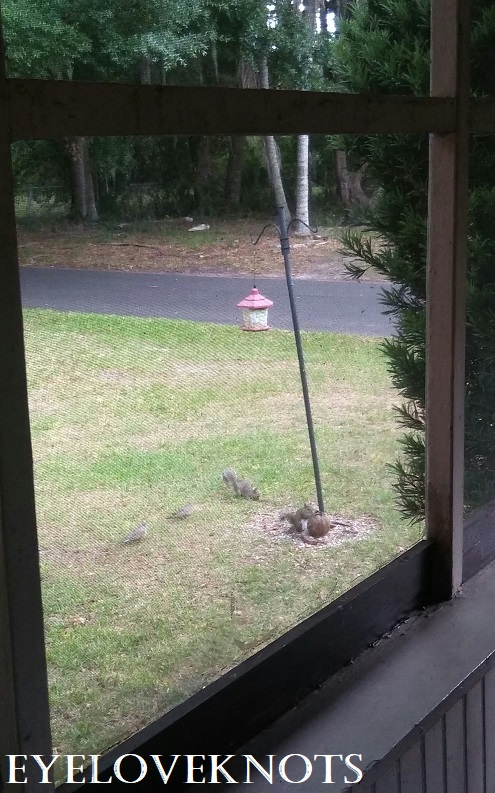 Here you can see some Doves with the squirrels.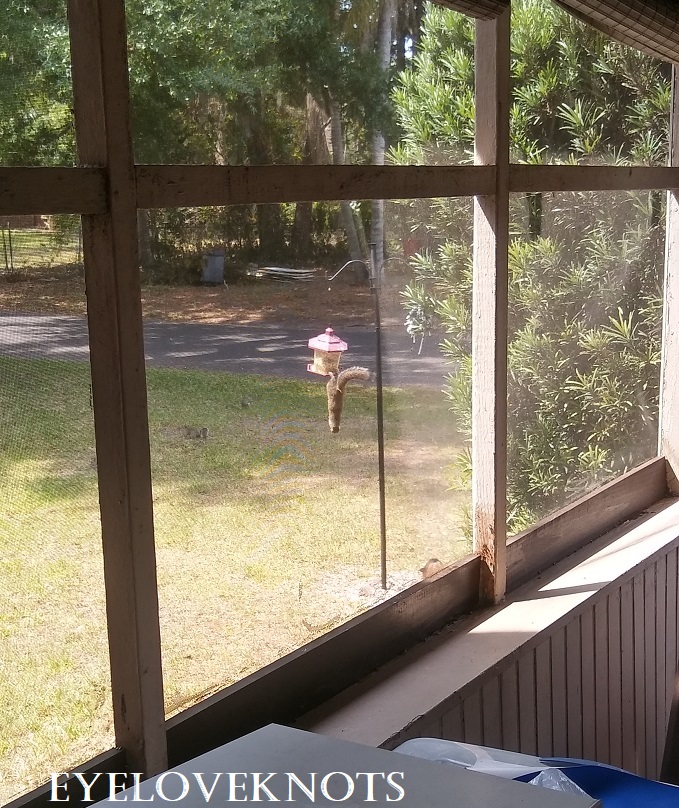 And here you can see what I was talking about – they hang upside down on the bird feeder, crunch up, grab an arm full of food, and then hang upside down again while they eat.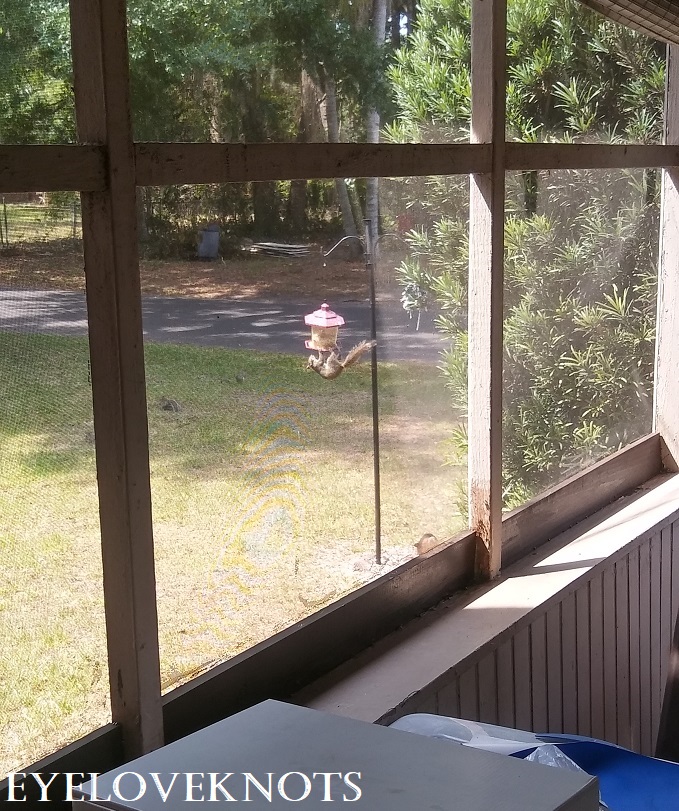 My Wild Birds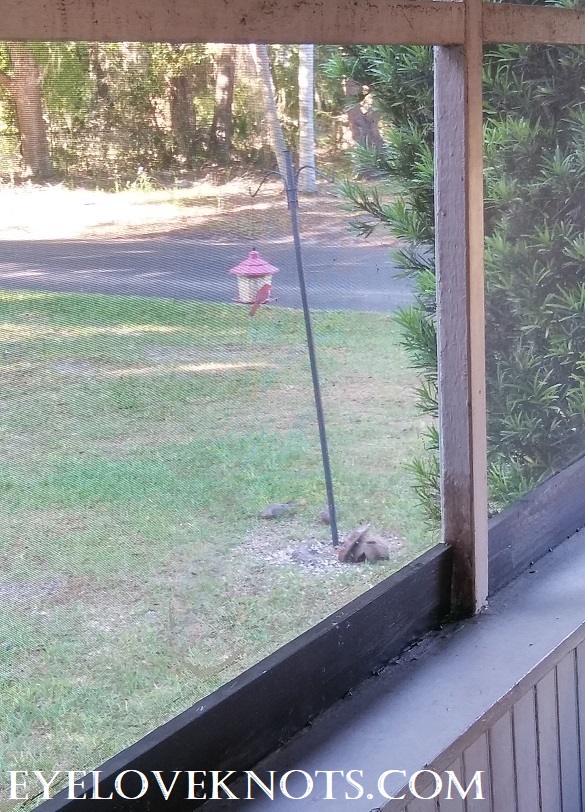 Here on my feeder is a sweet male cardinal – the males are the bright red ones. The Doves are on the ground.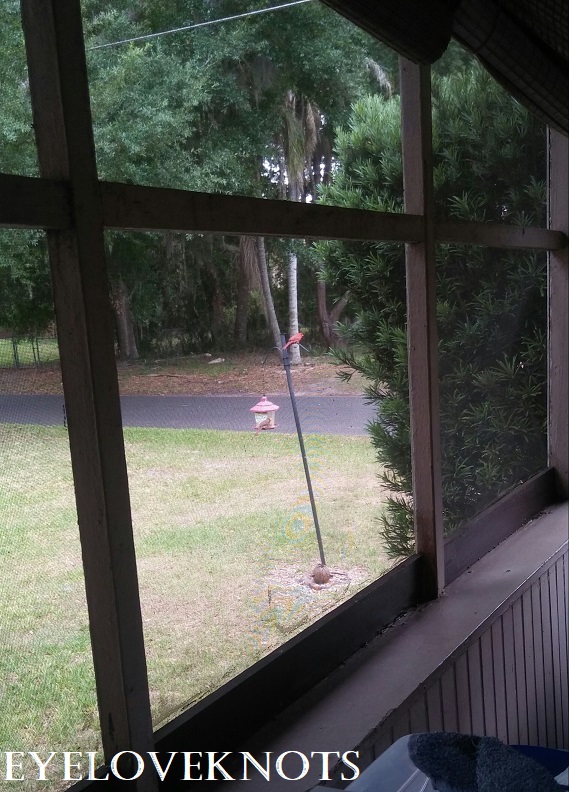 The birds like to come in pairs – one looks out while the other eats. The male cardinal is on top of the pole, while the female eats. The female cardinals are brown.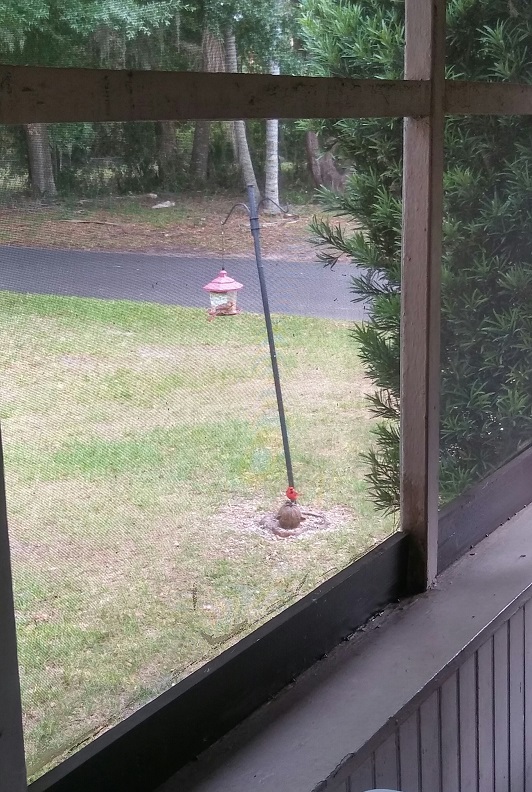 Here's the male down on the monkey head.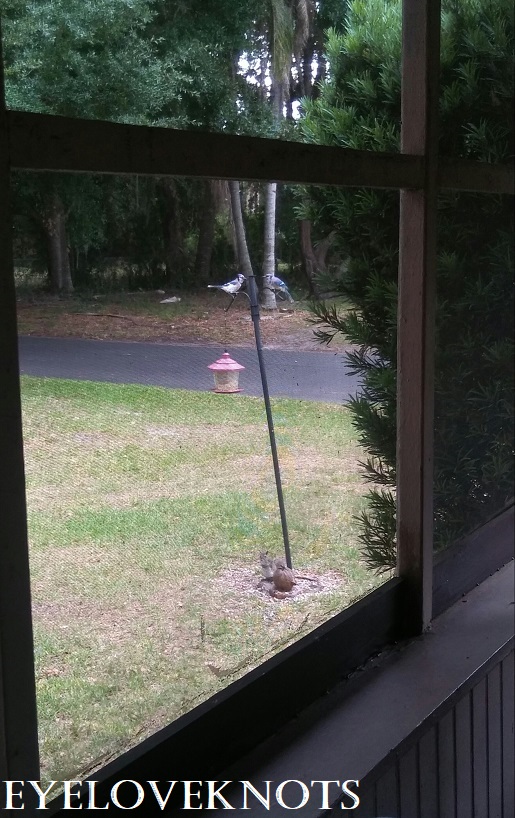 Here is my Blue Jay couple.
It makes me so happy to walk out onto my porch, and see the birds and squirrels at my feeder. Glad to share with you! Do you have bird questions? Drop me a line!
Please feel free to share one of my photos on social media, but DO NOT remove my name. DO NOT re-publish my photos as your own. DO NOT copy and paste anywhere, link to it instead so other's can come for a visit.
Join the EyeLoveKnots Crafting Community on Facebook to share your creations, and see what others are up to!
Linked Up To…

Sundays at Home #245 – Celebrating Everyday Life
Craft Schooling Sunday – Creative Jewish Mom
Inspiration Monday – i should be mopping the floor
Creative Mondays Linkup – Claire Justine
Handmade Monday #119 – Sum of their Stories
The Really Crafty Link Party #162 – Keeping it Real
Craftastic Monday Link Party – Sew Can Do
Tutorials & Tips Link Party #388 – Home Stories A to Z
493rd Inspire Me Tuesday – A Stroll Thru Life
Fabulous Party #260 – Lou Lou Girls
Sew It Cook It Craft It Link Party #97 – Sew Historically
{Wow Me} Wednesday #296 – Ginger Snap Crafts
Your Whims Wednesday #400 – My Girlish Whims
The Wednesday Link Party #288 – The Stitchin' Mommy
Wall to Wall DIY Wednesday Link Up Party Week 41 – Dabbling and Decorating
Crafty Love Link Party #43 – Jessie at Home
Thursday Favorite Things #382 – An Artful Mom
To Grandma's House We Go Link Party #132 – Chas' Crazy Creations