I started crocheting a halter top for myself when I thought how cute it would look as a dress for my little cousin, Madison. So I switched up a few things here and there but felt super accomplished with my finished product. If it hadn't taken so long, I probably would have turned around and made myself one (in every color!)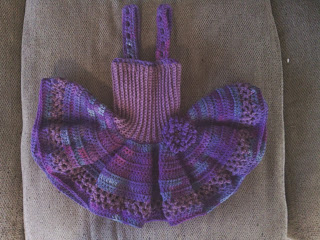 This is a good picture of the skirt. It is very ruffly, and a little heavy but very pretty.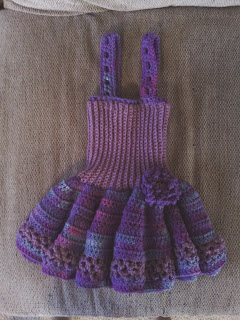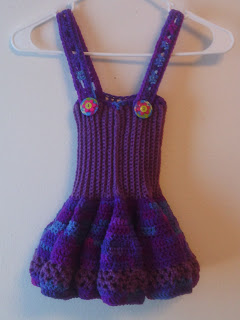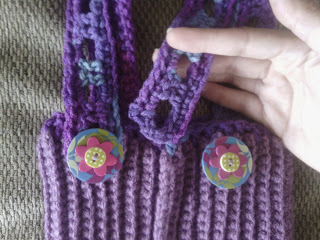 These are one of my favorite sets of buttons. It's part of the  LaMode Coordinates collection. 
I made the straps to go around the buttons, and they're two holes longer than needed so the dress can be worn for a longer period of time.
After I finished the dress, I couldn't just leave it alone. I also added a hat and purse.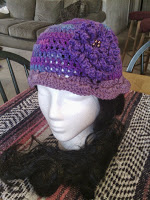 Here is my 'model' wearing the purple hat with a large frilly flower attached.
Check out my Turqua Spring Wreath post to make your own Frilly Flower.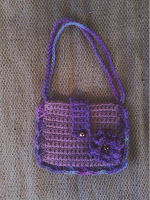 This cute little purse has a small frilly flower on it – check out my Turqua Spring Wreath post to make your own Frilly Flower. It has a large glass pearl sewn into the center of the purse as a closure. Despite how small it looks in this picture, this purse is large enough to hold my phone, keys, ID and still has a little room for more.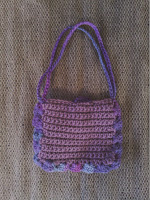 Back of the purse.
All three items took about two balls of Red Heart Super Saver Grape Fizz, one ball of Red Heart Super Saver Lavender, and less than one ball of Red Heart Super Saver Orchid. I also used 11 6mm brown glass pearls (sewn into center of ruffle flowers) and 1 10mm brown glass pearl (sewn into center of purse). The stack of buttons used to hold the straps are the LaMode Coordinates Moonlight Leaves. 
The hat – Toddler Crochet Purple Hat – and purse – Crochet Purple Purse – are available in my Etsy shop. The color combinations are practically endless, so I would be happy to custom make either or in any color of your choosing; as well as the sizing. You'll notice the listing for the crochet purple purse also has a picture of a yellow purse with a long strap. I made this one for myself!
I can also custom make a dress, but as it stands, there isn't a listing up for it.