When I made the Pretty Purple Set for Madison, I had to make something for Tyler too. My cousin, Tiffany, suggested a cape. At first, I thought sewing a cape would be easier and less time consuming. (I have this really great idea for a cute cape in my head, but that's for a later time!) Since I'm financially strapped at the moment, I decided just to buy a ball of yarn and make one. I found a free pattern for Superhero Capes and Masks courtesy of Calleigh's Clips & Crochet Creations by Elisabeth Spivey. Visit! She has lovely things here for little ones.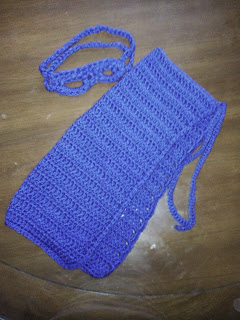 Here is the mask and cape. The cape measures 16″ x 14″ with slight tapering towards the end.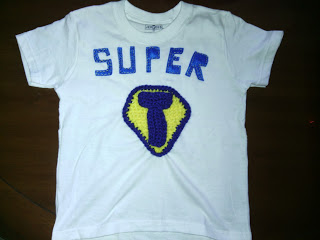 This shirt didn't quite come out as I imagined it. I free hand cut the letters to spell "super" and crocheted my version of the superman diamond with a "T" for Tyler in the center. All is hand sewn onto the shirt. I plan on doing this over for Tyler but going to use a letter template and do the T and the diamond in felt. I feel that the felt will make it more durable and easier to sew and fold.
I also was able to give this to Tyler when I went over to babysit today. Tyler was really excited about putting the cape on. So glad!!
                              Super Tyler              To the Rescue!