I made this beanie to go along with the Crochet Adult Ribbing Scarf in Blue Camo for my mom's friend, Rhonda's, husband, David. Just click the above link to find the FREE pattern for the scarf.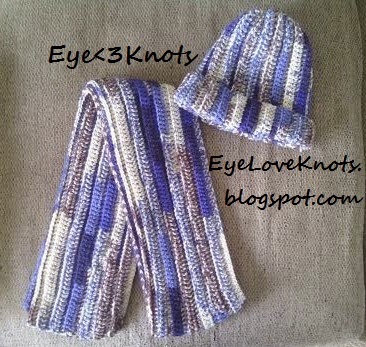 Materials:
     1 ball of worsted weight yarn – I used Hobby Lobby's I Love This Yarn in Blue Camo Stripe
     Size 5.5mm Crochet Hook
     Tapestry Needle for Weaving in Ends


**Note about my choice of yarn:  it has a lot of stretch to it. More than I was used to! Take this into consideration when measuring out your work, if you're going to choose different measurements for your finished scarf.


You will have yarn left over!
If you choose to make the scarf to match, I ended up making the scarf first and then the hat and with the remaining yarn from the scarf, I was able to complete 14 rows for a total of 7″ on the hat.

Time Spent:
Each row took me about 3 minutes to complete for a total of approximately 1 hour and 45 minutes.
Abbreviations:
     FDC – Foundation Double Crochet
**Tamara of Moogly has a great tutorial on YouTube should you need guidance.
     CH – Chain
     BLO – Back Loop Only, to create ribbing
     DC – Double Crochet
     sl st – Slip Stitch
     ea – each


Gauge:
     2 rows = 1″. (not important)


Measurements:
     18″ around by 10.5″ in length
*This hat looks great with or without a folded edge!


Pattern:
FDC 40. Ch 2, turn. BLO, DC in 2nd DC from CH and across. Ch 2, turn.


Rows 2 – 34: BLO, DC in 2nd DC from CH and across. Ch 2, turn.


Row 35: BLO, DC in 2nd DC from CH and across. Ch 1, turn.


Row 36: sl st into 2nd DC and across.
Fasten off.
07.19.14 UPDATE: While working this hat up again, I just realized that I did not get this ending correct at all. In my defense, I followed the Blue Camo Stripe Ribbed Scarf outline for this pattern. Oops! As soon as I am off work tomorrow, I will take pictures finishing up this other hat and get this ending corrected.

07.21.14 UPDATE:


There are two ways your can do this part: 1) Slip Stitch your hat closed; 2) Fasten off your yarn with a long tail and sew up the sides of the hat. 
I'm going to be showing you the first method – my preferred method.


First, Fold your rectangle piece in half. You'll be working from right to left – right side being where your CH 1 is.


Insert your hook under both loops of your first stitch as well as both loops of the stitch behind – so you'll have 4 loops on your hook. Complete the slip stitch.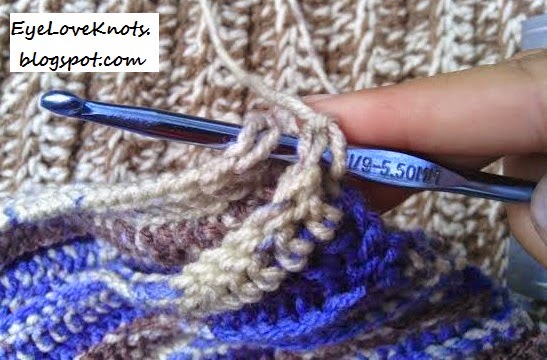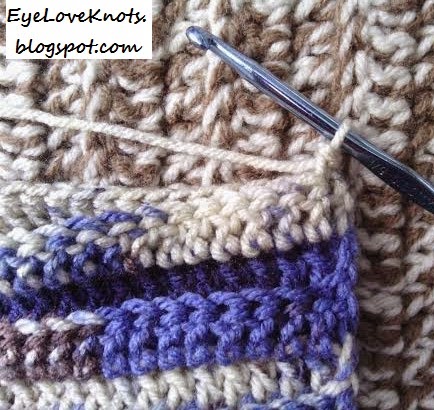 Now just finishing slip stitching through both thicknesses down to the end.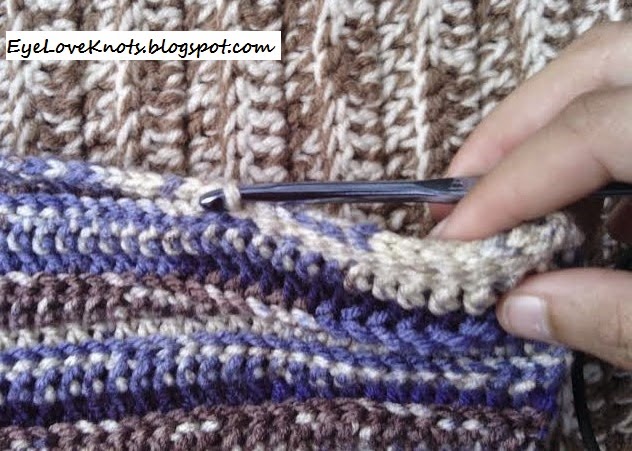 Don't forget the last stitch!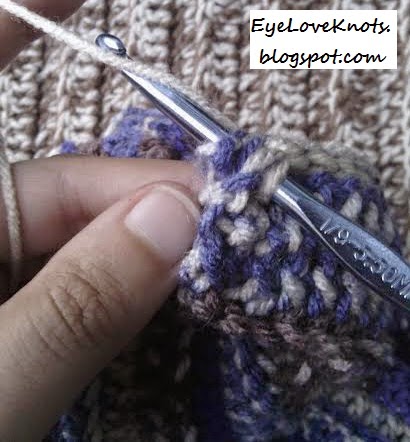 Now fasten off with a long tail so you can sew up the top of the hat.
You'll want to thread your yarn tail into a yarn needle (I use an embroidery needle) and then begin weaving in and out of stitches on the top part.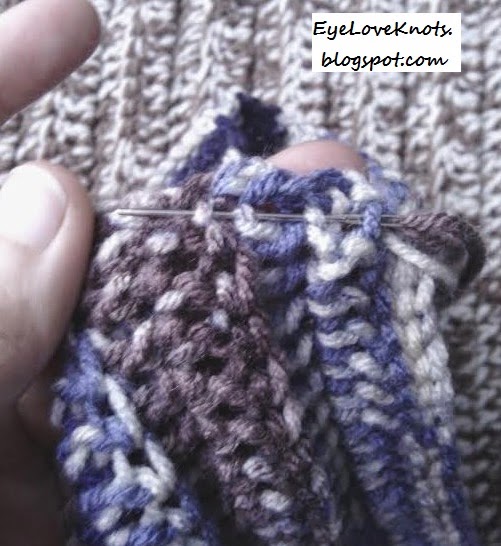 Once you get back to the beginning, you will notice that your top has gathered – similar to that of a drawstring bag. 
Please forgive the darkness! I was doing this after work, trying to finish before the sun set completely.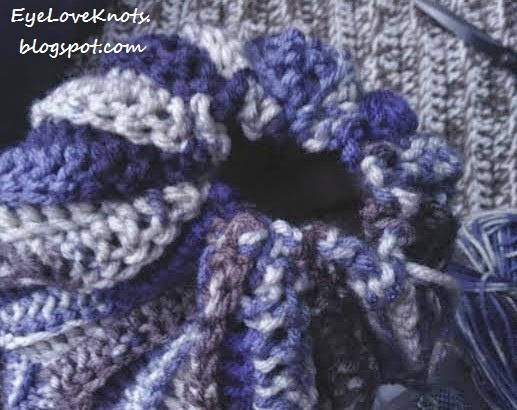 Pull your yarn tail to close up the ring.
While holding the ring closed, begin weaving your yarn needle in and out to hold the ring closed. 
Once you're satisfied, fasten off.
To wear, turn your hat inside out and it's all ready to go!
Please feel free to make and sell this scarf, but please DO NOT claim this pattern on your own nor should you sell my pattern, and DO NOT re-publish my photos as your own.