As part of my mother's recent requests for her friend's family, was a scarf and hat for her friend, Rhonda's, husband, David. The only thing she gave me to go on was "bluish brownish grayish", "not wintery" and "long". So, my boyfriend, Chad, and I took a trip over to Hobby Lobby during our Friday running around. He helped me pick out this Blue Camo Stripe yarn.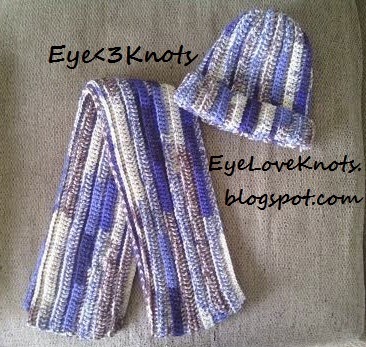 My first thought was to make it with the V Stitch, just like the Crochet Blue Winter Hat and Scarf my mom asked to gift to Rhonda. It took longer than I was willing to work on it being that I was using a thinner yarn so I changed my mind. 
I ended up going with just a plain jane ribbing stitch, just like the Crochet Ribbed Adult Scarf in Forest Green that I made for Chad. That scarf was made with two strands of Wool Ease yarn and worked with a 6mm crochet hook. Here you can find the pattern for this scarf as it is using different yarn and hook.
UPDATE: You can find the pattern for the matching hat HERE.
     Tapestry Needle for weaving in ends
**Note about my choice of yarn:  it has a lot of stretch to it. More than I was used to! Take this into consideration when measuring out your work, if you're going to choose different measurements for your finished scarf.
You will have some yarn left over, approximately a quarter.
~On a side note, I also used this pattern to make a scarf and hat set for my cousins for their birthday. I used solid colors which come in 7oz balls, compared to the self-striping ball which is 5oz. With one ball of the solid color yarn, I was able to complete the foundation row plus 11 rows to measure roughly 6.25″ wide (without the row of slip stitches).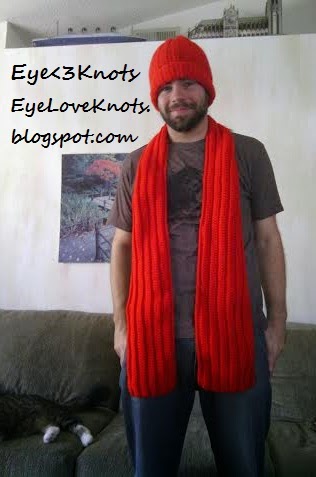 My boyfriend, Chad, modeling
the Sam Set.
Each row took me about 15 minutes to complete, for a total of three and a half hours. 
     FDC – Foundation Double Crochet
     BLO – Back Loop Only, to create the ribbing
Gauge:
     2 rows = 1″. (not important)


Measurements:
     6.5″ wide by 70″ long
Pattern:
FDC 249. Ch 2, turn. BLO, DC in 2nd DC from CH and across. Ch 2, turn.
Rows 2 – 12: BLO, DC in 2nd DC from CH and across. Ch 2, turn.
Row 13: BLO, DC in 2nd DC from CH and across. Ch 1, turn.
Row 14: sl st into 2nd DC and across.
Fasten off.


The I Love This Yarn is a super soft yarn with a nice stretch. 


Please feel free to make and sell this scarf, but please DO NOT claim this pattern on your own nor should you sell my pattern, and DO NOT re-publish my photos as your own.