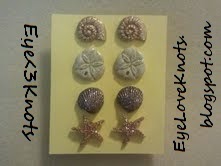 While I don't have a tutorial available for these earrings, I have just updated my Etsy listing so I figured I would do a little post of them. Next time I make a pair, I will gladly take more photos of the process and materials. 


These are SUPER easy to make! And very fun to wear!!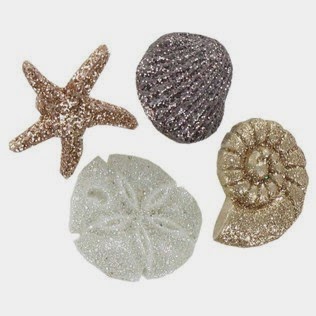 Picture is from Hobby Lobby website.
You can shop for them here.
The seashells were originally buttons, but not for long! I de-shanked them using this Button Shank Remover, glued the pieces together using super glue to secure them, and then used some E6000 to add them to some surgical steel earring posts to make them into studs.


If you purchase these buttons, you will have enough to make 4 pairs of earrings. And the process takes less than 30 minutes plus drying time.


1.) When using a button shank remover, use with caution! As soon as you clip through the shank, the piece will go flying! I usually get it set up to clip, then I cover it with the other hand close to the table so I know exactly where the clipped piece is and to ensure my eyes are protected!


2.) Why use super glue? Some of the buttons are layers of pieces put together, and the shank is the only thing holding the layers together. Once you de-shank the buttons, you will need to super glue the layers together. Be careful not to super glue your fingers as well!


3.) Before adding the E6000, it is recommended that you scratch the back surface of the button (or use sandpaper OR the sidewalk!) to help it all stick together.


4.) Using E6000… It can be very messy! I usually squeeze a quarter size amount onto a piece of junk mail (since the advertisements and things tend to be thicker), and then grab the earring by the post and dip the flat pad into the glue. I DO NOT recommend placing the glue onto the button as it's messier and the button is going to be larger than the earring post. After dipping the flat pad into the glue, you can then place your button on top.


*I DO NOT recommend using hot glue or super glue for this because… well, I've tried it and it did not work AT ALL. Quite frustrating!


5.) When placing your button onto the E6000, keep in mind the placement on your ear! First instinct is going to be to center it, but sometimes you want it to be off-centered so that it will hang right on your ear. This all really depends on the size of the button you are using. Before you glue it down, go up to a mirror and test out the button a little.


6.) You can use ANY earring posts! I use surgical steel earring posts so it is PERFECT FOR SENSITIVE EARS! They are also a very affordable option!! But, if you don't have any sensitivities, any silver plated earring post found at your local craft store or through Etsy, will work out just fine. 
*Something to keep in mind: My first go at jewelry (outside of my introductory kit where all pieces were provided and no studs were on the test), I purchased a larger package of earring studs from Joann's, similar to these, and they do work. HOWEVER, I found that the posts on the smaller of the two sizes available tends to come loose where the flat pad and post meet. This probably happened to half of the studs I made. I don't think the pieces will actually detach, but the posts then wiggle and it is very annoying. ESPECIALLY if you are selling your pieces. I ended up throwing out the wiggly pairs of earrings.