I made a trip into Joann's a few weeks ago, not looking to make any purchases – solely to check out the yarn options (while I waited for the time to pass so I could go pick up Chad for lunch).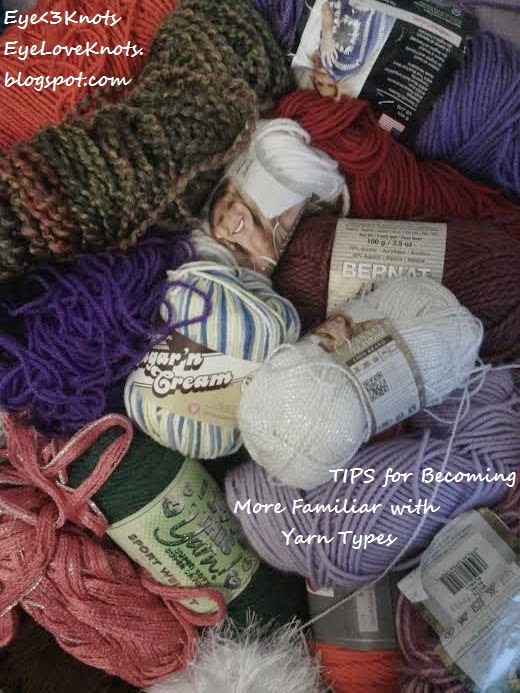 While my shop, EyeLoveKnots, started out like (and kind of still looks like) an "everything-but-the-kitchen-sink" sort of deal, I've decided through my own crafting that I tend to favor crocheting baby blankets, hats and scarves, decoupaging the ceramic tiles into coasters and making my own basic jewelry (LOVE my jewelry!). This post is focusing on the yarn side so I'll share my tips on the other crafts at a later date, BUT I decided if I was going to focus more on the crocheting aspect, I'd need to get more familiar with my yarn options.


I basically walked around taking notes on yarn textures, color options and how many ounces per ball. I also compared similar yarn types. I noted which ones I thought would make nice baby blankets or hats and scarves and even checked out the cotton yarns for washcloths and coasters!


Two things I started before I made this trip I found to be helpful:


1. I started bookmarking projects by season instead of just category.
– Examples include: "Fall Hats" or "Fall Child Hats" RATHER than just "Hats"; "Spring Scarves" RATHER than just "Scarves"; "Summer Shirts/Tops" RATHER than just "Shirts/Tops".
This did two things for me:
A. Forced me to recognize yarn types to determine placement.
B. Helped organize my bookmarks so now I can immediately find my projects, rather than dig through a bunch.


2. I created a Yarn Review and Stash of my "Got-to-Make" Patterns Page here on my blog – *has been split into two pages, A-L and M-Z. On these page, I've listed the yarns that I've come across (not necessarily used yet) and included their fiber content, weight, care instructions and a space for my personal notes. Underneath, I've listed links to the patterns I'd like to try and my notes on each one including what season/occasion I think each would be good for, how to change for different seasons/occasions, available sizes, difficulty, etc.
This also did two things for me:
A. Helped me to better organize my bookmarks and rediscover project previously bookmarked and forgotten about.
B. Become more familiar with yarn types and the kinds of projects associated with each.


Having started these two things first – I was able to 'put a face to a name' – match yarn to the name, details and patterns I had been working with.


I found this trip I made to be very beneficial to me. I felt very relaxed as it was a quiet day and I wasn't busy calculating prices and discounts in my head or trying to figure out how many balls of yarn I needed for this or that. It allowed me to feel the yarn types – see which ones help up to my softness standards and which felt/looked similar. AND it allowed me to see rough quantities kept on the floor and color options carried in the store.


Best of luck to you in your yarn choosing adventures. I'd love to hear your reviews, experiences, opinions, suggestions, input, etc on yarns. Please be kind and respectful in your comments.