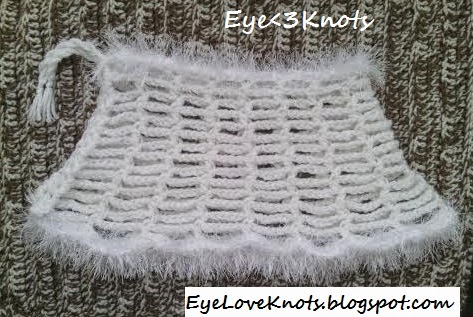 While I was updating my Vanna's Choice section of my Yarn Review page, I re-came across Lion Brand's Starlet Cape. I say 're' because I had previously bookmarked it – and then forgot about it!


My Aunt Patti is getting married in Las Vegas in a few months by an Elvis impersonator. I love the idea because as her and her fiance's second marriage, they just want to have a ton of fun. What is more fun and different than a Vegas wedding by Elvis?


When I re'came across this pattern, I thought, what better for a Vegas wedding than a Hollywood Marilyn Monroe like cape to go over my aunt's wedding dress? It's also fun enough for her to wear the remainder of her days there.


I went to Joann's today and found the Vanna's Choice yarn on sale plus my 50% off coupon for the Vanna's Glamour yarn. I got my Fun Fur yarn at Michaels on clearance 50% off!


*I found that the Vanna's Glamour yarn is rough. It has 4% metallic polyester – even such a small amount makes this yarn rough. It pairs well with the Vanna's Choice yarn, but I probably would not use alone.


Measures 8 inches in length by 32 inches across lower edge.


Took me between 4.5 and 5.5 minutes depending on the row, for a total of about an hour and a half to complete the cape and do the front finishings on the edge plus 35 minutes to do the top and bottom finishings.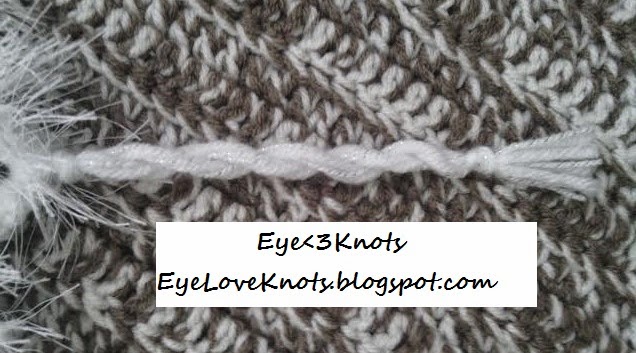 I decided to do the ties a little differently. I cut four strands of A and B at 24″ long, two strands of each per side. Then I pulled it through the top edge of each side so the strands were doubled, and made an overhand knot to secure. I then divided the strands in two, and twisted the two parts tightly together until near the bottom. Then I made another overhand knot to secure, and cut to make the loose strands even.


I opted not to attach a pom pom to the ends.


I immediately put the cape on and went to go show my mother. She just started laughing! I am so excited to give this to my aunt!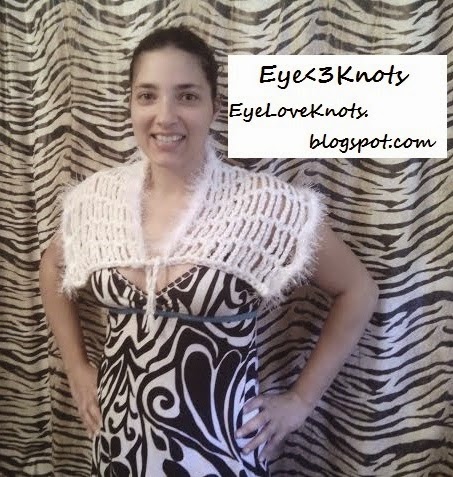 Pull it forward.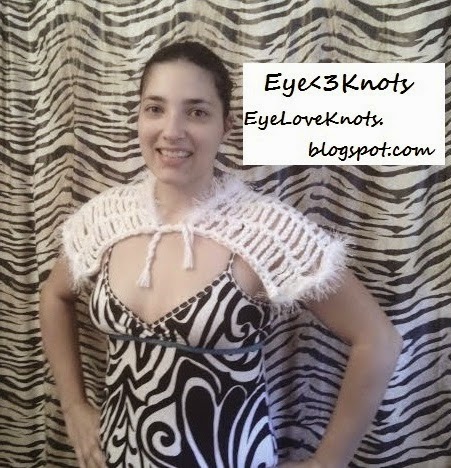 Let it lay loose.
However you choose to wear it! It will keep your shoulders nice and warm!