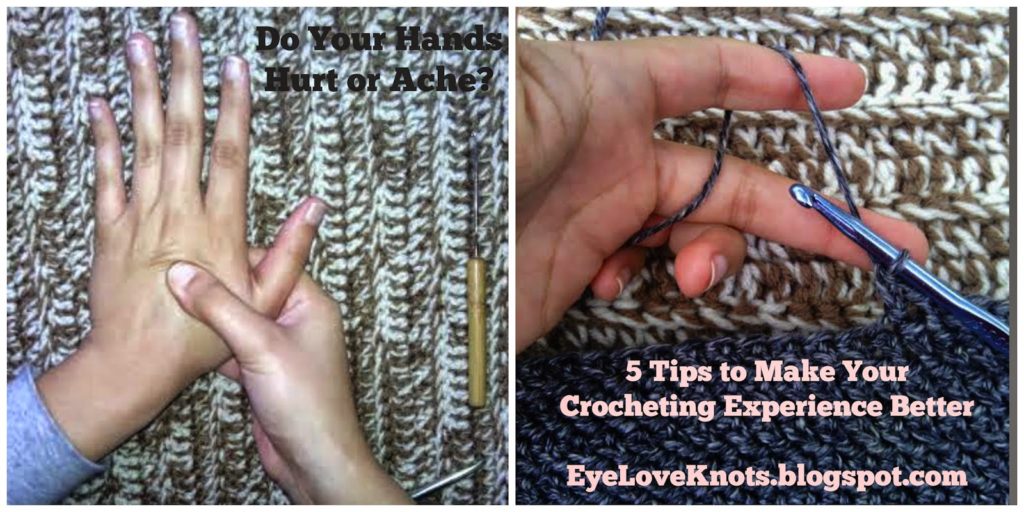 Do your hands and/or fingers hurt or ache? Mine usually hurt or ache on and off, but lately it has been a constant pain day in and day out.

This pain is so frustrating because my heart really wants to crochet, but my hands prevent me from doing so. The pain and aching leads to lack of motivation, which can lead to depression. I find that crocheting helps my mind stay clear and happy.

Here are some of my tips to help make your crocheting experience better, as your hands won't keep you from working!


*Please note that I am not a doctor nor certified in any manner to give medical diagnoses or suggest treatment for any one particular issue.
These are tips that I personally use and recommend.

First off, you want to make sure you are taking regular breaks from your crocheting projects. I know how easy it is to get carried away and excited to finish your project, but sometimes they really aren't meant to be completed in one sitting. It's important to take a break every once and a while to give your fingers and hands a break. Take this time to go for a walk down to the mailbox, make yourself a[nother] cup of coffee, watch a little TV or do something else.

It's also important to stretch. Examples include: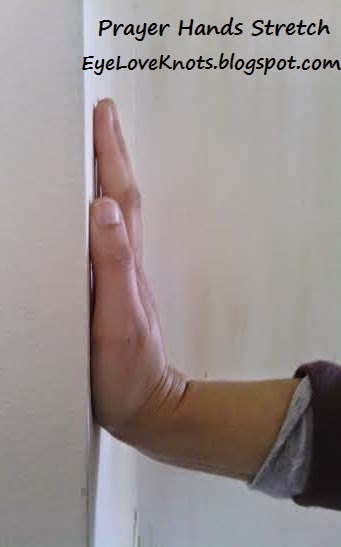 You can do this stretch
against a wall, or with
your hands together, as in
a prayer position.
For this one, you should
be lifting your elbows up-
ward until you feel a
little pressure in your wrists.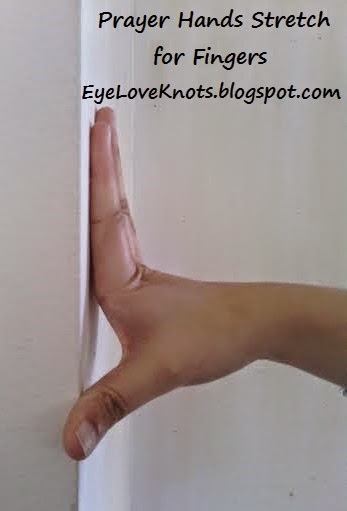 In the same prayer position,
take the pressure off of your wrists,
and place it in your knuckles, as
if cracking them but don't apply that
much pressure.
You should also be pressing down on the
bottom of your thumb, feeling the
pressure in that area separating your
index finger and thumb.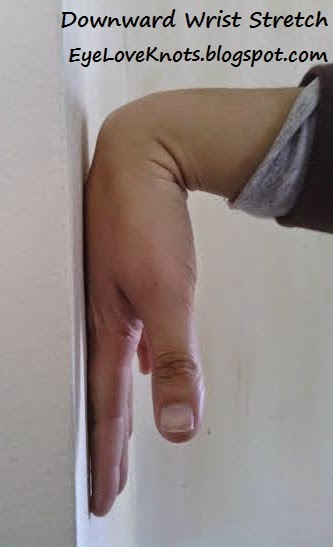 For this downward stretch, your fingers should be pointing towards the ground. You will put a touch of pressure on the top of your hand, and feel
it on the under part of your wrist, where it bends.
Massage is also something to consider. You can either do it to yourself, or have someone else do it to you. Something fun to consider is to go get a manicure. After your nails are cut and filed down, the technician will apply lotion to your hands and arms and massage them for you, then you wash them and continue on with the manicure process. You can ask the technician to spend a little more time on your arms and hands though. Some examples of massage include: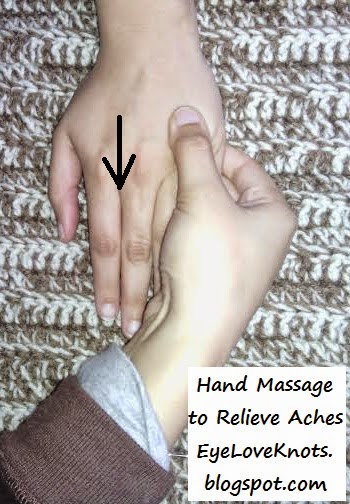 When you do get a manicure, the hand massage usually includes pressing in the meaty part of your hand just above your knuckles and then dragging in a downward motion…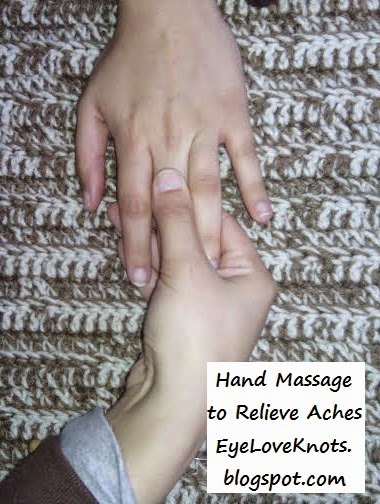 … to the tips of the fingers.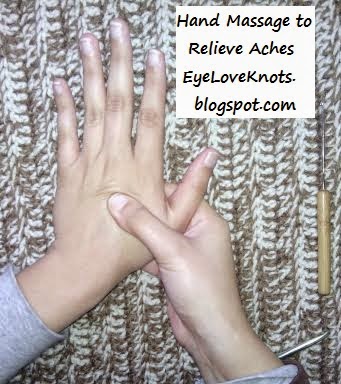 I like to massage in this meaty part of the top of my hand in between my index and middle fingers, and index finger and thumb. I go from wrist in an upward motion to my knuckles.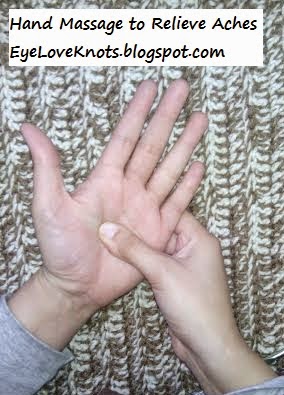 Then I turn my hand and massage beginning in the middle of my palm
in an upward motion to my knuckles.
You may be interested in trying out some ergonomic crochet hooks. These are designed to limit the tension on your hands as you crochet. I have some that I purchased from Hobby Lobby – not on purpose though, I just needed those sizes. It is a little strange to get used to the feel at first, but they do make a difference, especially in the smaller size hooks. Alternatively, you could wrap your hooks in polymer clay, bake and have your own ergonomic hooks without spending too much extra.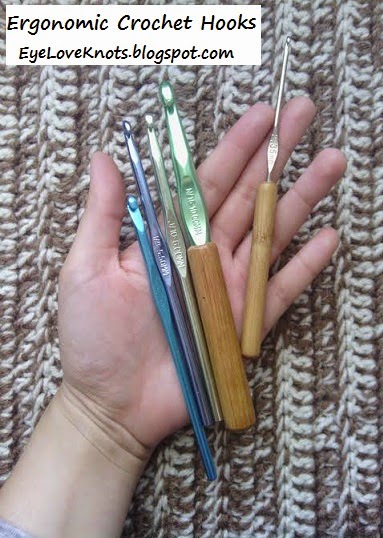 Here are some of my hooks.
The two to the right are the ones I purchased from Hobby Lobby.
They have wooden handles, and are comfortable to hold.
You may also find it useful to change the way you hold your yarn to reduce the tension in your tension hand. This does not need to be a permanent change. I tend to hold my yarn this way if my hands are hurting/aching, or if I am using a thin yarn or thread.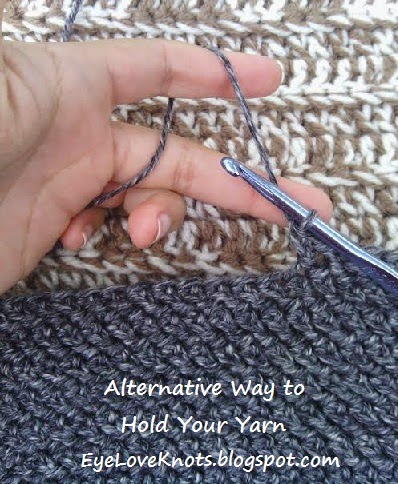 This is how you would normally hold your yarn, keeping the tension within your ring and pinky fingers.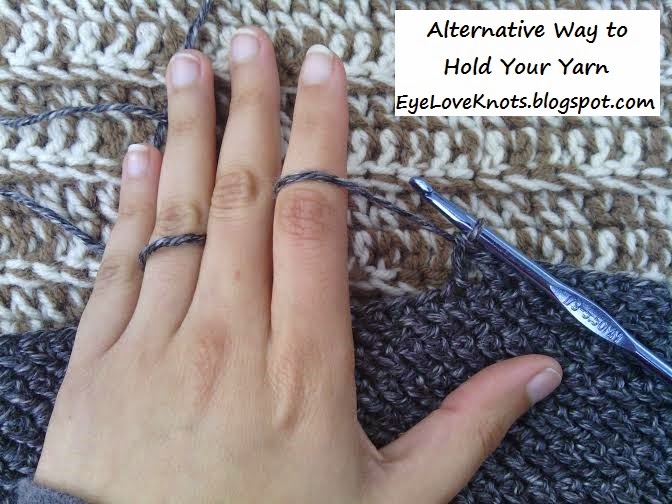 However, you may consider using this method.
I keep the yarn around my pointer finger as you regularly do,
but then I place the other end of the yarn underneath my middle finger
and on top of my ring finger.
This change puts the tension between your middle and ring fingers and takes all pressure off of your hand. The yarn will still flow just as easily and smoothly out of your hands as you work.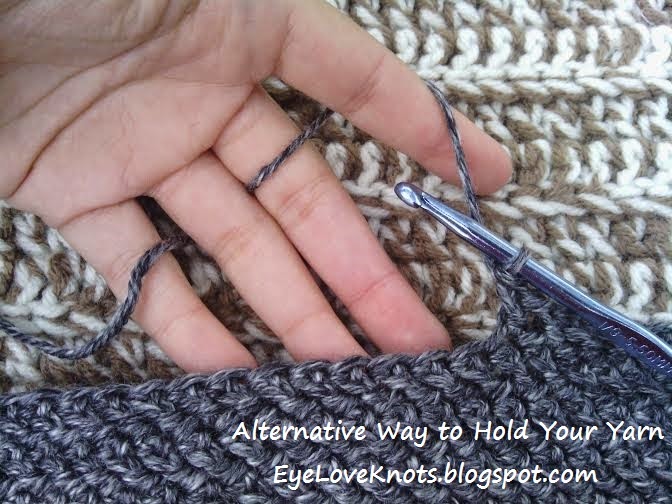 Here's a bottom-side view.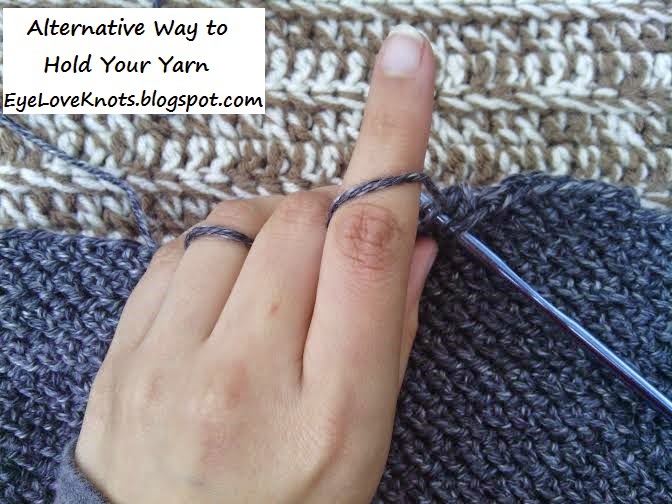 You may even find this method beneficial in holding your project as you now have your middle finger and thumb easily accessible to help hold the piece you are working on.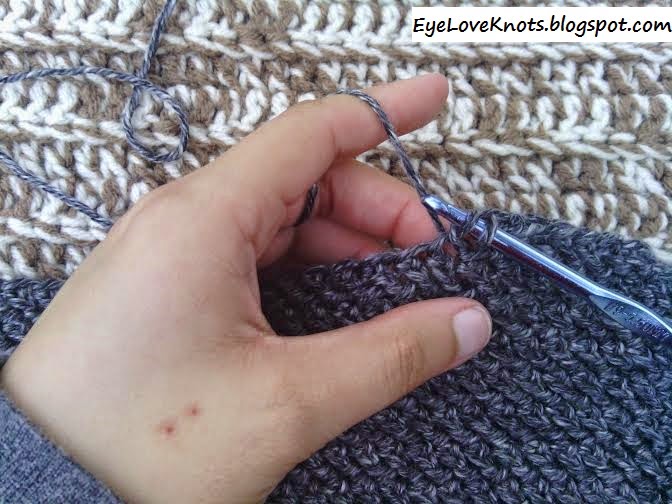 I hope some of these techniques help you in your crocheting journey! And allow you to continue on crocheting for many years.
If you have any other tips or suggestions, I would love for you to share!