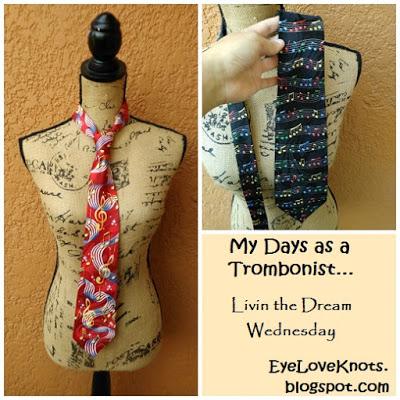 In high school, I played regular Trombone in the Concert and Symphonic Bands, and Bass Trombone in the jazz band – and loved every minute of it! While digging through one of my boxes at home, I came across these ties that I used to wear for performances. 


The red one on the left we wore during our jazz band performances. I remember the first performance we wore them too… It was at a prep school downtown, and I remember tying a few peoples ties – even a couple guys – funny because, I had only taught myself the night before how to tie it, hehe. This tie has such a fun and pretty pattern on it – red with gold and blue "moving" notes and staff. 


The black one on the top right is the first one I bought – in middle school! We used to have solo and ensemble performances once a year, and I used to wear this black one to these from 6th grade up through high school.


I took these photos, and have since donated them to my local Goodwill – hopefully someone else can get some good use out of it 🙂


Any other previous band members out there?
Happy Wednesday!