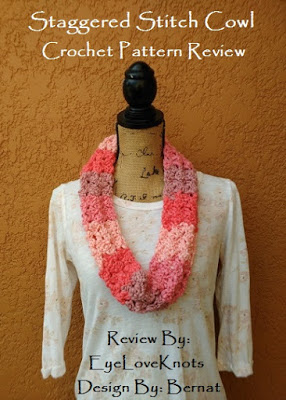 We have a local home called The Russell Home [for Atypical Children] which houses special needs children (and some who have grown up in the home). The Russell Home is a private, not-for-profit home that provides around the clock care and love to those living there, and make it feel just like home for them.
Todd's mom, Sheila, has been working on Christmas gifts for them for a couple weeks now. I have thrown in a few crocheted items, but she is working hard making sure everyone receives either a hat, scarf, or blanket and some smaller items like flashlights and coloring books.
She started working on a cowl for one of the girls at The Russell Home with Bernat Dimensions yarn, but the dimensions part of the yarn had her frustrated so she gave it to me instead. I looked up free crochet patterns on the Yarnspirations site to see which ones only required one skein of yarn, and settled on this

Staggered Stitch Cowl

, which is made up of a slanted shell-like pattern. 
Materials I Used:
     – J10/6mm Crochet Hook (as recommended)
     – #18 Tapestry Needle for Sewing & Weaving in Ends
Yarn Review:
     This was my first time working with

Bernat Dimensions yarn

. It was interesting for sure, but produces a really pretty finished piece, and really wasn't that hard to work with. The most important thing to keep in mind when working with this yarn is your tension. You must keep a loose tension and work stitches loosely to maintain the size since some parts of the strand are thread-like thickness, and some parts are chunky-like thickness. I didn't experience any splitting with this yarn, which is wonderful, and the finished piece was soft, fluffy and showcased a beautiful color change. I do caution to take extra care if ripping back the work, as the stitches do get caught similar to that of Lion Brand's Homespun yarn. Overall, fun yarn – I look forward to trying some other projects out with it 🙂
Time Spent:
     My cowl was finished in just under two and a half hours.
Measurements:
     My finished cowl measures 5.5″ wide by 32″ around.
Pattern Notes:
     I did not take a gauge as I did not find it to be critical for this project. My cowl came to measure only 5.5″ wide, while the pattern states it should measure approximately 9″ wide. Even by going up a hook size or two, I would not have been able to meet this width so I think the measurements given could be incorrect. Nonetheless, you could always start with a longer beginning chain to achieve a wider cowl. I like my final width, and if I made another, it would be to this width as well.
As mentioned in the yarn review above, make sure to work the beginning chain stitches, and the remaining stitches loosely to account for the change in yarn thickness. If you find trouble with achieving this in the beginning chain, you might find it useful to work the beginning chain in a larger hook size.
To maintain an even side, in Row 2, work the last single crochet into the 2nd chain of the foundation turning chain.
Normally, anytime I begin a row in double crochet, I chain 2 (instead of 3) so the chain and double crochet are closer in size, and it minimizes the gap on the side. In this pattern, I tried the chain 2, and my sides came out so tight that my piece was not laying flat – it reminded me of the insides of a diaper. I went back, and chained 3 as written but still experienced the bunching, as did I with a chainless double crochet. Finally, just as I was about to give up on the cowl, I tried a chain 4 and worked the last stitch into the 3rd chain, and it worked! (And saved the cowl.)
I worked all double crochet clusters into the chain 3 space, not the actual chains, because I liked the look better. 
The piece also took on a slight ripple. If you don't like this, you could block the cowl, but I thought it went really well with the project at hand and the look of the yarn once crocheted.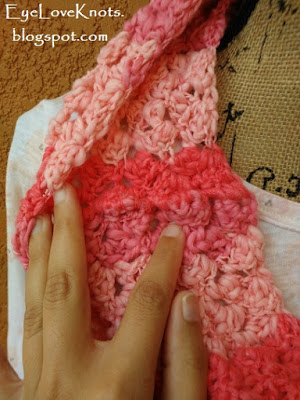 I worked my piece until I ran out of yarn (with enough to sew closed), which was at 57 rows. To close, I laid my right sides together, threaded my #18 needle and whipstitched it closed, working two whipstitches per stitch. This produced a slight seam, which can be seen in the photo above – mainly because the ripples were in the same places on both sides as opposed to staggered. 
Alternatively, you could fold so right sides face, and then slip stitch through both layers to create a seam as well – this does produce a larger seam though.

This would be a good pattern to twist the cowl before sewing. It would lay flat better, and emphasize the pretty color blocks – which are each about 2.75″ tall.

Overall, this was a really easy pattern to work and memorize, and the yarn is a great pair for this cowl. I would like to work some additional cowls in this manner, as well as some other projects in the pattern, and try out this yarn a little more.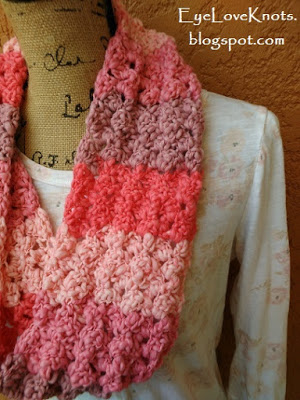 Upon completion, I gave this cowl to Sheila to add to the gifts going to The Russell Home, and have a matching hat in the works. Will you/have you donated any items to a local charity or home for the holidays? Would love to hear your stories 🙂

With so many size, yarn type and color options, I would love to see them! Please share your photos on my EyeLoveKnots Facebook page, or join the EyeLoveKnots Crafting Community to share your creations, and see what other's are up to!

Don't miss out on new crochet patterns, reviews, jewelry tutorials and more! Subscribe to EyeLoveKnots by using the box on the right side toolbar, or follow me via Bloglovin