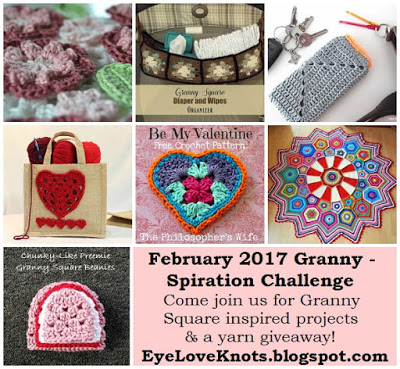 Just a reminder: Don't forget to enter the Yarn Giveaway for two skeins of Andes Alpaca Yarn and share your Granny-Spiration projects in the link up! Visit my Chunky-Like Preemie Granny Square Beanies to enter the giveaway and link up. Even if you entered already – the timers restart every day, and you can now enter again!! Keep working on your Granny-Spiration projects too because we'll be back with more projects for you Saturday, March 4th with another link up and giveaway!

Featured in the collage are your bloghop hosts. Left to right, then top to bottom:

Granny Square Floral Wall Hanging – Atelier Marie-Lucienne. At first glance of the photo, you are taking away by the beautiful flowers, but after following the link, you come to a gorgeous wall hanging created with a simple granny square embellished by those beautiful flowers. This is a great addition to your home approaching the Spring Season, or as is for Valentine's Day. Post includes free crochet instructions for the flowers. I am not much for blocking, but I could see myself working something like this and then attaching it to a canvas – like Sigrid from Kat Kat Katoen did last month with her Granny Canvas.

Granny Square Diaper and Wipes Organizer – Rhelena. Free Crochet Pattern and Photo Tutorial from [R]Helena! I am really in love with this idea. I do not have any kids so I wouldn't need it for diapers, but I am thinking it would be a great addition to the tv table next to where I do much of my crocheting to hold my yarn, some notions and WIPs. And! If you want some more stability, sew the square bottoms to some stiff plastic canvas. I use it in my purses, and it works like a charm to better keep the shape, and is very sturdy. 

Granny Phone Cozy – Kat Kat Katoen. I have made a similar cozy using a regular granny square, but I much prefer the look of the solid granny square as Sigrid has done – especially the one done up in a variegated colorway! This is a nice project to work up as a treat to yourself, or for gift gifting. And the use of the rubber band – genius!

Granny Heart Tote – Crochet is the Way. What a fun way to dress up a bag. This is an easy way to show a little extra love when gift gifting. You could even follow her pattern for a smaller heart, put some felt on the back and use as a tag, or make them in different colors to differentiate. This is a free crochet pattern with photo tutorial.
Be My Valentine Heart – The Philosopher's Wife. Such a sweet little heart with a fun twist! This heart is worked in worsted weight yarn, so I am assuming it's a larger heart which I think would probably make a nice little coaster. Worked in thinner yarns would also make this perfect as a applique to add to a hat, shirt pocket, or even a card! (just to name a few). Free crochet pattern included for us 🙂
Carousel Blanket – Hakelfieber Austria. This blanket is just breathtaking! Truly a work of art. Looking at it, and following along with the construction of it, you can see lots of hard work, time and yarn has gone into this (and maybe some cussing, long sighs and ice cream consuming – especially when it came to weaving in all those ends!). I am in love. I have pinned the pattern (from Stylecraft) so that when I have a clearer schedule, I can try my hand at it, and I've subscribed to the Stylecraft newsletter because I want in on the next CAL. 

Lastly, my Chunky-Like Preemie Granny Square Beanies! These little beanies don't take hardly any yarn, and work up so quickly. Please consider working up a set, and donating! They would also work for dolls 🙂
Join the EyeLoveKnots Crafting Community to share your creations, and see what other's are up to!

Don't miss out on new crochet patterns, reviews, jewelry tutorials and more! Subscribe to EyeLoveKnots by using the box on the right side toolbar, or follow me via Bloglovin!

You May Also Like…