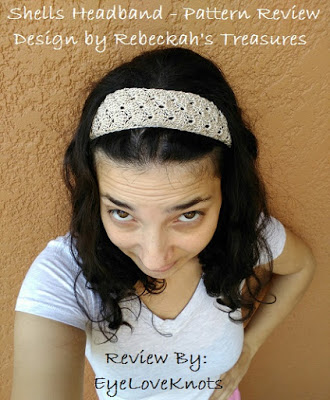 I pattern tested this for my friend Rebeckah of Rebeckah's Treasures. I am always blown away at her creativity, and the energy and detail she puts into each of her patterns and projects. She designed this as part of the Designers Potpourri CAL, a year long crochet-a-long featuring four designers and 15 free crochet patterns! I had fun testing this pattern out, and didn't want to take off the headband once I was finished. Initially, I grabbed a skein I thought was light gray and was just going to go with it, but it ended up being Ivory and the shell pattern really came through beautifully! (Though, I think it would have in the light gray as well, or any lighter color – I think a darker color may be harder to see the shells). 

Are you a raveler? If so, make sure to favorite this Adjustable Shells Headband and link up your project to it!
     – #20 Tapestry Needle for Weaving
     – 4.5mm & H8/5mm Crochet Hooks (optional – for Part 1)
Material Notes:
     Yarn Alternatives: Aunt Lydia's Classic #10 Thread. 
     I had mine finished in just under an hour. 
     1 7/8″ Wide by 16.25″ Long; 1 7/8″ Wide by 15.5″ Long 
Pattern Notes:
     After working Part 1, I pulled out my H8/5mm hook to shape the tube, then I used my 4.5mm hook to pull the rubber band through. Probably much easier to hook a safety pin around the rubber band and pull through, but because I didn't have one, the hook worked too.
The pattern is very detailed with suggestions for starting stitches. I wanted a thinner headband so I started with 13 single crochet onto the band, which left me with two shells. 
I worked a total of 57 rows to equal 16.25″ long (including the band, which is 2.5″ long when folded). 
Take 2: After working a couple other headbands, I prefer a 15.5″ long piece. It feels better fitted. To achieve this, I worked 48 rows, and then joined.

*Originally, I worked my Ivory headband with a chain 2 as the beginning stitch count. After working the whole piece, and sewing together, I found that my headband was too tight along the edge where the last stitch is worked into the beginning chain 2. I thought maybe a chain 3, or chainless double crochet would be alternatives next go 'round. In between headbands though, I worked the Staggered Stitch Cowl, which I faced a similar issue – but worse! To help ease the side of the cowl, I worked a chain 4, and then worked the last stitch into the 3rd chain of this beginning chain. I decided to try this on my second headband, and it worked out perfectly!
At the end, I chained 1 and turned. Then I folded the work as to work across, and I did so as the pattern stated working onto the other side of the band. Once across, I fastened off, and turned my piece so the side just worked on was the wrong side.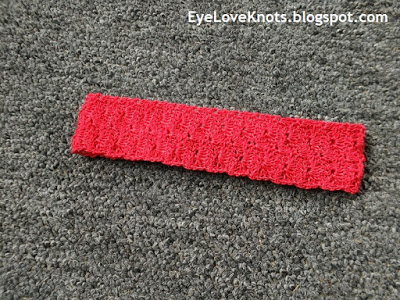 Overall, this is a great tutorial chalk full of lots of helpful information and photos, and the pattern is really easy to follow and memorize and produces a beautiful headband with great crispness using cotton thread. I can't wait to bust out thread from my stash and make a bunch more in other colors!
Don't miss out on new crochet patterns, reviews, jewelry tutorials and more! Subscribe to EyeLoveKnots by using the box on the right side toolbar, or follow me via 
Bloglovin
!
You May Also Like…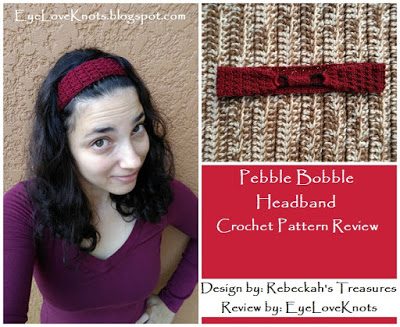 Design by Rebeckah's Treasures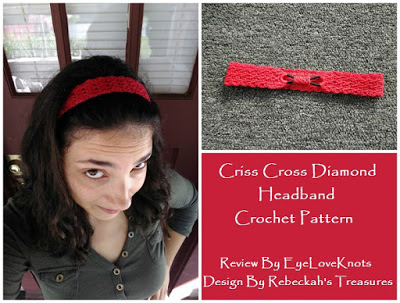 Design by Rebeckah's Treasures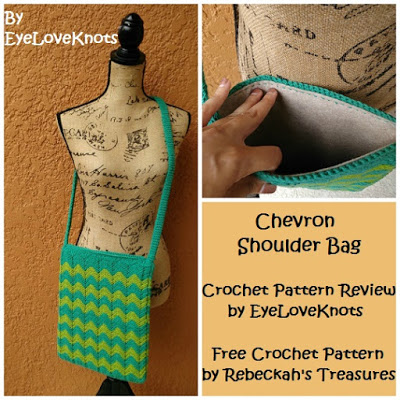 Design by Rebeckah's Treasures