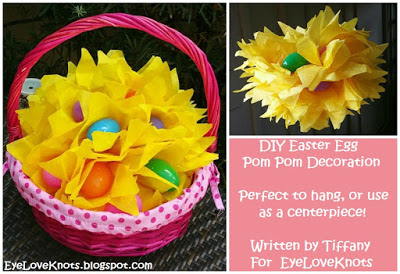 I've  been making tissue paper pom poms for several years now. I love how simple and fun they are to make. They can be used for any occasion and in many ways such as centerpieces or hanging decorations. There are so many variations you can do too.  
After Easter my kids always have an enormous amount of plastic egg shells. I  usually save some thinking I will find another use for them. Until now they have just sat in a storage bin. It's great to finally have a use for these bright and colorful eggs.
This project can be done in as little as five minutes. It's also kid friendly, so the little ones can help out too.

This tutorial was written by my awesome cousin, Tiffany, for EyeLoveKnots! She loves baking and DIYing, and is going to be joining us more often. Want to see something specifically? Drop us a line below!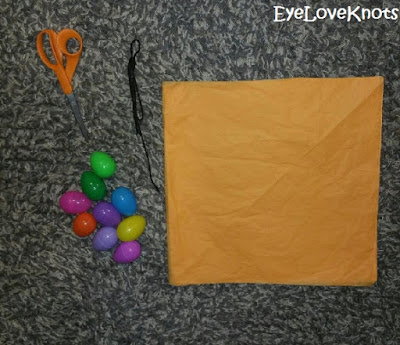 – about 15 sheets of square tissue paper
– Glue ( I used a hot glue gun for quick application)
Direction:
1.
Start at one side of the stacked tissue paper and fold the sheets in an accordion style. Make sure to press each fold down as you go. Make each fold about an inch wide.
2. Securely tie a string around the middle of the folded tissue paper. If you are planning on hanging the pom pom, make sure to leave extra string to hang it.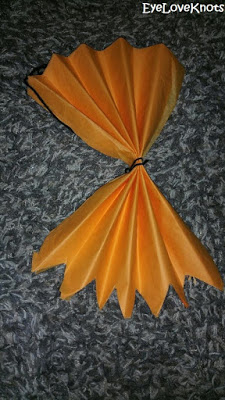 3. Cut triangle shapes along the edge of the accordion folds. I made mine about an inch deep. You can also cut different designs for a different look.

4. Gently pull inch sheet of tissue paper out so that it begins to fan out into a ball shape. Continue doing this around until all of the sheets are separated.

5. Glue the plastic eggs in various sections of the pom pom until you have the look you are going for.
Have fun and get creative with it!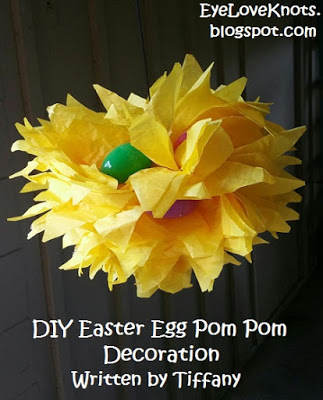 Please DO NOT claim this tutorial as your own nor should you sell this tutorial, and DO NOT re-publish these photos as your own. DO NOT copy and paste this recipe anywhere, link to it instead.
Don't miss out on new crochet patterns, reviews, jewelry tutorials and more! Subscribe to EyeLoveKnots by using the box on the right side toolbar, or follow me via 
Bloglovin
!