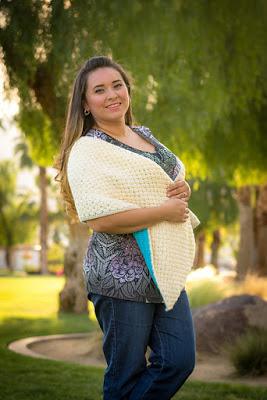 Photo Courtesy of Pattern Pack Pro
My Reversible Celtic Weave Wrap can be found in the latest issue of the The Pattern Pack Pro Magazine – April 2017, Issue 31, Wraps – which features four gorgeous rectangle wraps.


When I first saw the call for wraps, and read that they could be any style, I jotted down and began two different wraps – one being this Reversible Celtic Weave Wrap, and the other being a fun triangle shawl. After only working a few rows and ripping back and reworking on this wrap, I decided to take a break on this one until after the deadline, and focus my attention on the triangle one to submit – and it paid off because it was accepted!
But… Since it featured flowers, Emily (Pattern Pack Pro Editor) though it would fit better into an upcoming Happily Hooked Magazine issue, and so I was left to return back to my celtic weave wrap because I really wanted to be included in this issue, and keep my spot. 


I was in love with the beautiful texture of the celtic weave paired with the creamy color, but my horizontal sides were curling! What to do… What to do? Well, I went back to my local Hobby Lobby for some more yarn when I spotted the bright blue color you see on the belly of this wrap – it's called Splash. This is probably my new favorite color – I have it on my nails and toes, and several WIPs. Anywho, to solve the curling, I decided I was going to work a separate piece of a single, solid stitch pattern and attach it to the celtic weave layer to make it sturdier, and reversible. 


And… After 16 hours or so, my Reversible Celtic Weave Wrap was complete, and mailed off for photography, and I was super excited about sharing this design! I think it would look great as part of a wedding ensemble – could be white on top, and the bridal color on the bottom – or as part of a holiday ensemble – could be all white, or black on the top and gold on the bottom – just to name a few ideas. You also could just continue in pattern, and work up a throw blanket!

To complete your own wrap, you will need less than two skeins each of Baby Bee's Sweet Delight Yarn – I used the Naked and Splash colorways – or about 2260 yards of light weight yarn, and an H8/5mm crochet hook. 

Issue 31 Also Features…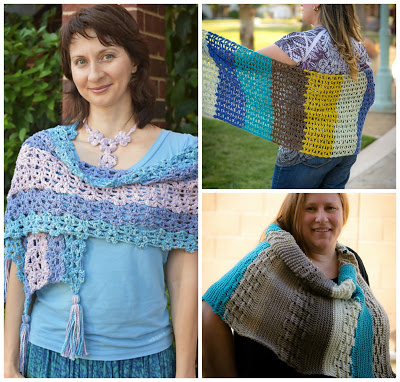 The Evening Clouds Shawlette (left) by Natalia Johnson, the Juliaetta Shawlette (top right) by Debbie Richardson and Jen's Tunisian Winter Wrap (bottom right) by Darcy Johnson.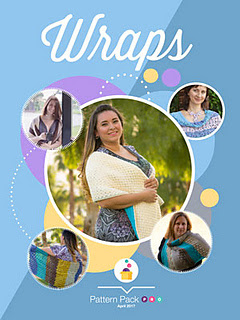 Front cover of Pattern Pack Pro April 2017 Issue 31.
Hop on over to the Happily Hooked Magazine site to subscribe and get the current issue – April 2017, Issue 31!

Share your version of this project on Ravelry – Reversible Celtic Weave Wrap. Check out the EyeLoveKnots Ravelry page to keep track of all your EyeLoveKnots favorites in your que, and share your WIPS and finished projects!

Don't miss out on new crochet patterns, reviews, jewelry tutorials and more! Subscribe to EyeLoveKnots by using the box on the right side toolbar, or follow me via Bloglovin!