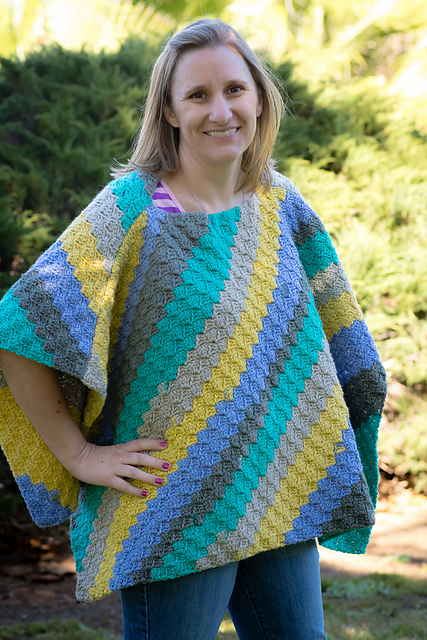 Photo courtesy of Emily Truman for the Pattern Pack Pro.
My Corner to Corner Poncho can be found in March 2018, Issue 42 of the Pattern Pack Pro. This issues theme was "Ponchos" to include mine and five other ponchos.

If you don't already subscribe to the Pattern Pack Pro, it's a great monthly crochet magazine that focuses specifically on a type of project to help build your repertoire. Use this link to subscribe now – this contains an affiliate link, meaning if you subscribe using it, I will earn a small commission at no extra cost to you!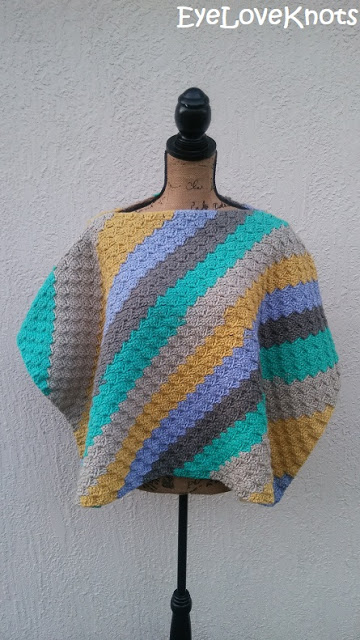 Originally, I designed this poncho with the theme "Cakes Yarn" in mind for another issue, but upon completion, Emily wanted it for this poncho issue. I happily agreed. In my designing process though, I wanted something different. Most of the Cakes projects I see are blankets and scarves, and I wanted to do something different, so I went with this Corner to Corner Poncho.


Though I didn't add into this design, you could always add some buttons down the sides to keep closed. And with this poncho being a one size fits most, the neckline is too. I wear a size large top, and after I put this on, I think if I were to make another, I would make my neck opening 12″. With a larger opening, the poncho would lay better, and not pull up as much on the backside.

To complete your own Corner to Corner Poncho, you will need 1,532 yards of #4 Worsted Weight Yarn – I used four skeins of Caron's Cakes in the Banana Bread colorway. Found mine at my local Michaels. You'll also need an I9/5.5mm crochet hook. It would also be fun in a variegated color on one side, and a solid on the other, or all in one solid color.

Issue 42 Also Features…

These Crochet Patterns:
     – Mammoth Poncho by Michele Costa
     – Leisure Poncho by Jonna Ventura
     – Tweed Pullover Poncho by Hannah Cross
     – Victoria Poncho by Laura Fanelli
     – Vintage Sunrise Poncho by Shelley Moore
     – And FIVE FREE Poncho Patterns from Around the Web

This Article:
     – Seaming Techniques

A couple of my favorites include the Tweed Pullover Poncho by Hannah Cross, and the Mammoth Poncho by Michele Costa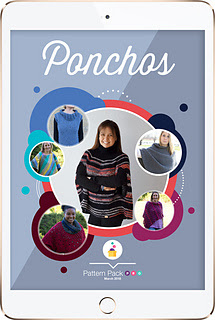 Hop on over to the Pattern Pack Pro to subscribe (affiliate link), and get the current issue – March 2018, Issue 42, Ponchos.

Share your version of this project on Ravelry – Corner to Corner Poncho. Check out the EyeLoveKnots Ravelry page to keep track of all your EyeLoveKnots favorites in your que, and share your WIPS and finished projects!

Don't miss out on new crochet patterns, reviews, jewelry tutorials and more! Subscribe to EyeLoveKnots by using the box on the right side toolbar, or follow me via Bloglovin!


Linked Up To…