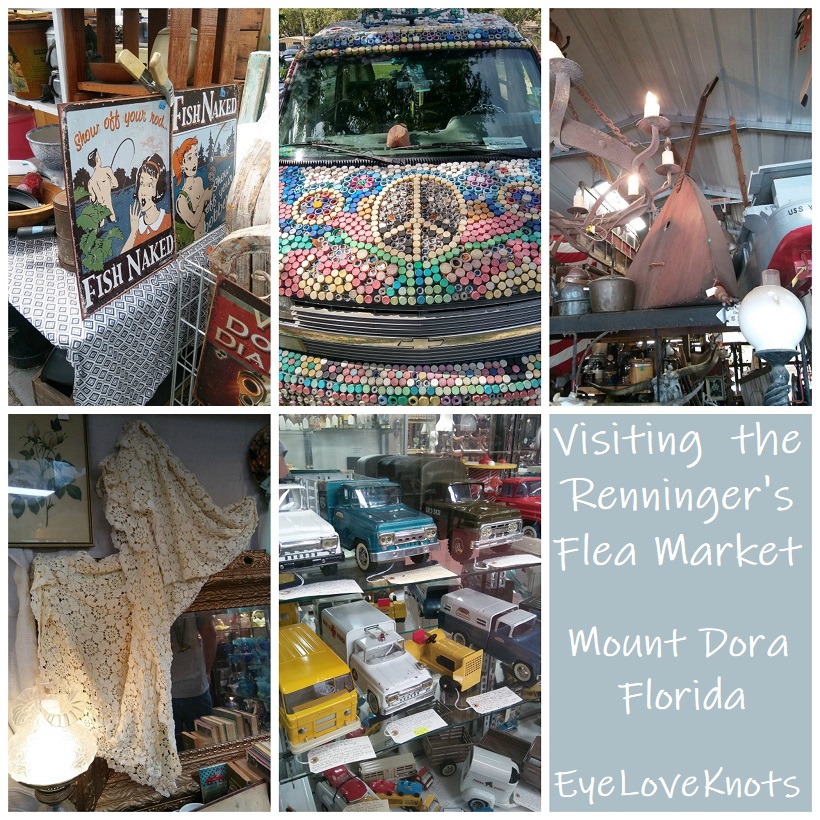 I have only been to the Renninger's Flea Market in Mount Dora, Florida twice, but it's one of my favorites. Have you ever seen the show Flea Market Flip? Also one of my favorites! Both times I have gone to this flea market, I felt like I was at one of those big ones you see on the show. So much potential, so many great things.
This flea market is located down 441 just down the street from the turn off to downtown Mount Dora (another favorite, but for another day), open Fridays, Saturdays and Sundays and has several parts to it… From the entrance to the right is an outside antique mall. Each shop has it's own individual shop and personality, and are full of such variety! To the left just out of the entrance is the actual flea market, full of both permanent and one time (or more) shops, and has an inside and two outside portions. It goes on, and on, and guaranteed you won't find the same thing twice! Except maybe some fresh lemonade and/or snow cones. Certain times you could even catch a car show, big swap meet, musicians meet up, among many other events I am sure.
What types of things might you find here? What can't you find here?! Just to name a few… there is a pet shop that sells pet strollers, an avon representative, a huge candy/dried fruit/nut shop, shop dedicated to sewing machines, gun store, a few jewelry dealers, coin collector, fresh produce, lots of collectible glass and trinkets, variety of plants, records, rugs, organic coffee, handmade jewelry and soap, paintings, a couple little cafes and vintage shops that have doilies, quilts and bedspreads, salvage shops full of hinges, door knobs, doors, shutters, scrap wood and other fun finds… The list could go on, and on, and I'll share some more with the photos below!
Shall We? These photos are of a trip from two weeks ago.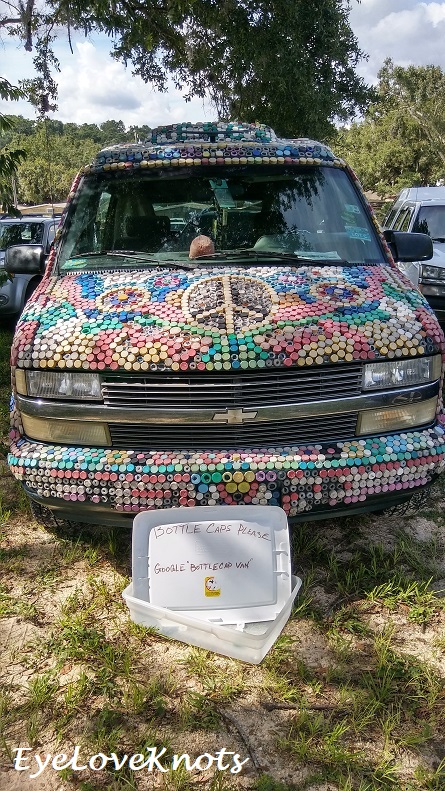 We parked next to this "Bottlecap Van". It is made from all kinds of plastic bottle caps. And there's a container out so you can donate your bottle caps to it.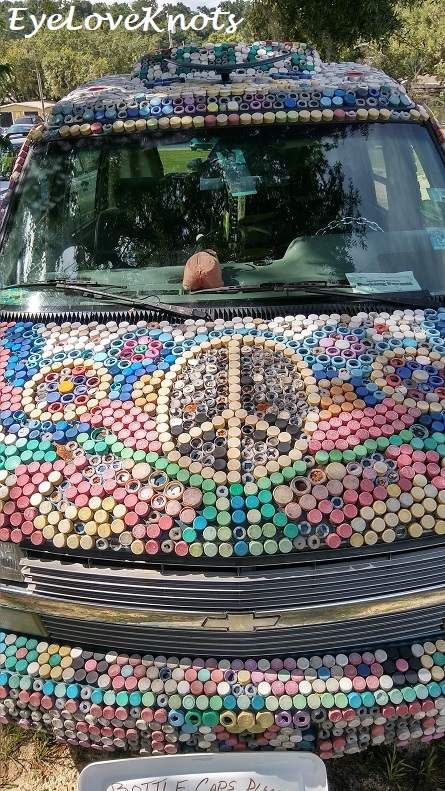 Looking more up close… These bottle caps have been through a lot. Ha!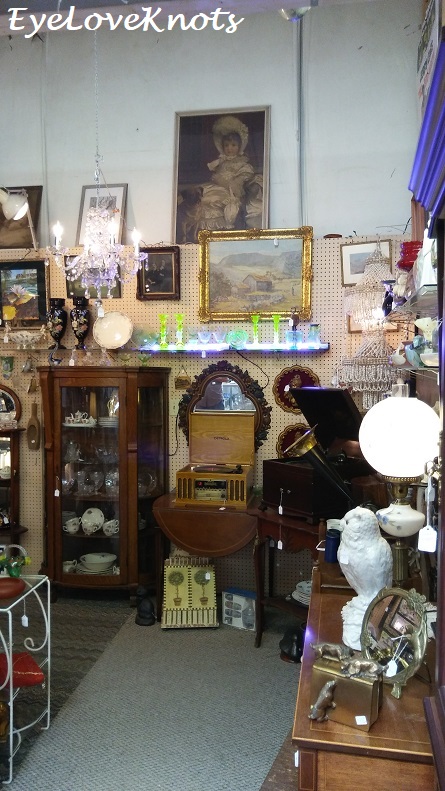 To get to the outside antique mall, we cut through the inside part, and along the way we spotted some colored glass – also known as Depression Glass. Have you seen colored glass that glows? One of my friends collects Depression Glass, and he has a special collection of the Vaseline glass. This glass has a yellow tint to it, and under a black light (which is under this shelf), the glass glows. Why? Because when it was being made, Uranium was added to it! Kinda crazy, huh? Makes for a beautiful piece though! There is also some red glass that glows because it has Magnesium within it.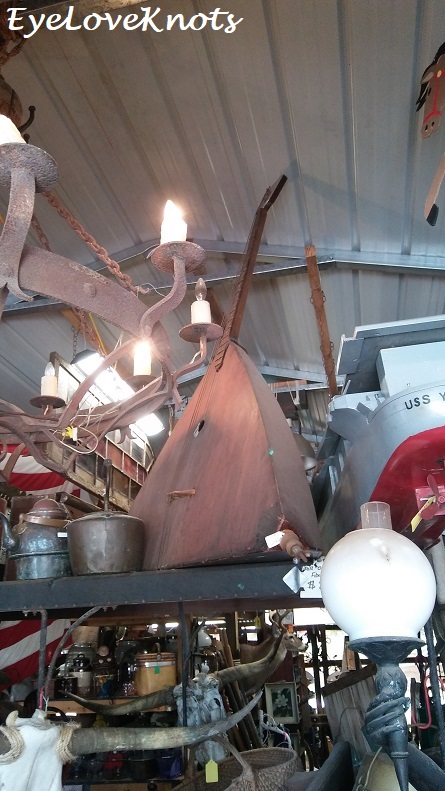 One of the outside antique mall shops was H.U.G.E. Emphasis on HUGE! Containing rooms, upon rooms of shelving looking similar to this. I was taking a picture of the guitar looking thing, but you can also see a model ship to the ring and a skull with horns below. This shop also sells colored glass, tea cup and china sets, small trinkets, light fixtures, lanterns and candle votives, miniature doll houses, old tricycles, old school chairs, old tins, glass bottles, wooden crates… One room specially is dedicated to hinges, brackets, door knobs, shutters, wood scraps, and similar, and there is an outside portion to this shop that is an extension of the shutters, wood pieces, doors, iron gates… This was the most interesting shop to me with just sooooo much to see.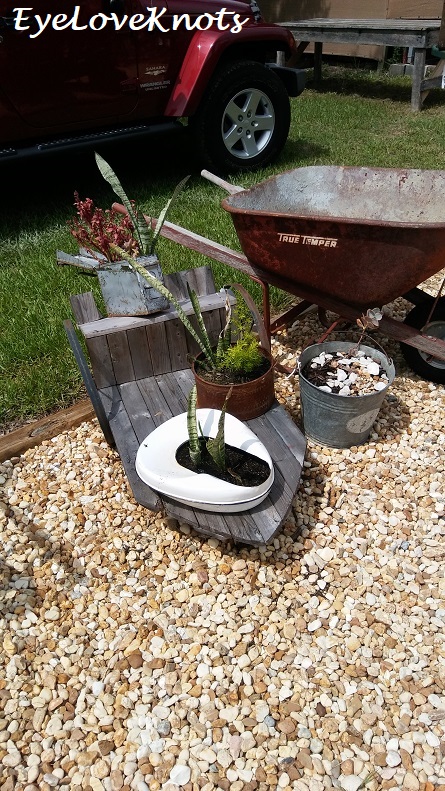 Walking around outside, I spotted this… How funny that they put a plant into a bed pan. Also kinda cool, the one above is in an old metal ammo box.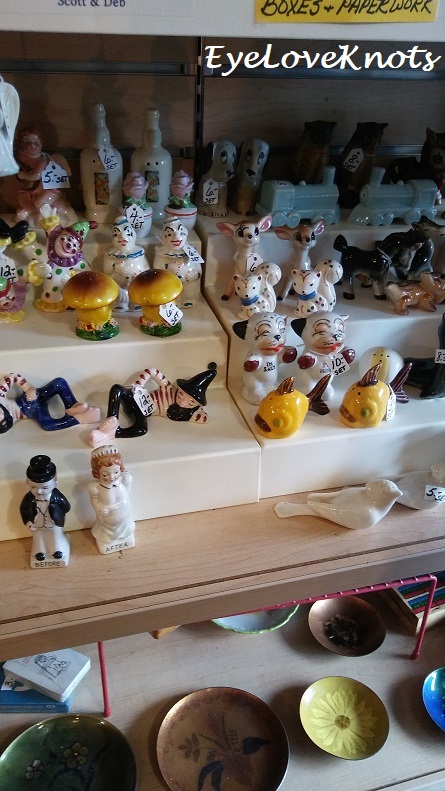 In another shop, there was a large collection of salt and pepper shakers – this is just some of it. Check out the bride and groom on the left middle. At the bottom of the groom, it says "Before", and at the bottom of the bride it says "After". Basically, before they are skinny, and after they are fat. Hehe. Thought that was funny. I know since getting together with Todd, I have put on a few pounds myself. Ugh, the price to pay for being happy I guess. Hehe.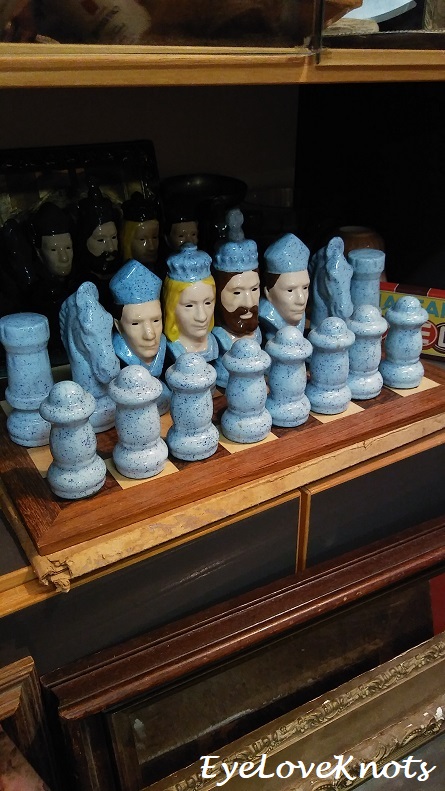 In one of the indoor shops, I spotted this chess set. I think it might be made of ceramic – hollowed out. Really pretty. Would make a neat gift for a chess lover.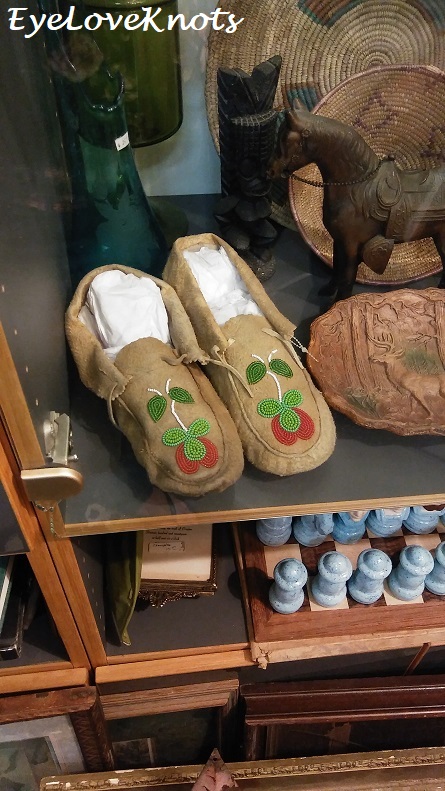 Above the chess set was this pair of moccasins. I love the beaded work on top. Wonder if this is something I could incorporate into a crochet design?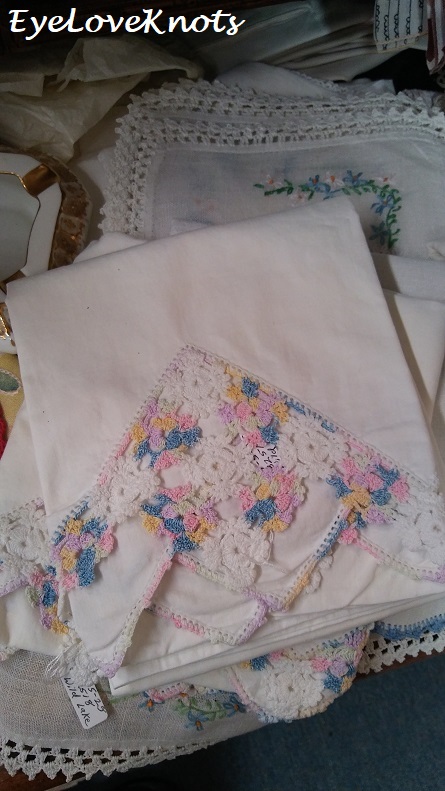 In another shop, I spotted some crocheted items. This is the edging to a pillow case. Pretty mixture of a white thread, and a variegated one paired with a modified afghan square similar to a solid granny.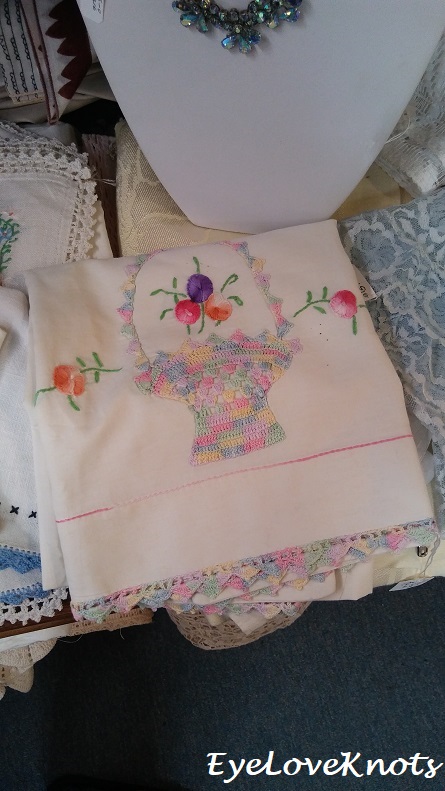 This one is embellished with a pointed crochet edging, and a crocheted basket along with some flowers appliqued. I think this one is also a pillow case.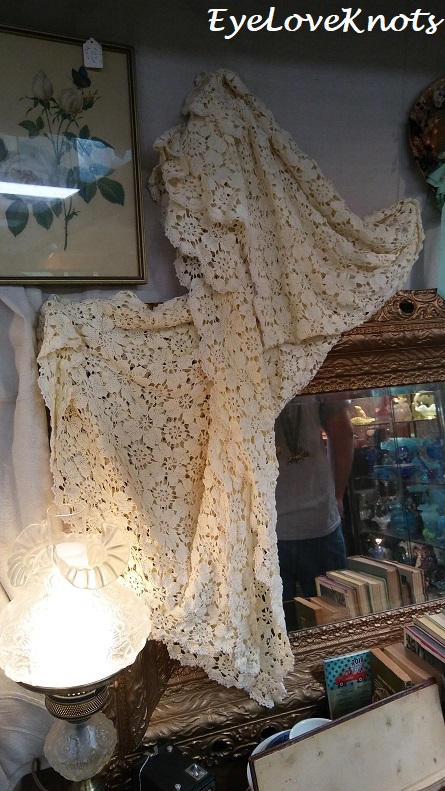 In the same shop, this shawl was pinned to the wall over what looked like a vanity. I haven't thought to decorate my walls with crocheted pieces, but I really love the way this one is hanging.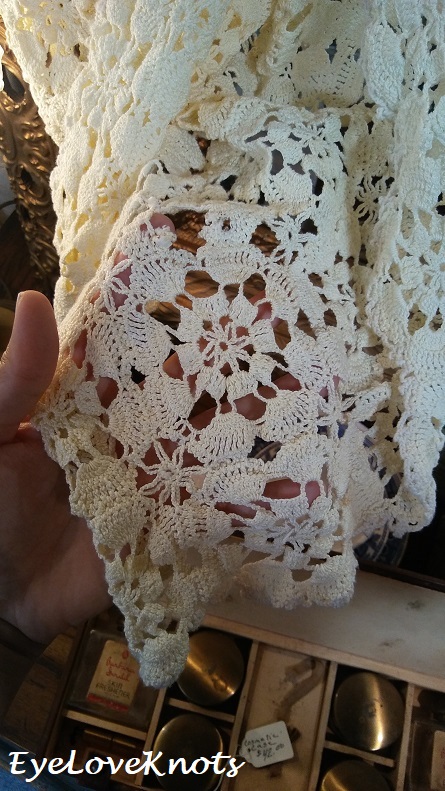 This is a close up of the shawl. Was thinking I might be able to recreate this square…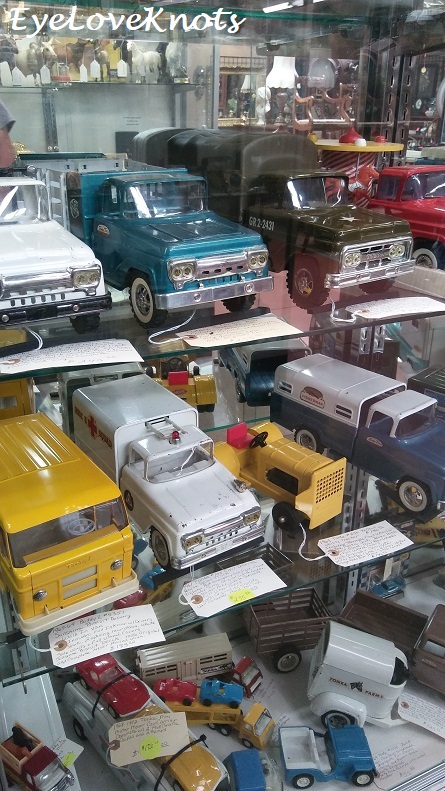 Another shop had a wall of model cars. Each one has a tag attached talking about each specific car. A lot of time was put into this.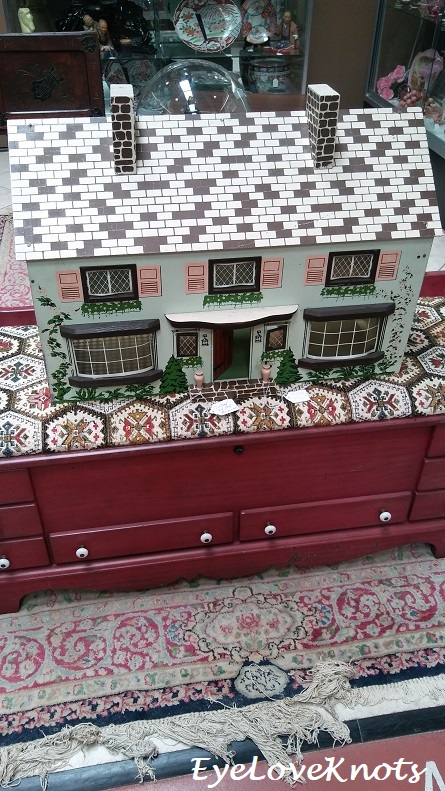 So I have had miniatures on my mind lately. My mom has a miniature dollhouse she and my dad bought for me like 20 years ago. I have been wanting to get it from her, so I can build it up. When I saw this little house, I had to snap a picture. It's also sitting on a beautiful hope chest.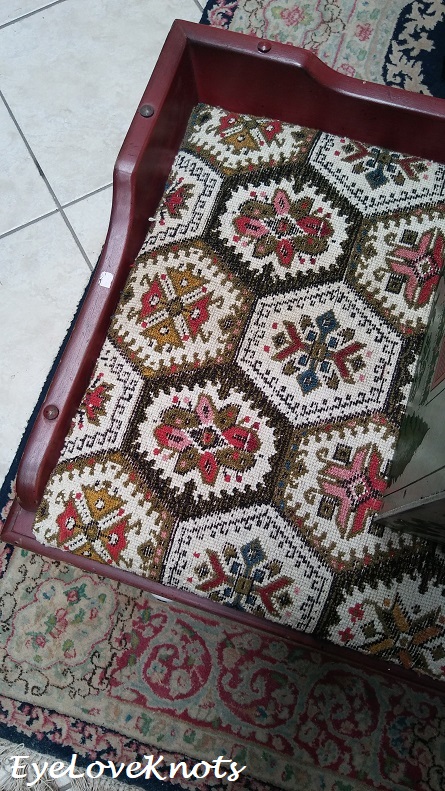 The cushion on the chest is cross stitched. Can you imagine working on a piece this big? Gorgeous!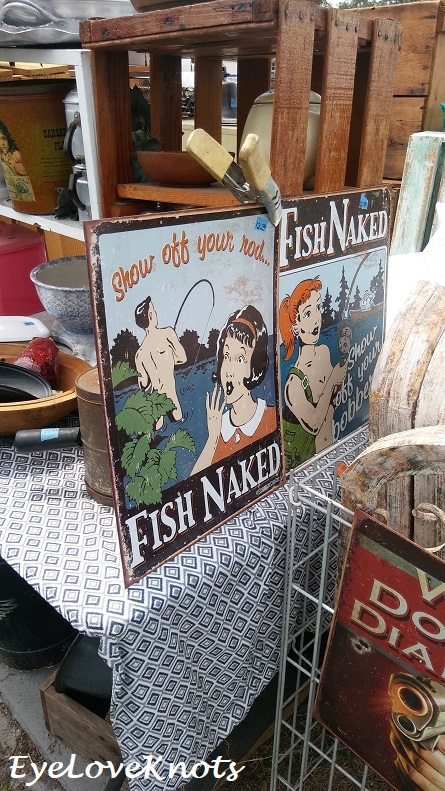 In the outside part of the flea market, I spotted these signs on a table. I was cracking up at that one on the left – so funny. It reads, "Show off your rod… Fish Naked". The one on the right reads, "Show off your bobbers… Fish Naked".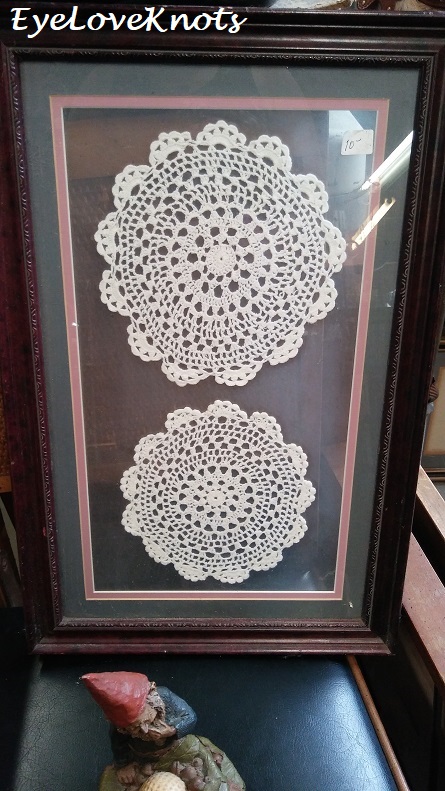 In another shop, I spotted these framed doilies. Such a nice way to preserve handmade items. You could also do this with potholders, handkerchiefs. etc.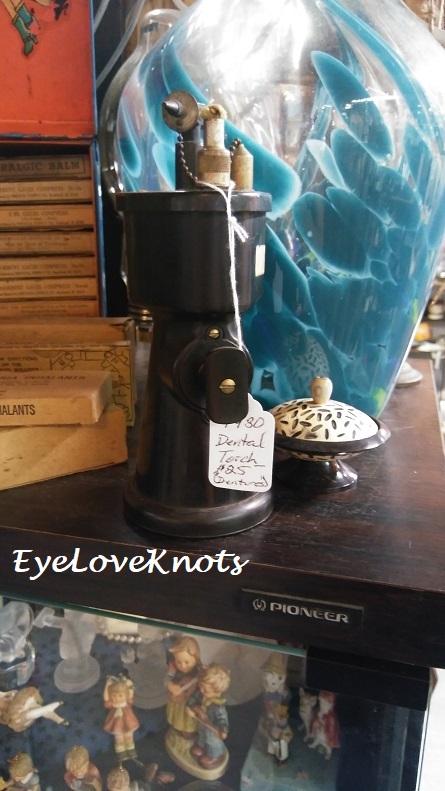 Not the greatest of pictures, but I wanted to share this piece. In the same shop as the doilies above, I saw this sitting on a shelf. The tag reads, "1930's Dental Torch – $25.00 (Dentures). A dental torch? What on earth did they do with this torch?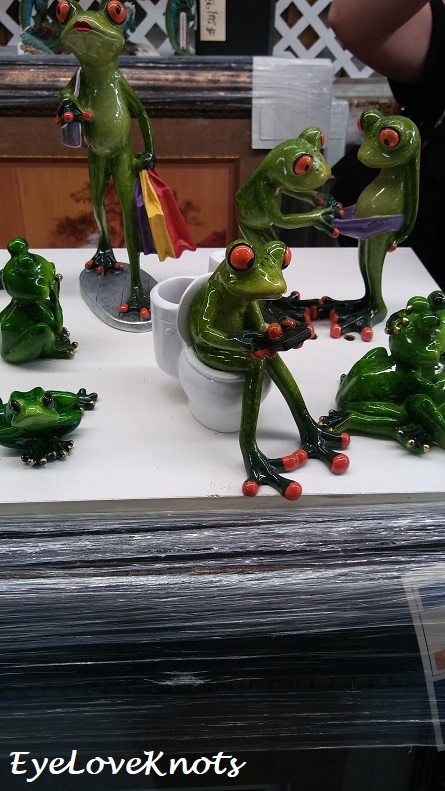 On the way out, I spotted a collection of frogs on a table. The one that I was trying to snap the picture of was the frog in front – he's sitting on the toilet, on his phone, but when I went to look back at the picture, I noticed I also got the frogs in the back, where one is looking down the other one's pants. Hahahahaha.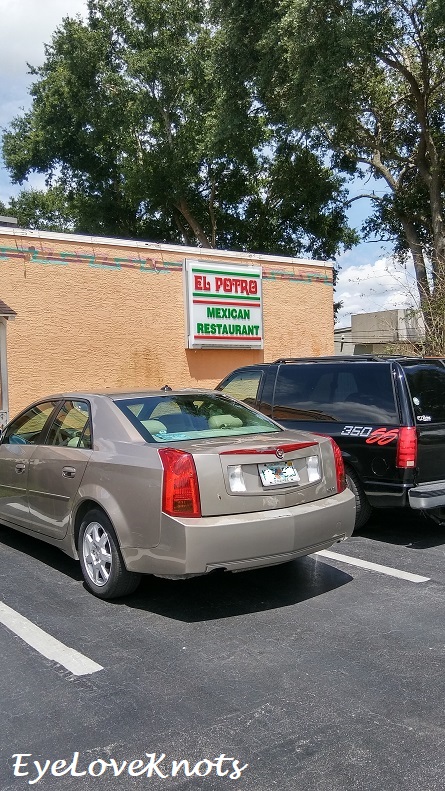 And to conclude our day, we stopped at a favorite restaurant of ours – El Potro. I have been eating at this mexican restaurant for about 10 years now. Highly recommended if you are in the central Florida area! This is the location on 441 near Mount Dora, but there are also two other locations – near the Millenia Mall in Orlando, and near Winter Park. While the others are good too, go to the 441 location if you can!
We had a really nice day out and about. My friend, Bob, left with some awesome glass finds, while Todd and I just went to look and hang out, but definitely a great way to spend the day! Hope you enjoyed our trip 🙂 And that you'll visit Renninger's if you find yourself in the central Florida area.
Linked Up To…
Sundays at Home #216 – Celebrating Everyday Life
Nifty Thrifty Sunday #345 – Meet Our Life
Creative Mondays – Claire Justine
Handmade Monday #86 – Sum of their Stories
Inspiration Monday – Scattered Thoughts of a Crafty Mom
The Really Crafty Link Party #130 – Keeping it Real
Merry Monday #215 – A Wonderful Thought
Tutorials & Tips Link Party {361} – Home Stories A to Z
The Scoop Link Party #337 – Worthing Court Blog
433rd Inspire Me Tuesday – A Stroll Thru Life
Fabulous Party #226 – Lou Lou Girls
Sew It Cook It Craft It Link Party #65 – Sew Historically
{wow me} wednesday #360 – Ginger Snap Crafts
Your Whims Wednesday #366 – My Girlish Whims
The Wednesday Link Party 256 – The Stitchin' Mommy
Pin Party #276 – Pin Junkie
Crafty Love Link Party #36 – Jessie at Home
Friday Frenzy Link Party – 8/3/18 – Kelly Lynn's Sweets and Treats
Funtastic Friday 190 – Olives & Okra
Sweet Inspiration Link Party #118 – Purple Hues and Me
Snickerdoodle Create Bake Make Party #243 – Across the Boulevard
Sundays at Home #217 – Celebrating Everyday Life
Pretty Pintastic Party #220 – Sparkle Living