This post contains affiliate links for SheIn. If you make a purchase by clicking on them, I make a small commission at no extra cost to you. Thanks for your support!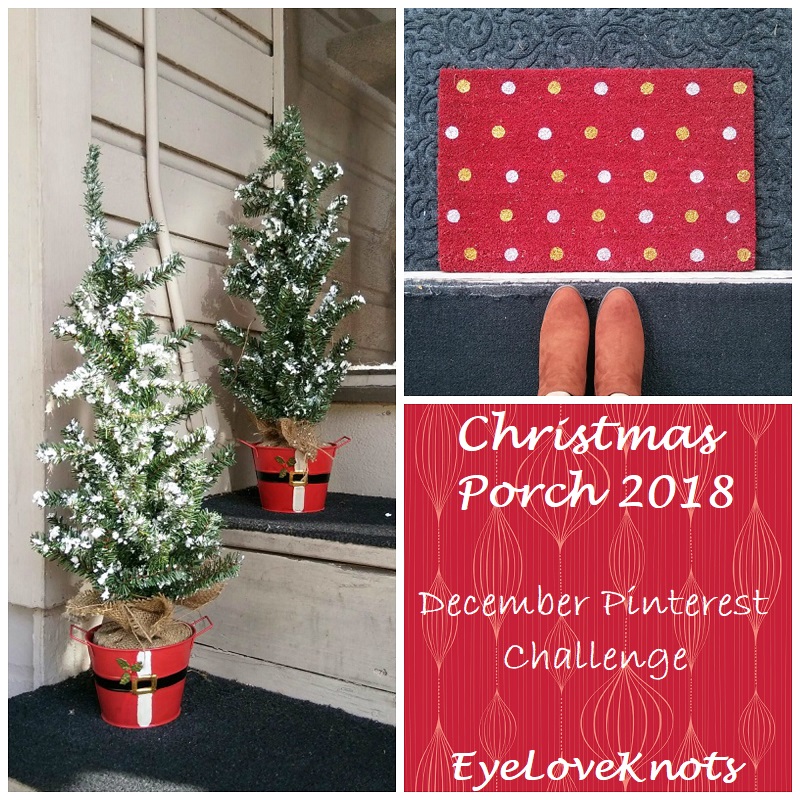 Welcome to the December Pinterest Challenge Blog Hop, hosted by My Pinterventures. The purpose of this Pinterest Challenge is to motivate all the participants of this hop (and you too) to not just pin, but to make it happen! This month, I chose to make share my Pinterest inspired Christmas porch. It's not much, but I feel accomplished with it, and really love coming home to the cheerfulness.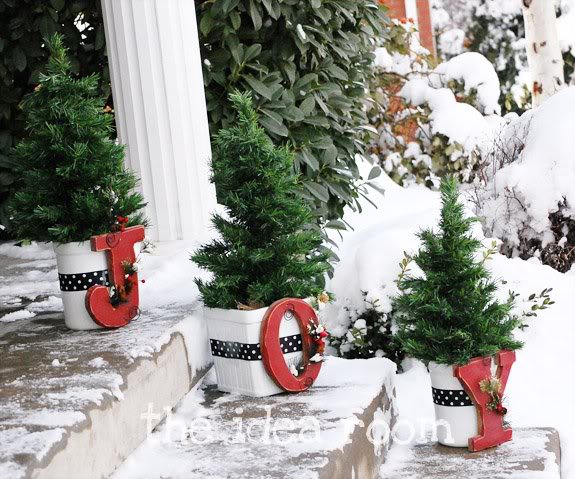 Just browsing my feed on Pinterest, I came across this set of JOY Trees from The Idea Room, and I was in love.
She got her little trees from Hobby Lobby, so I was all set to go there, and find myself some of those adorable little trees, but before I could make it there, I found some at DD's Discount that I loved even more! I picked the ones that were "snow" covered, but there were also plain green trees, heavier snowy ones, and some with pinecones.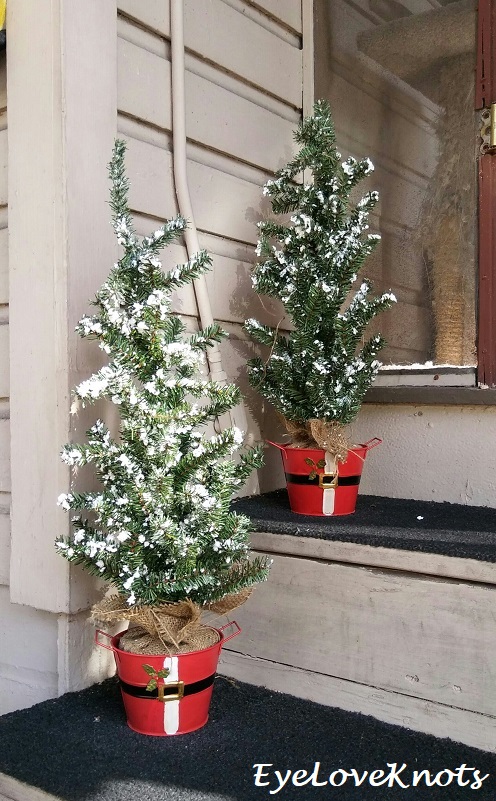 I bought these beauties for $5.99 each. The burlap is covering a round piece of cement, so as they are, they stand just fine by themselves. At first, I thought I would just leave them as is, as I didn't want to invest too much in the decor, but when I visited my local Dollar Tree (looking for some fishing line), I found these cute little Santa buckets! The round cement bases of the trees fit just perfect around the rim of the buckets, with the bottom halves left empty, but no tipping with the wind – Yes!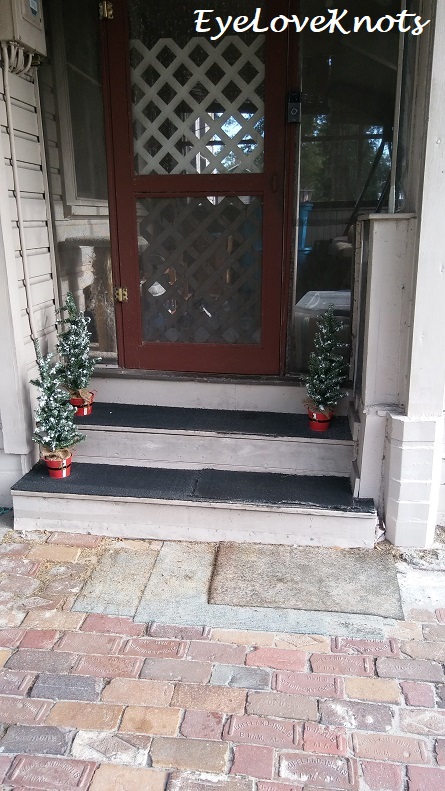 The little trees were the first thing I added, and really was my only intention, but this is what the outside of my porch has looked like (minus the trees) since I moved in with my fiance two years ago, and I had really been wanting to clean this up, and get a nice doormat. Here, there are two pieces of scrap carpet, and a doormat that I didn't know was one until I was shaking it to get the sand off – ha! Anywho, those went to the garbage, then I swept up. I did leave the scrap piece on the steps though because it was much lighter underneath it.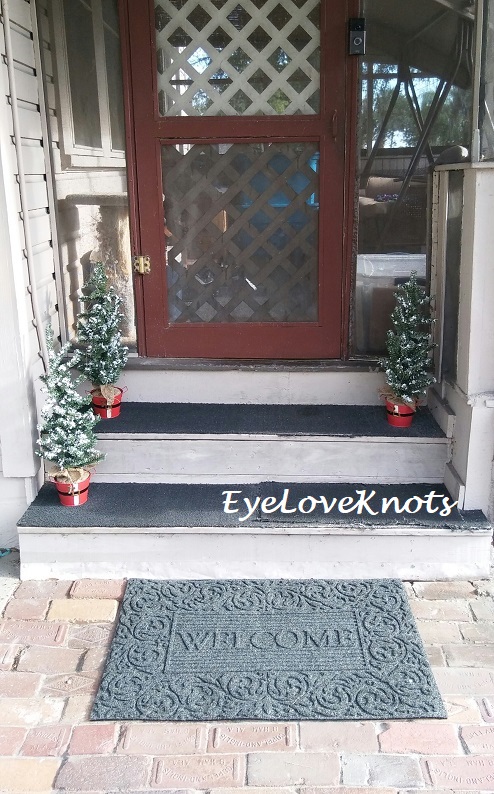 I had been looking at the doormats at DD's on and off, hoping a natural jute-ish one would come in, but I hadn't seen any in quite some time, so I went with this larger gray one with the intention of layering a smaller doormat on top. I think this one was $7.99?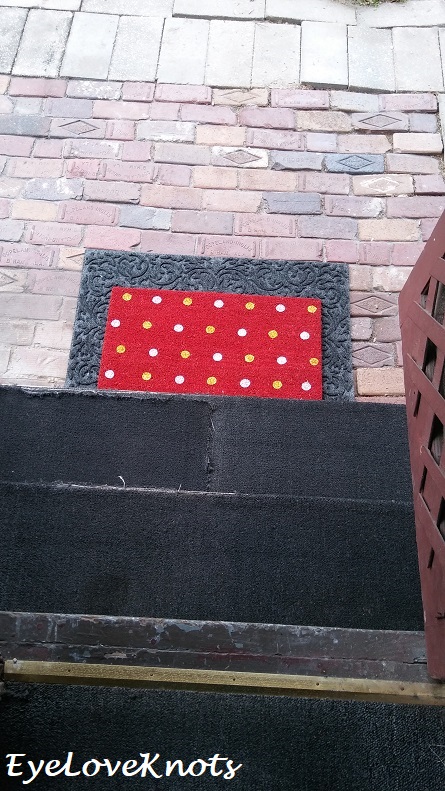 I waited a few days after getting the dark gray one, watching to see what kind of Christmas doormats were going to come in, but I think at the time that I was looking, it was already neat the end of the holiday decor receiving because only one came in here, and two there, so I went over to Ross to see what they had, and I found this pretty red one for $5.99.
It's kind of funny because when I went to Ross, I found the same large dark gray one, so I pulled it out onto the floor, and then starting placing the different smaller Christmas ones I was interested in to see which looked best. I wasn't paying attention, but I could only imagine the looks I was getting. Hehe. Don't worry! I put the rugs back after I settled on this red one.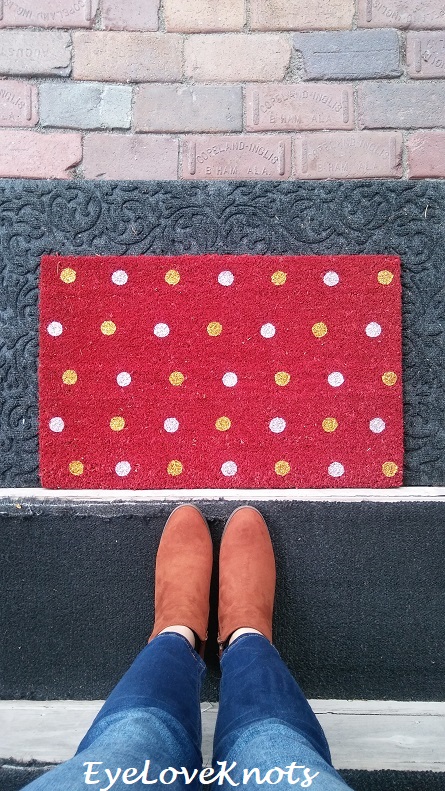 These are my new boots from Shein – they're exactly what I wanted, and comfortable. Only $21 for these cute booties, and they come in Black 😉 .
Overall, I am sooo happy with my Christmas porch this year, and really glad I pushed myself to pull it all together, and stay on a good budget. I think the only thing I didn't add that I would have liked to was a garland strand around the door frame with some lights on it, but I suppose I will save that for next year. I am also thinking about painting the door a more fresh, clean color, like light gray? Not sure… What do you think?
Join the EyeLoveKnots Crafting Community on Facebook to share your creations, and see what others are up to!
To join next month's #pinterestchallenge, click here to sign-up -> January Pinterest Challenge.
Now let's see what other things Pinterest inspired! Head over and visit the other hosts to see what they crafted, cooked, built, or tried!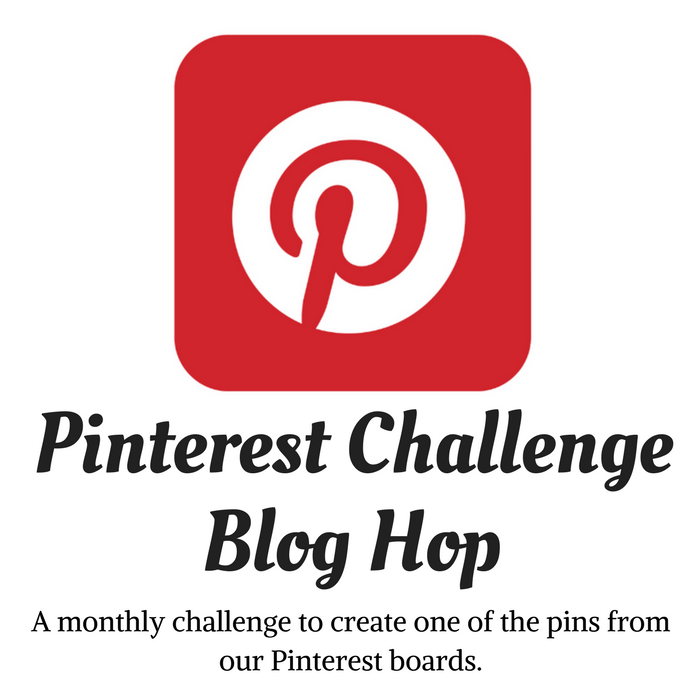 Erlene – My Pinterventures • Jenny – Cookies Coffee and Crafts Debbee – Debbee's Buzz • Laurie – My Husband Has Too Many Hobbies Julie – Sum of their Stories • Lynne – My Family Thyme Lisa – Blogghetti • T'onna – Sew Crafty Crochet Beverly – Across the Boulevard • Debra – Shoppe No. 5 Roseann – This Autoimmune Life • Terri – Our Good Life Kelley – Simply Inspired Meals • Joanne – Our Unschooling Journey • Gail – Purple Hues and Me Kristie – Teadoddles • Marie – The Inspiration Vault Lydia – Lydia's Flexitarian Kitchen • Pili –My Sweet Things Michelle – Our Crafty Mom • Alexandra – Eye Love Knots• Shirley – Intelligent Domestications Lauren – Mom Home Guide • Susan – Suzerspace T'onna – Sew Crafty Crochet • Pamela – Busy Lifestyle GalMarci – Stone Cottage Adventure • Bri – Halfpint Design
Linked Up To…