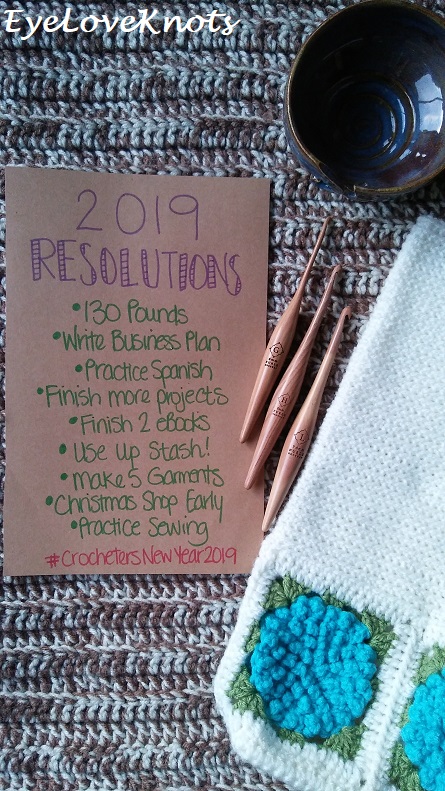 Hi everyone! It's been quite here on the blog for awhile. I was sooooo busy (and a little overwhelmed) with holiday orders, and longer hours at work (retail), so I didn't have any time to hop online at all. I am still pretty steady, but not the same kind of deadline, so I wanted to sneak in my new year's resolutions, and share a giveaway my friend Lindsey of Winding Road Crochet is hosting, PLUS she has a free Crocheter's New Year's Resolution Checklist for ya!
My resolutions aren't specific (that much) to crochet, but I do hit some crafty points in there, plus some personal goals. I had written this up a couple weeks ago, and recently I found out about Lindsey's checklist, so I thought this would be the perfect time to share my list…
130 Pounds
My biggest goal for this new year, is to drop down to 130 pounds – currently, I sit at 160. About three years ago, I was at 145. At that point, I was at my heaviest, but with some hard work, and the help of my weightlifter niece, I was able to drop down to 125. I was beyond proud and happy to lose 20 pounds, and to feel awesome health wise, and with the way I looked, but before I knew it, my weight went back up, and then to a new heavy. I used to naturally sit at 115, and I think now, my body has just picked a new natural as it's been consistent, but I am not happy with it, or my energy levels, PLUS I am getting married next year! Biggest goal, go to Zumba class at least twice a month!
Write a Business Plan
My ultimate dream is to have a little yarn boutique. I have done tons of research, picked out the perfect spot, and have been really pushing my blogging over the last year in hopes of earning enough to quit my day job, and start saving up for my boutique…::sighs::… That has proven quite difficult to do.
I decided to push a little more forward, and seek out advice on how to write up a business plan so I am more prepared. I went onto the Small Business Administration's site, and found a class. The class was held at a community college in Melbourne, which was about 45 minutes away, but the timing was perfect for my schedule, and it was free.
The instruction provided hand outs with examples, and went through a powerpoint. I crunched some numbers when I got home that made my dream seem impossible, so I never got around to doing my business plans, but I want to make it a goal this year to do.
Practice Spanish
I am half white, and half hispanic. My mom is from Puerto Rico, but never taught me Spanish growing up because my dad was white, and she said it wasn't polite to speak a language in front of someone who didn't understand. I really wish she had tried to teach me some because it is much more difficult to pick up as an adult, but I work in an area where EVERYONE (employees and customers) speak Spanish first, and English second, and it is hard not being able to communicate much. I have picked up a lot over the years, but I would like to take this year to practice my Spanish more, and learn more. Eventually, I would like to be able to translate my posts and patterns into Spanish so more makers can use them.
Finish More Projects
I had this goal last year, and I am not sure if I really accomplished "more", but I definitely ended up with less WIPs, which is really what I wanted. I have a bad habit of starting a project, working it a bit, and then putting into a WIPs bin, and starting something new. To finish more, I still kept multiple projects going at once so I wouldn't get bored, but I picked out different times to work on the different projects. For example, I would take a project to work with me, and work on it (ONLY) during my breaks, and then I would have a different project that I would work on at home. I would like to continue getting more projects finished in the new year, and even take more time to myself to just make more. I miss how crafty and motivated I used to be before I started blogging, and want to get back to making more.
Finish 2 eBooks
This year, I completed an eBook – Soap Cozies or Gift Bags, Vol 1. I had a lot of fun putting it together, and I want to do two more eBooks in 2019. I am not sure what I will focus on, whether it be another Soap Cozy or Gift Bag volume, or a different theme all together, but I am going to sit down soon, and plan them out. Any requests? Drop me a line!
Use Up Stash!
I think this is a goal many crafters have – use more of the stock piled supplies, and buy less. I have a HUGE stash of yarn, and I want to try to use it up to save money, and to make room for new year.
While I would like to use up more of what I have, I also want to try to switch my focus to boutique yarns a little more because I am still on the search for the best options. I don't want to make a garment, or home decor piece that I will spend oodles of time on, and then it will get fuzzy and icky easily. As I experiment, I will share my findings!
Make 5 Garments
Over the last year, I have done a lot of researching – schematics and measurements, and seeking out books and classes, as well yarn experimenting, so I can design some nice garments, especially since I want to bring more fashion posts to the blog this year. I have given myself a goal of 5 aiming for fall and winter designs.
Christmas Shop Early
I think this is something everyone says every year… "I am going to Christmas shop early this year". I know I say it to myself every year, and every year, Christmas sneaks up on me, and I struggle financially to get my bills paid, and do my shopping, baking and making with what's left, plus the time involved. Soon, I will be sharing a post on coping living paycheck to paycheck with advice I have complied for planning for things like Christmas, and after I share it, I hope to follow some of my own advice for this year's planning. I will also be sharing my wedding planning and budgeting too!
Practice Sewing
Early last year, I involved in a sewing technical program where I was hoping to graduate with the skills necessary to incorporate sewing into my crochet designs, and have the ability to sew things for family, friends, me, my home, etc. The class wasn't what I had thought it was going to be at all, and the teacher wasn't very helpful to me. It had taken me two years to land a spot in the program, so I was beyond sad and disappointed that it didn't work out.
Todd did buy me a nice sewing machine our first Christmas together, and it has collected more dust than has been used. I want to change this in 2019, and practice my sewing more so I can build my skills, and get to making things I can buy in the store. Ya know?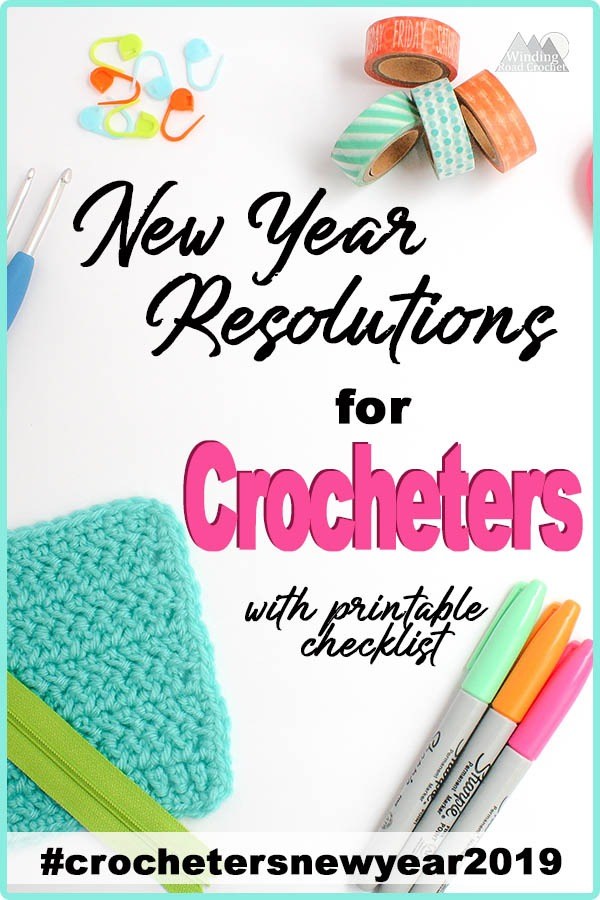 And that's it! My long list of New Year's Resolutions. I will update through the year as I accomplish things. Make sure to hop on over to Winding Road Crochet to see what her Crocheter's Resolutions are, and get your FREE PRINTABLE CHECKLIST! AND don't forget to enter the giveaway while you are there!!
Join the EyeLoveKnots Crafting Community on Facebook to share your creations, and see what others are up to!
Linked Up To…
Nifty Thrifty Sunday #367 – Meet Our Life
Inspiration Monday – I Should be Mopping the Floor
Handmade Monday #207 – Sum of their Stories
Merry Monday Link Party #235 – A Wonderful Thought
The Really Crafty Link Party – Keeping it Real
Craftastic Monday Link Party – Sew Can Do
The Scoop Link Party #358 – Worthing Court Blog
Ginx Woolly Linx Party January 2019 – Ginx Craft
482nd Inspire Me Tuesday – A Stroll Thru Life
Fabulous Party #248 – Lou Lou Girls
The Linky Ladies Party 149 – The Purple Poncho
Talk of the Town 155 – My Repurposed Life
Sew It Cook It Craft It #86 – Sew Historically
Turning Heads Linkup – Elegantly Dressed and Stylish
Confident Twosday Linkup – I do deClaire
{Wow Me} Wednesday #384 – Ginger Snap Crafts
Hookin' on Hump Day #182 – Petals to Picots
Your Whims Wednesday #388 – My Girlish Whims
Pin Junkie Pin Party #297 – The Pin Junkie
Crafty Love Link Party #41 – Jessie at Home
Thursday Fashion Files Link Up #193 – Curly Crafty Mom
Sweet Inspiration Link Party #138 – Purple Hues and Me
Link Up – Lizzie in Lace
Link Your Stuff – Annemarie's Haakblog
Snickerdoodle Create Bake Make Link Party #265 – Across the Boulevard