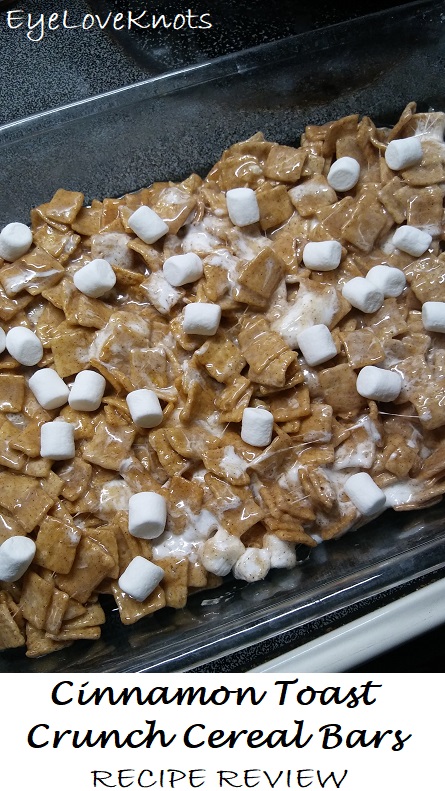 The recipe for these delicious, gooey, Cinnamon Toast Crunch Cereal Treats popped into my inbox last week, and I immediately went out to get the ingredients to make them. I LOVE cinnamon, so I knew I would love these! Only thing I wish I would have had to add was some of my homemade snickerdoodle cookies (recipe coming to you soon!) to use like Kelly used in her bars, but nonetheless, these were a fun, yummy treat after dinner.
Makes:
Hard to say – 8+ depending on how to cut the bars
Time:
Less than 5 minutes + Cooling time
Ingredients:
1/2 Cup (or 1 Stick) of Unsalted Butter
7 Cups of Mini Marshmallows (6 Cups + 1 Cup)
1/3 Cup of White Chocolate Chips
2 Teaspoon of Vanilla Extract
1/2 Teaspoon of Ground Cinnamon
5 Cups of Cinnamon Toast Crunch Cereal
Cinnamon Toast Crunch Cereal Treats, Recipe from Kelly Lynn's Sweets and Treats
Ingredient Notes:
Marshmallows: The bags I picked up were 6 cups, so I used one bag plus a some from another.Vanilla Extract: I used the recommended 2 teaspoons, but in tasting, I think I would do only 1 teaspoon next time.
Cereal: You can really use any cereal you want, which is awesome. The recipe calls for cookies too, and if no cookies are used, to add additional cereal to the mixture – I didn't, and I think it came out perfect.
You'll Also Need:
9 x 13 Casserole Dish
Spoon/Spatula for Mixing
Large Pot
Pam (or Butter and Flour)
Measuring Cup and Spoons
Knife to Cut
Recipe Notes:
I sprayed down my pot before I put the butter in to make sure when I put the marshmallows in that they didn't stick to the sides.
I HIGHLY recommend measuring EVERYTHING out ahead of time – I didn't, and as the marshmallows sat, they began to thicken/harden, and it was more difficult, so I had to put them back on the stove to work everything else in.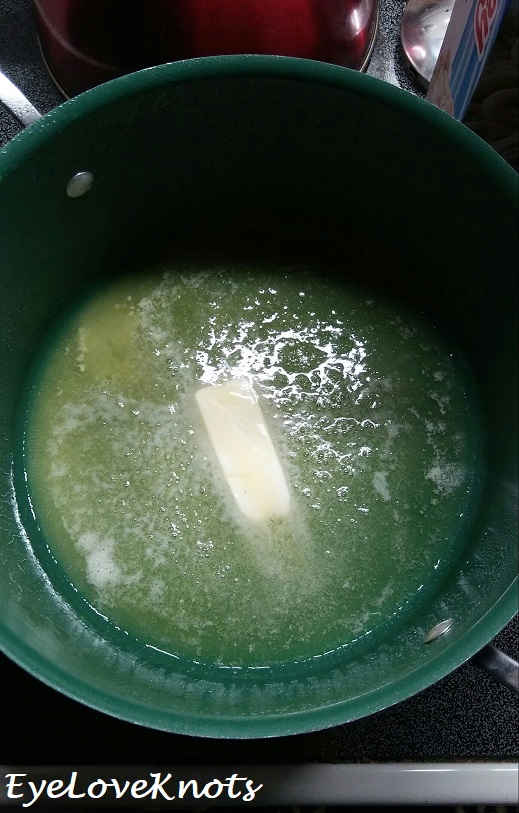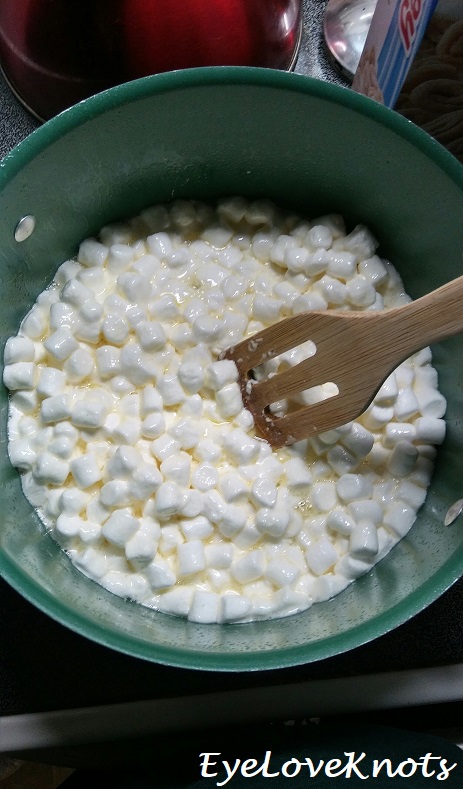 This was my first time melting marshmallows this way – it was so easy, and quick!
As I mentioned before, I took my pot off the heat to add the other goodies in, but the marshmallows thicken quite fast. I put it back on the heat to work with. What I should have done (aside from having everything ready ahead of time), was take the pot off the heat once the cereal had been mixed in because the last cup of marshmallows I added melted into the mixture – it is supposed to be actual marshmallows pieces within the bars.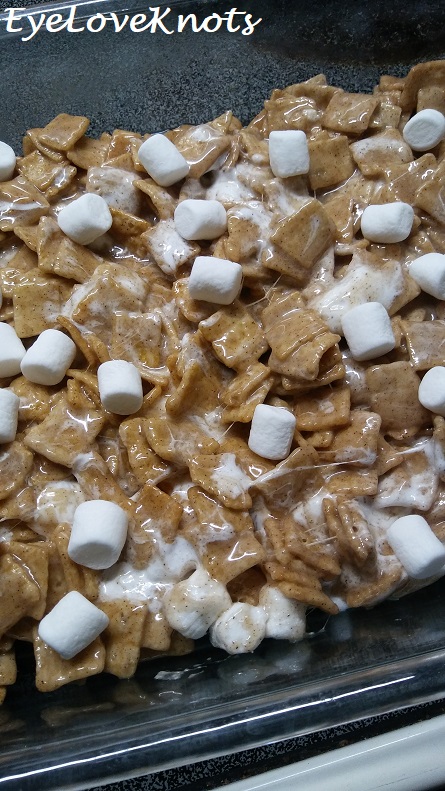 To compensate for my melted marshmallows, I sprinkled some on right after I poured it into my casserole dish.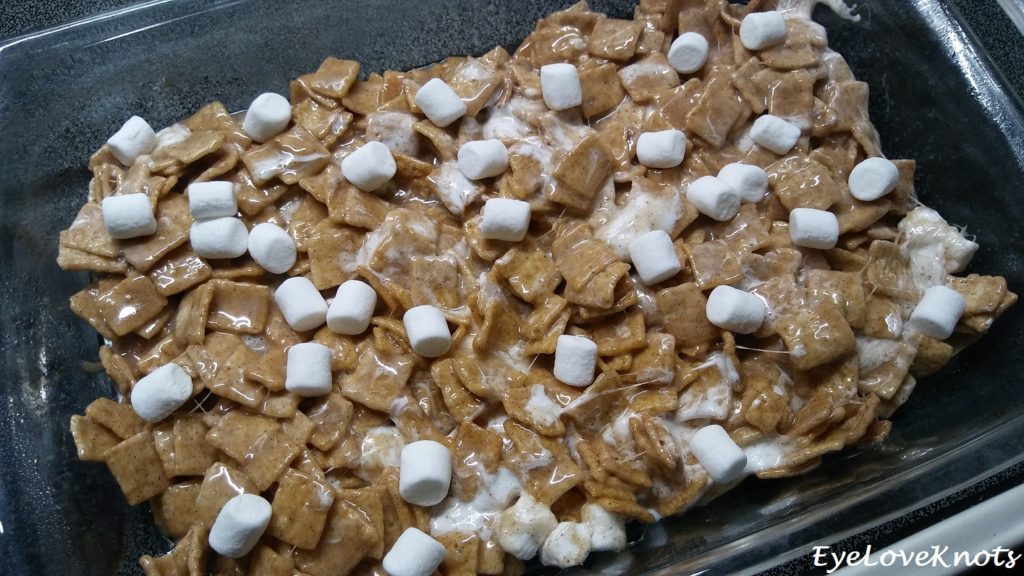 My bars did not come out as thick as the ones in the original recipe – maybe because I didn't add the extra cereal (or cookies as the original recipe uses), but you easily make one and a half the recipe, or even double for thicker pieces. For Todd, and I, this was plenty! And delicious! Just the right amount of cinnamon, and a delicious creamy flavor with the marshmallows.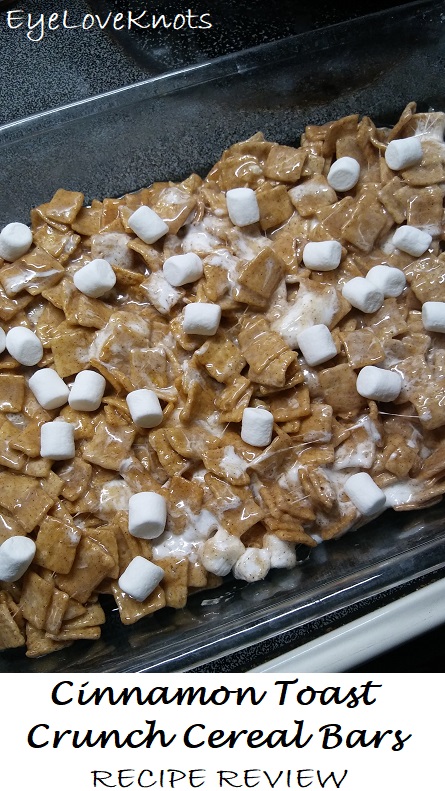 Join the EyeLoveKnots Crafting Community on Facebook to share your creations, and see what others are up to!
Linked Up To…
Nifty Thrifty Sunday #371 – Meet Our Life
Crafty Schooling Sunday – Creative Jewish Mom
Inspiration Monday – i should be mopping the floor
Sundays at Home #237 – Celebrating Everyday Life
Tutorials & Tips Link Party 381 – Home Stories A to Z
Creative Mondays Linkup – Claire Justine
Merry Monday Link Party #238 – A Wonderful Thought
The Scoop Link Party #362 – Worthing Court Blog
The Really Crafty Link Party #154 – Keeping it Real
Craftastic Monday Link Party – Sew Can Do
Handmade Monday #111 – Sum of their Stories
486th Inspire Me Tuesday – A Stroll Thru Life
Fabulous Party #252 – Lou Lou Girls
Sew It Cook It Craft It Link Party #90 – Sew Historically
Totally Terrific Tuesday #213 – Sweet Parrish Place
{Wow Me} Wednesday #388 – Ginger Snap Crafts
Your Whims Wednesday #392 – My Girlish Whims
The Wednesday Link Party #280 – The Stitch' Mommy
Wall to Wall DIY Wednesday Week 33 – Dabbling and Decorating
DIY, Crafts, Recipes and More Wednesday Link Party #124 – Hazel and Gold Designs
Funtastic Friday #213 – Olives n Okra
Link Your Stuff – Annemarie's Haakblog