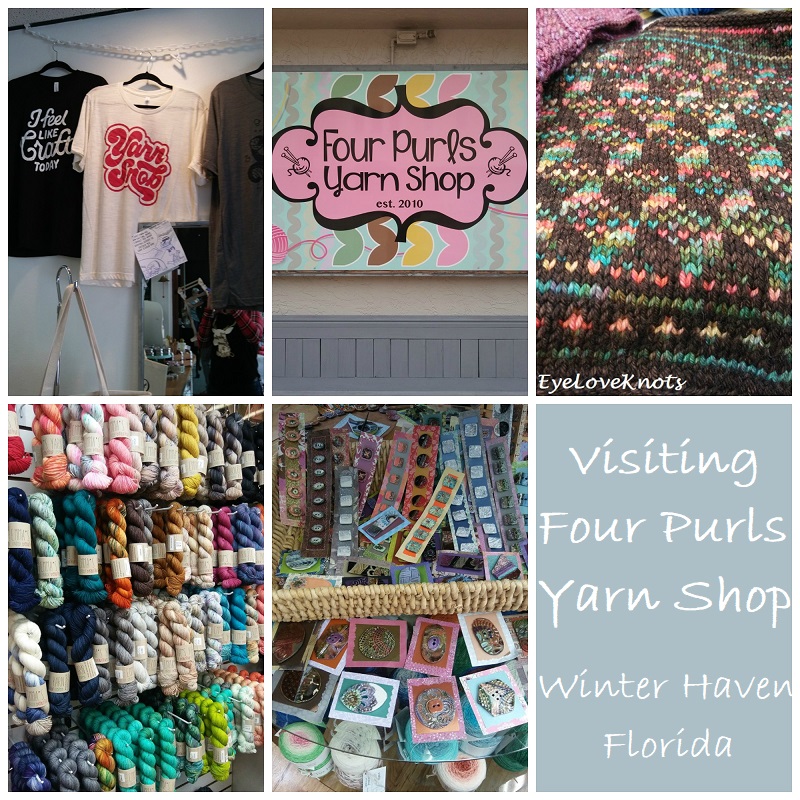 These photos are from my visit to Four Purls Yarn Shop last December (2018).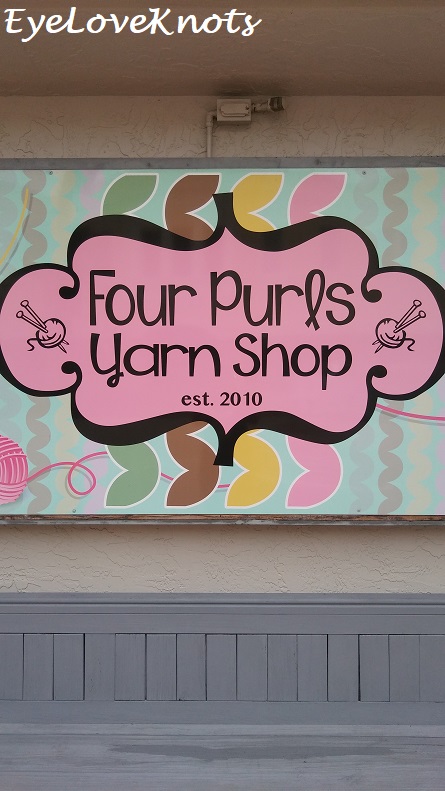 Four Purls is my local yarn shop. They are located in downtown Winter Haven, Florida, which is about an hour away from me, but soooo worth the drive. I first discovered this awesome little yarn shop two years ago when I was in search of some Berroco's Comfort Yarn. Yes, I could have ordered some online, but I wanted to go see the yarn in person, and then it became a bi-weekly trip for a few months, and included one knitting class. The owners, and staff are so nice, and friendly, and the atmosphere is amazing. If you find yourself in the area, you should DEFINITELY check it out!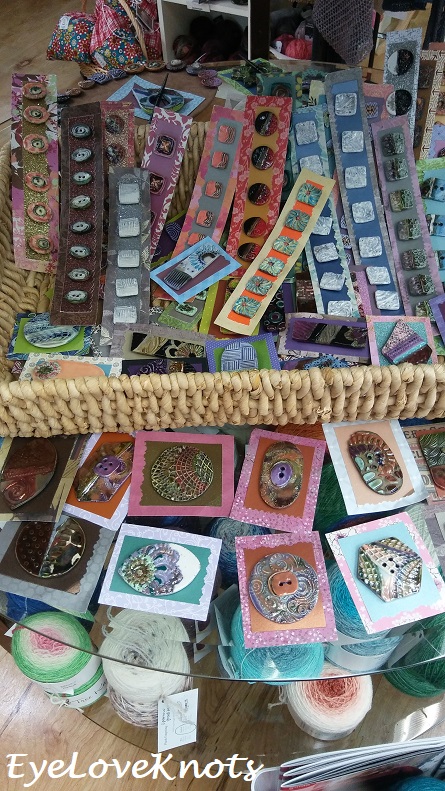 Right across from the register (in the path of walking in), there was a small table to the side full of GORGEOUS buttons, and shawl pins. These are locally handmade (I think by one of the employees of the yarn shop?). So many beautiful pieces!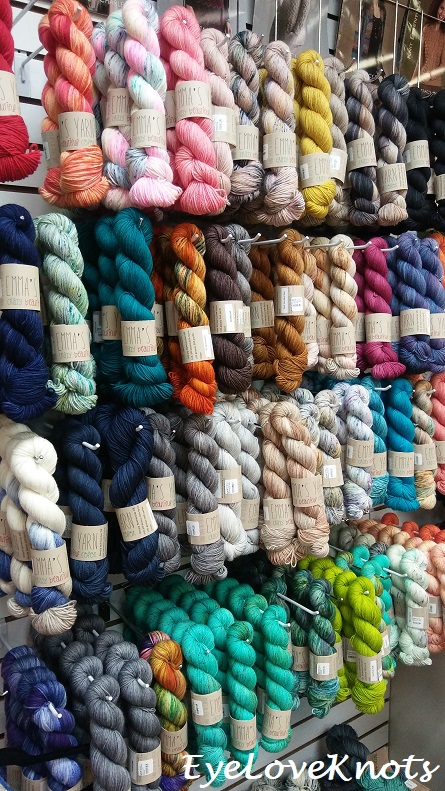 This is Emma's Yarn – a yarn unique to Four Purls! These are hand dyed right in the shop. This is an up close view…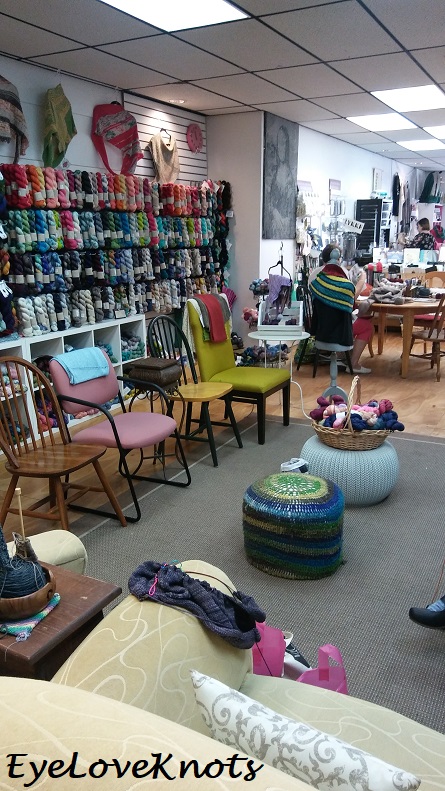 And here you can see part of the wall in the background. Emma's Yarn is available in different weights.
This is also a glimpse into Four Purls living room – a special area for folks to gather to knit, crochet, weave, etc and mingle. It was quite early during this visit, but you can see a WIP here on the arm of the couch, and someones foot in the corner. The only rule is you must work with yarn purchased at Four Purls. I love coming in, and seeing a bunch of people gathered here.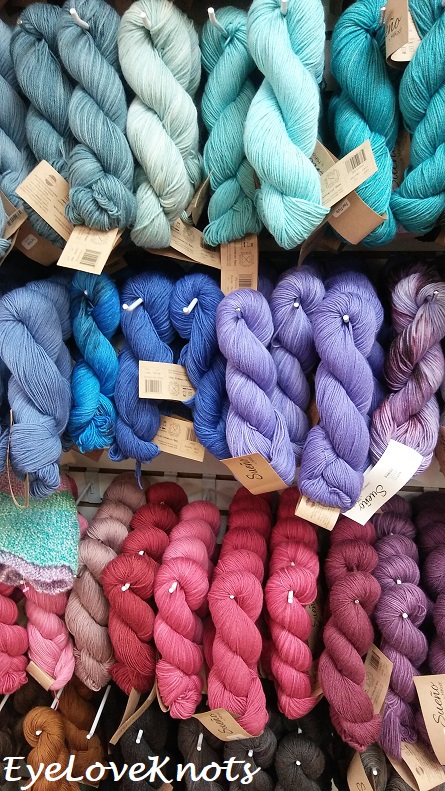 This is Sueno. I thought these colorways were amazing! Had to take a picture.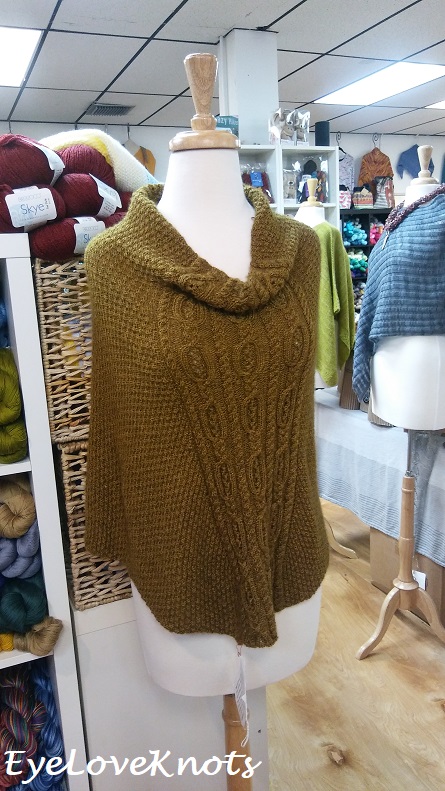 Throughout the shop, there are pieces (mostly knit) that have been worked up by shop employees, shop go-ers, and even samples sent in by yarn companies. Here's some inspiration!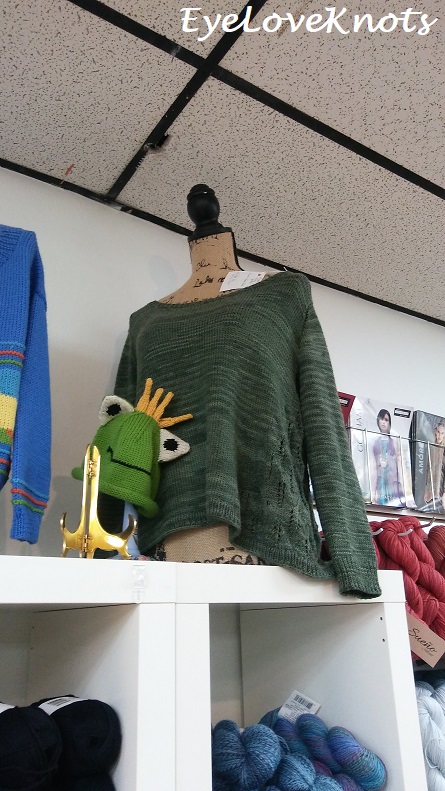 More inspiration!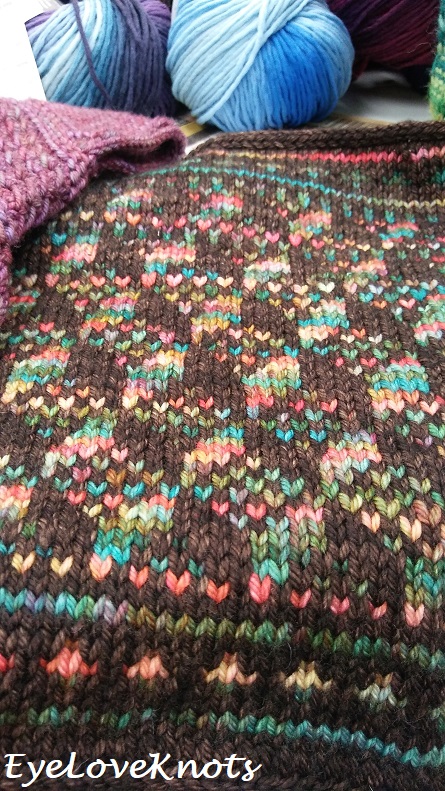 LOVE the colorwork on this sample piece!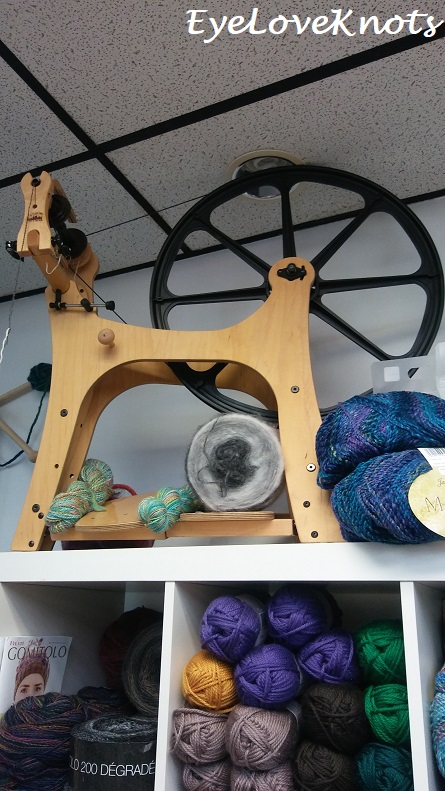 Four Purls offers classes on crocheting, knitting, and spinning! During my visit, I saw a gentleman coming in wheeling luggage. Come to find out, it was his spinning wheel. How cool!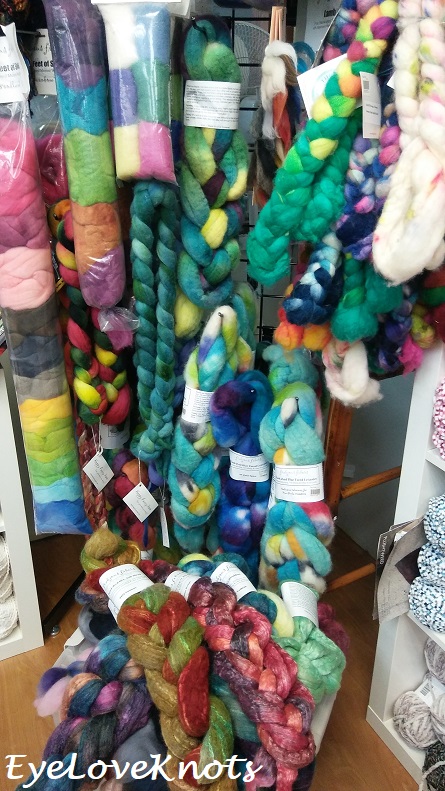 Some yummy, squishy yarn.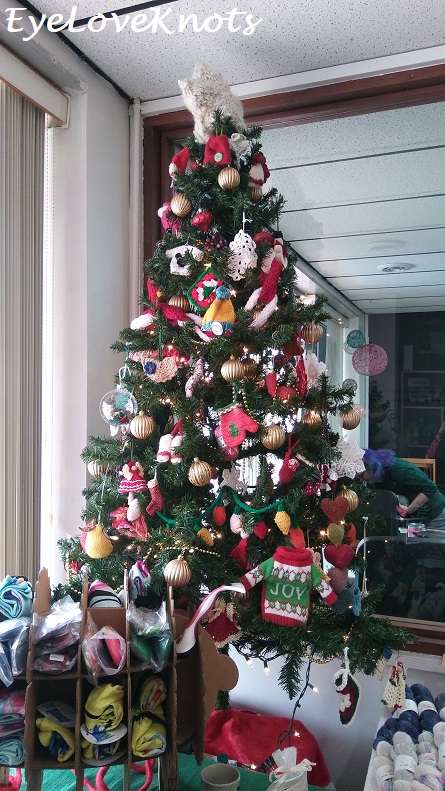 As I mentioned before, these are photos from a visit in early December, so the shop window showcased this tree embellished in different knit ornaments (and a few regular baubles). I was loving the idea of the knitted sweaters and mittens on the tree!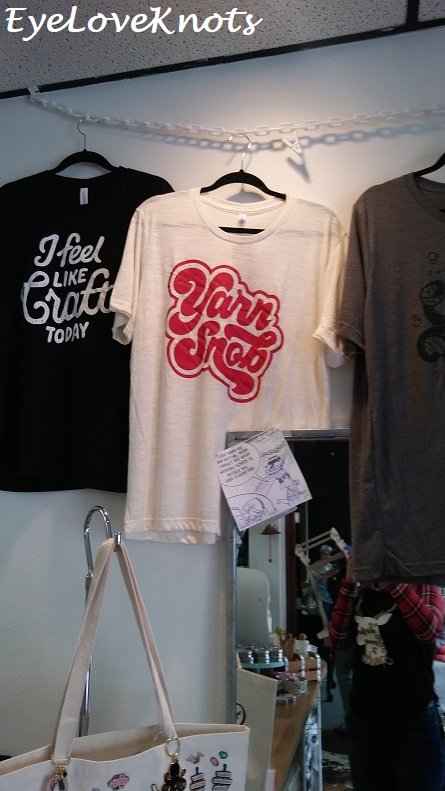 You can regularly find t-shirts, and project bags hanging by the register. I like this "Yarn Snob" tee.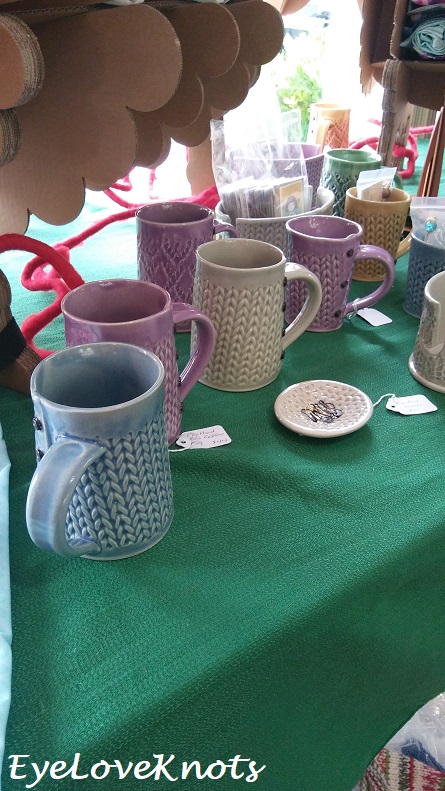 There were also these really awesome knit stitch print ceramic mugs, and a few trinket dishes of the same pattern.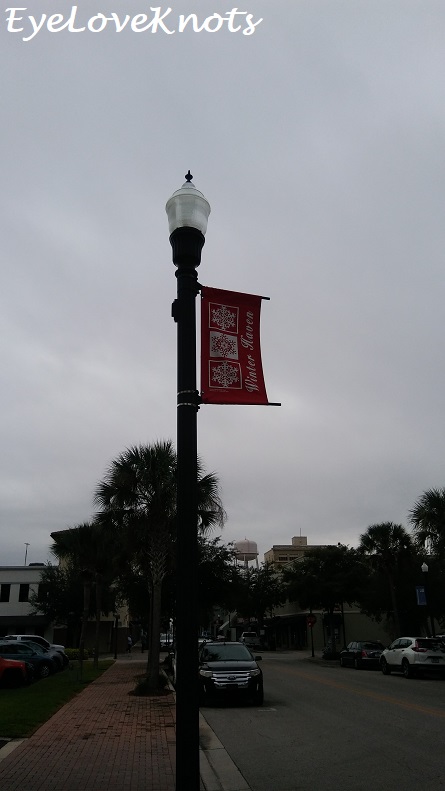 One of the perks to coming into the store (one of soooooo many), is that they will spin your skeins into cakes for free – so kind, and generous! I also leave my yarn for awhile so not to rush anyone, and walk down through town over to one of my favorite consignment type shops (big shop filled with several vendors) – Country Primitives Vintage Market. Country Primitives is HUGE! And so inspirational to walk through. There's also a cute little consignment type shop across the street. When I went in December, I found the little one was under new management (and new name) – I think the Vintage Rose? Really cute! And super affordable.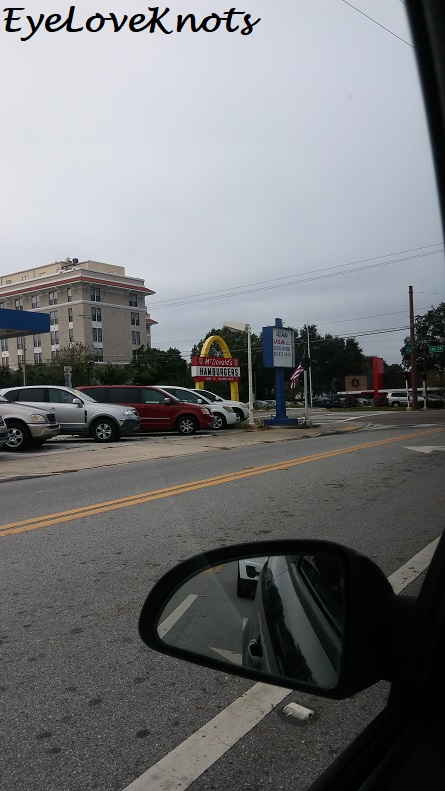 On the corner (on the way in and out), there is a McDonald's, and yes – they are everywhere, but check out that sign!! So cool!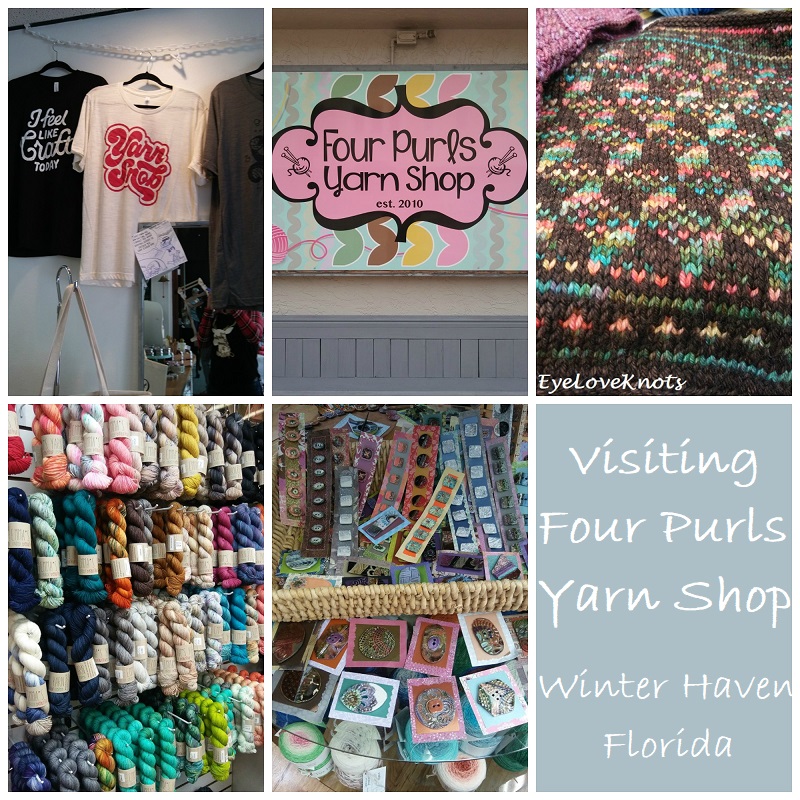 Join the EyeLoveKnots Crafting Community on Facebook to share your creations, and see what others are up to!
Linked Up To…
Inspiration Monday – i should be mopping the floor
Creative Mondays Linkup – Claire Justine
Ginx Woolly Linx Party February – Ginx Craft
Craftastic Monday Link Party – Sew Can Do
Handmade Monday #112 – Sum of their Stories
The Really Crafty Link Party #155 – Keeping it Real
Talk of the Town 160 – My Repurposed Life
The Scoop Link Party #363 – Worthing Court Blog
Tutorials & Tips Link Party 382 – Home Stories A to Z
Totally Terrific Tuesday #214 – Sweet Parrish Place
Sew It Cook It Crafty It Link Party #91 – Sew Historically
Fabulous Party #253 – Lou Lou Girls
487th Inspire Me Tuesday – A Stroll Thru Life
{Wow Me} Wednesday #389 – Ginger Snap Crafts
Wall to Wall DIY Wednesday Link Up Week 34 – Dabbling and Decorating
Your Whims Wednesday #393 – My Girlish Whims
DIY, Crafts, Recipes and More Wednesday Link Party #125 – Hazel and Gold Designs
The Linky Ladies Party #151 – The Purple Poncho
Hookin' on Hump Day #184 – Petals to Picots
Crafty Love Link Party #42 – Jessie at Home
Home Matters #219 – Domestic Deadline
Scrappy Stitchers Link Party #49 – Stitches n Scraps
Pin Party #302 – The Pin Junkie
Funtastic Friday 214 Link Party – Olives n Okra
Link Your Stuff – Annemarie's Haakblog
Snickerdoodle Create Bake Make Link Party #270 – Across the Boulevard