This post contains affiliate links for SheIn. If you make a purchase by clicking on them, I make a small commission at no extra cost to you. Thanks for your support!
I have had this top for about three years, and the boots as well. I wear both of them paired together every Winter season with a simple pair of leggings – I think it is such a beautiful outfit, and the colors and style perfect for Winter. I will add that I live in Florida, so perhaps the perfect Florida Winter Outfit, not necessarily a snowy one.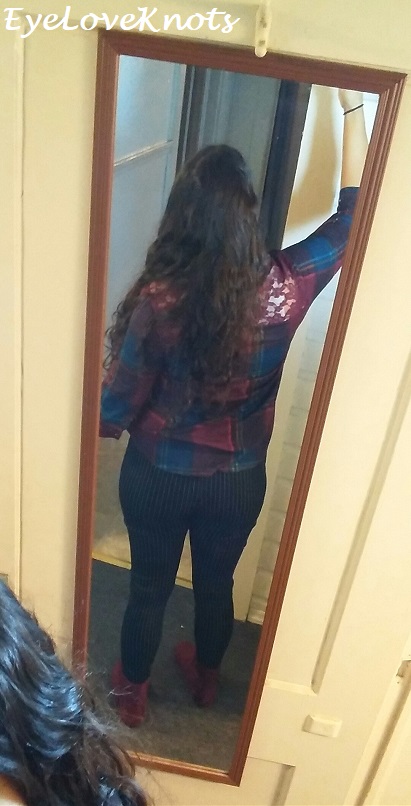 The top is one I found at Ross for around $7.99 (three years ago). It's Polly & Esther brand. I have always loved the color Burgundy, so this was one I grabbed up as soon as I laid eyes on it. The fabric is so nice to wear, and the top is a little longer, so perfect to pair with leggings (but also looks great with blue jeans), and it features a lace paneling along the back shoulder area. If you find Polly & Esther brand, I would imagine like this top, it fits like Junior size.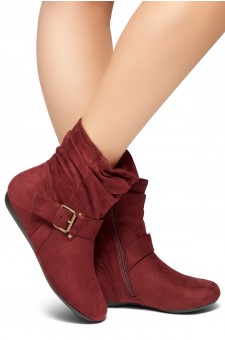 The boots are from Shoeland – Women's Burgundy Shearly Faux Suede Buckled Booties. As I mentioned, I have had them for three years now, and they still look brand new even though I wear them all Winter long, so really good quality. They do run small as mentioned in the listing, so where I normally wear a size 9, in these I wear a size 10. They are so great though, and fit perfectly. I am looking forward to getting me a pair of black ones this year!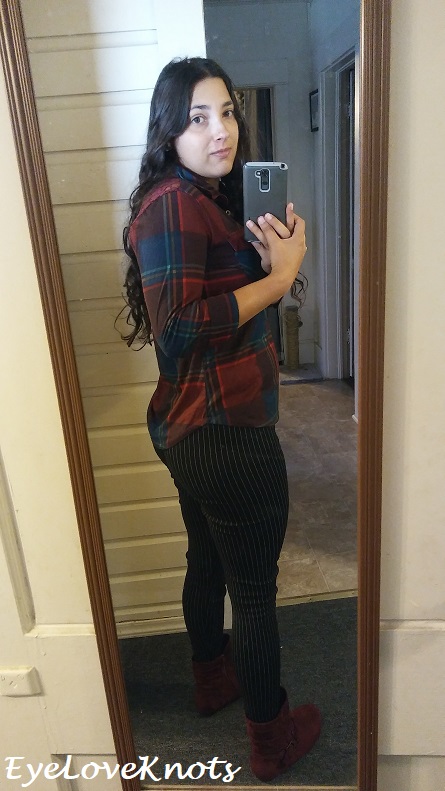 The leggings are the Vertical Striped High Waisted Leggings from SheIn. They are extremely comfortable! And wear so well. What I love most about the few pairs of leggings I have ordered from SheIn is that I can wear them comfortably without having to worry about having to constantly pull them up.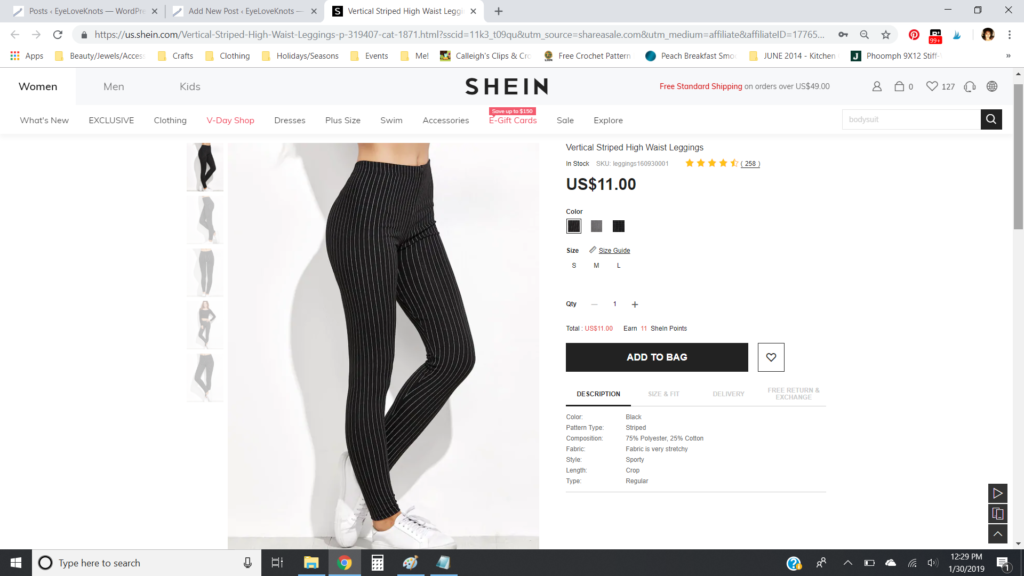 Now, these particular leggings say they are "high waisted", and do look it in the picture, but they wear on me like hip huggers. They also wear like Junior size, so here I am wearing a size Large (equal to a Junior's 11).
I do really enjoy the comfyness of these leggings, but I wear a tank top underneath my top so I can tuck it in to not show off my butt if I need to bend over for something.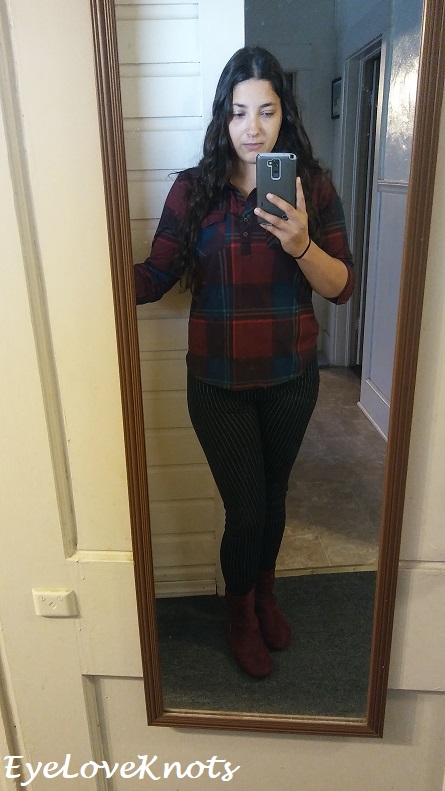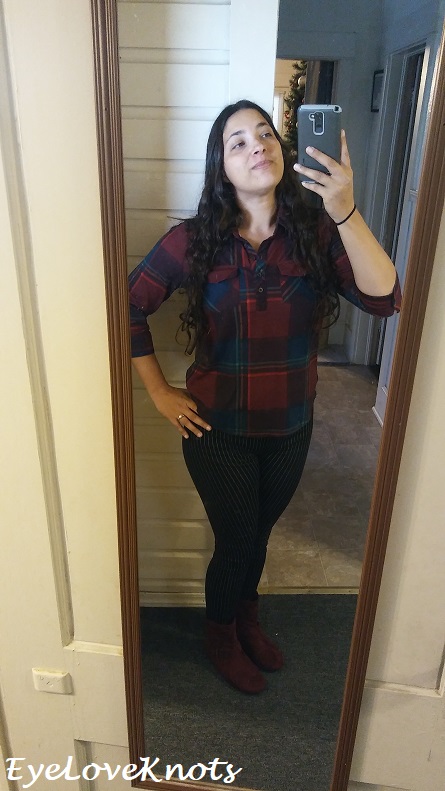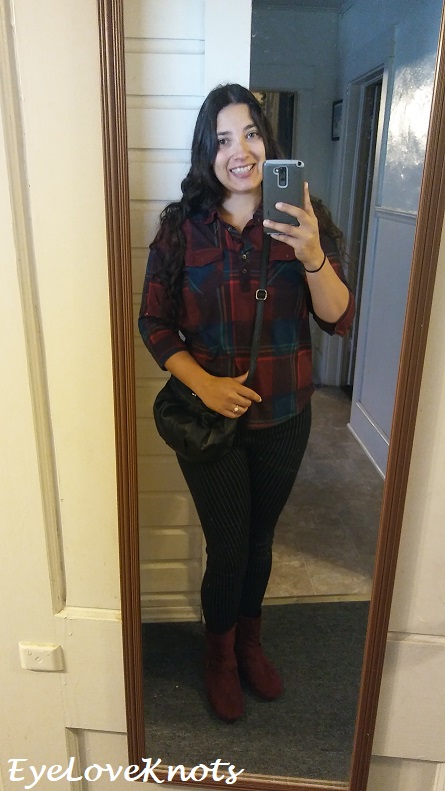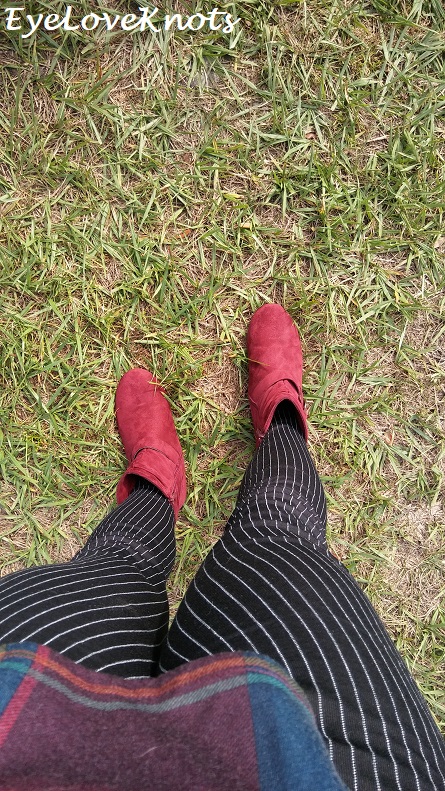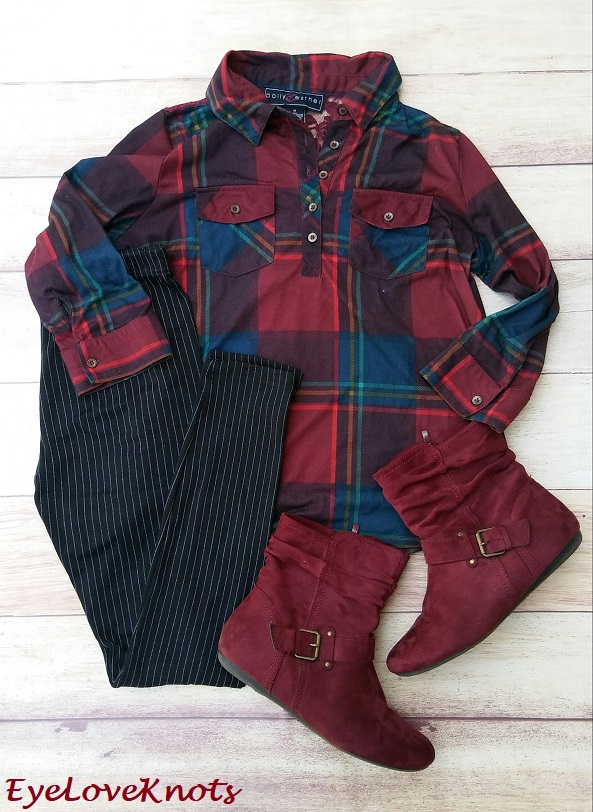 Please feel free to include my outfit in a relevant blog post (like a round up), but do not share it without a proper link back giving me credit. Do not copy and paste my blog post anywhere, link to it instead.
Join the EyeLoveKnots Crafting Community on Facebook to share your creations, and see what others are up to!
Linked Up To…
Inspiration Monday – i should be mopping the floor
Creative Mondays Linkup – Claire Justine
The Scoop Link Party #363 – Worthing Court Blog
Tutorials & Tips Link Party 382 – Home Stories A to Z
Totally Terrific Tuesday #214 – Sweet Parrish Place
Sew It Cook It Crafty It Link Party #91 – Sew Historically
Fabulous Party #253 – Lou Lou Girls
487th Inspire Me Tuesday – A Stroll Thru Life
{Wow Me} Wednesday #389 – Ginger Snap Crafts
Wall to Wall DIY Wednesday Link Up Week 34 – Dabbling and Decorating
Your Whims Wednesday #393 – My Girlish Whims
DIY, Crafts, Recipes and More Wednesday Link Party #125 – Hazel and Gold Designs
Weekday Wear Linkup – Away from the Blue
Confident Twosday Linkup – I do deClaire
Turning Heads Linkup – Elegantly Dressed and Stylish
Shopping my Closet – Style me Wednesday
Pin Party #302 – The Pin Junkie
Funtastic Friday 214 Link Party – Olives n Okra
Thursday Fashion Files Link Up #198 – Curly Crafty Mom
Trendy Thursday LinkUP – Thirty Minus One
Weekend Wear Linkup – Mom with Style
Link Up – Lizzie in Lace