This is a crochet pattern review of the Crossbody Canteen Bag from designer Two of Wands. Review done by A Stitch Shy of Normal for EyeLoveKnots.
This post contains affiliate links for Lion Brand Yarn and WeCrochet. If you make a purchase by clicking on them, I make a small commission at no extra cost to you. Thanks for your support!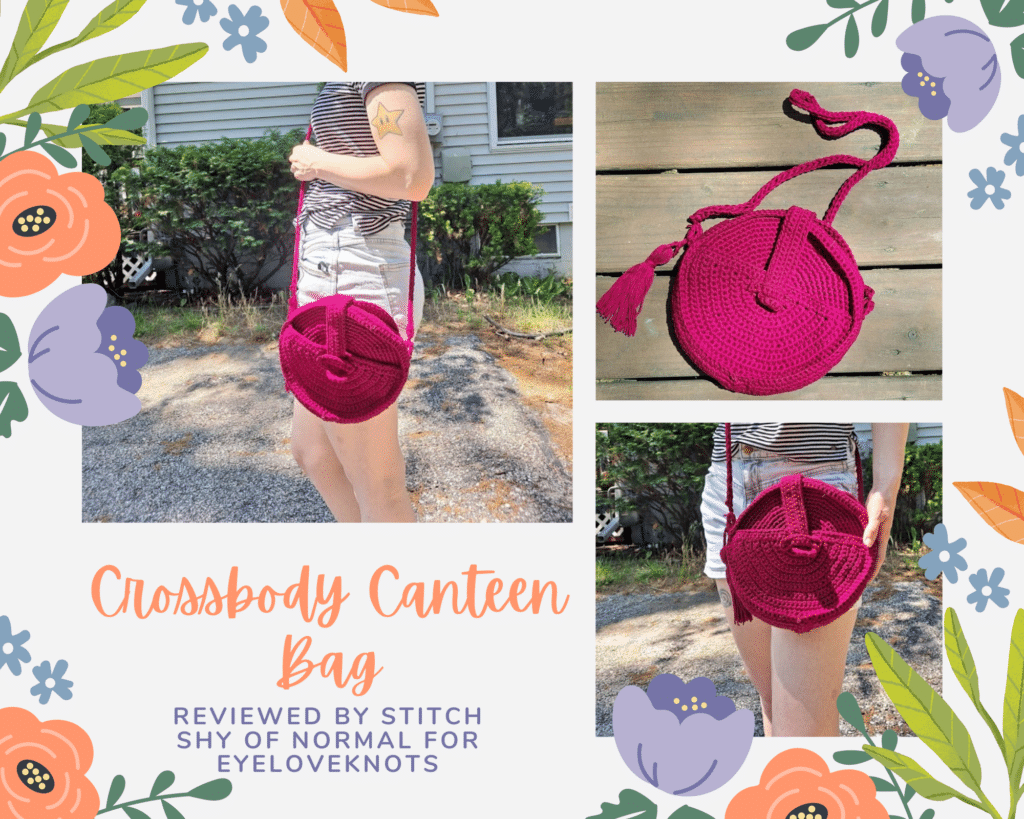 Visit with me on Instagram @astitchshyofnormal for all kinds of awesome crochet makes and inspiration.
I'm a sucker for a good crossbody bag. It's the easiest style to wear for an everyday purse, in my opinion. They're great especially in summer, when you want to toss the essentials into a small bag and just throw it over your shoulder for a day of walking around outside! I've even designed a couple and have a pattern in the works for yet another one.
What I'm saying here is that when I spotted this adorable pattern from Two of Wands that was a unique construction and shape AND was a crossbody, I was in love at first sight. I kept it on my Ravelry wishlist for a while because I wanted to wait until spring or summer to make one. It just felt right. So a few weeks ago I decided the time was finally right, and jumped in!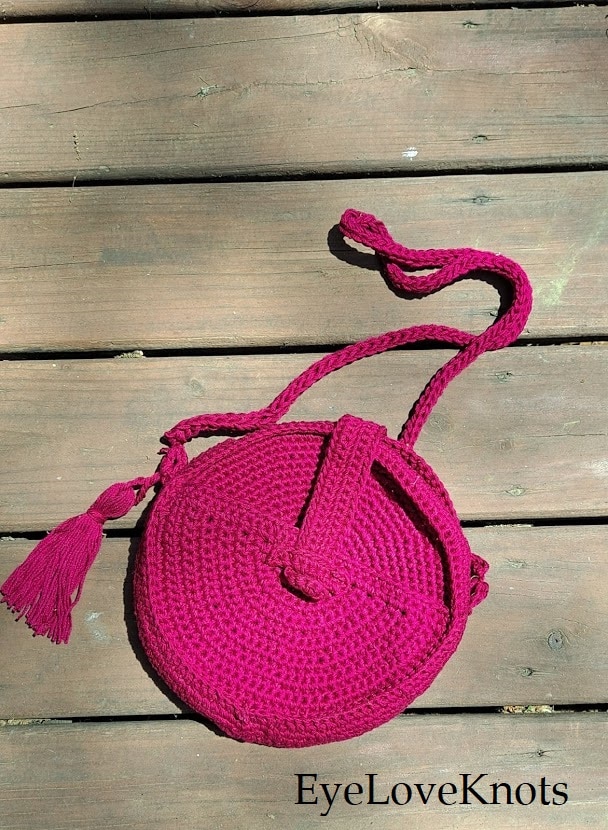 Materials I Used to Make my Bag:
Material Notes:
This pattern actually calls for Lion Brand 24/7 Cotton. The designer mentions that this was a collaboration with Lion Brand and they even have kits! I just so happened to have 4 skeins of this exact yarn sitting in my stash from a failed pattern idea that just didn't work out…but apparently it was meant to be, since it was just what I needed for this bag!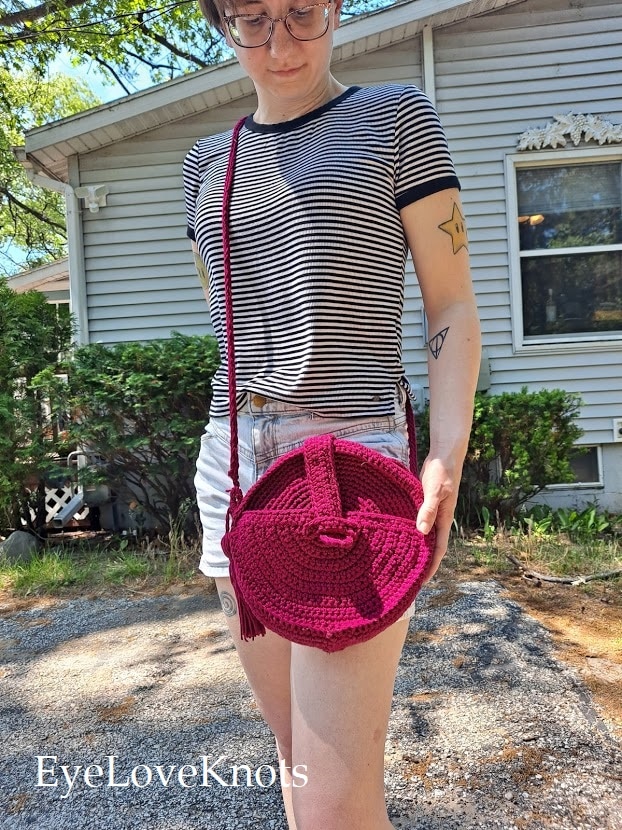 I strongly recommend this yarn for this pattern. The gauge worked out great, and since you hold two strands together throughout the pattern and this is a relatively smaller hook for worsted even before double-stranding it, I'd be careful when trying other yarns out. It was challenging enough with this thinner construction, any thicker cotton would be a headache. Plus this yarn is known to be very durable, and comes in tons of cute and bright colors! I would totally use it again and recommend that you try to use this yarn if possible with this pattern.
Time Spent:
Maybe 8-10 hours. The bag panels go fairly quickly, I made them over a couple of mornings before work. What really took time for me was all the other small pieces and assembly!
Measurements:
The listed diameter is 9″, and mine came out around 9.25″ so that's about perfect. Mine is a bit deeper than listed, at 2.75″ rather than 2″. And finally, I think my strap came out longer than intended because I tied mine in a different way. I realized after the fact that while the designer says to make the strap about 54″ long (stretched), she then ties it so it's a couple inches shorter on either end. I didn't realize this, and attached it to my bag with the leftover ends rather than tying the strap itself. So mine is a little long, and I might re-do my strap at some point. However, it's fully functional as-is and would be perfect for someone on the taller side!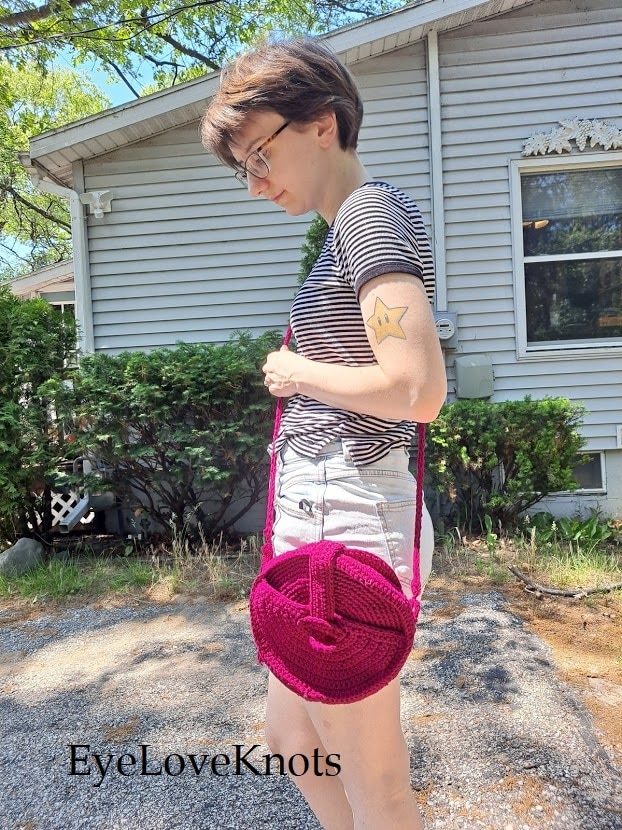 Gauge:
I recommend working up a gauge swatch with this one, since the designer gives it as a square measurement rather than listing the diameter of the circular rounds. The pattern lists 4 inches being 16 stitches and 16 rows, so it should be quick to work up a square to measure.
I chose not to make a swatch, because I was using the exact yarn listed and figured I'd be safe. I realized after creating the two panels that this might not have been the smartest choice–my panels were the same size as each other, yes, but what if my outer band didn't work out to fit correctly? I got away with it this time but I should have double checked my gauge.
Measuring my finished bag, I got pretty close so I would have proceeded anyway–in 4 inches across, I have 15.5 stitches and my rows measure at 7.5 rows per 2 inches in height (so it would be 15 in 4 inches). This explains why my bag is a little larger than the listed measurements, my gauge came out slightly bigger so doing the same rows as the original pattern gave me larger dimensions (but only by a little). Knowing that now, I would still do the exact same thing.
Pattern Notes:
The designer put a lot of thought and care into the small bits of this pattern, and it shows! The small choices make a big difference. For example, you don't sew the straps directly on to the bag. You make little loops, sew those on, and then loop the strap through that! You make a tassel and then don't tie it on, you hang it through one of these loops so you could remove it if you wanted. Instead of being held closed with a button, the pattern walks you through a tongue and buckle closure that keeps it snugly closed.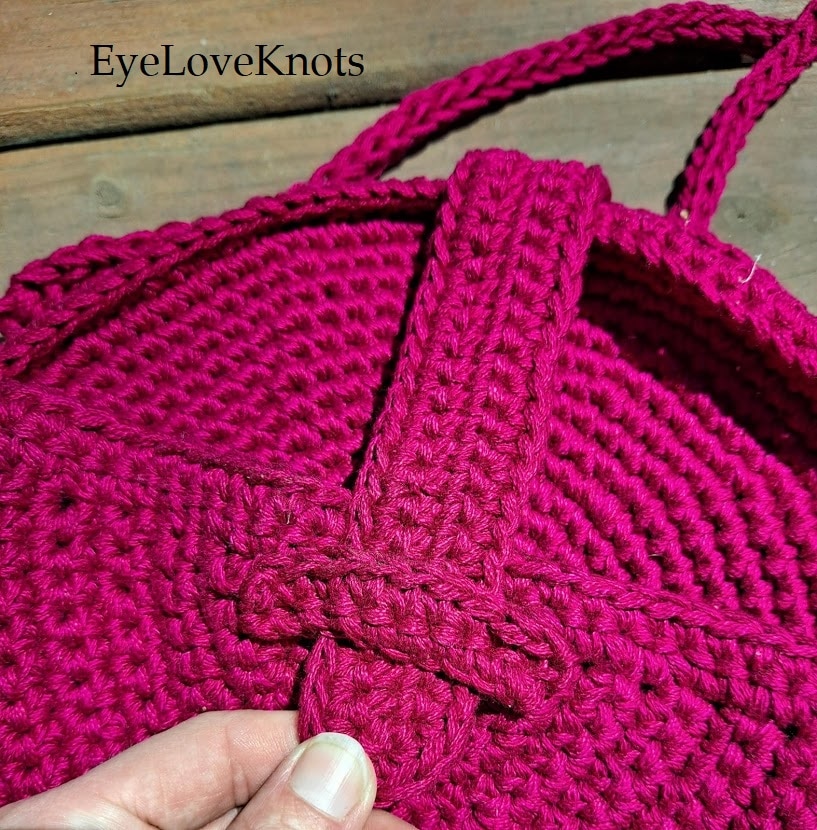 This pattern was very easy to understand up until the last few steps! I had almost no trouble with the two circles, and the outer band caused only mild confusion until I figured it out. Where I ran into some struggles was in the smaller pieces. I had to read over the instructions for each part several times until I felt comfortable proceeding.
Parts like the tongue and buckle went okay, but my biggest struggle was the tassel instructions. I understand the basics of tassels, but this one was unlike anything I've made before! You work a twisted cord first, then fold the tassel over that, then it seems to suggest tying the cord around the tassel in some unique way. I actually am not sure I did this part correctly, and I might message her on Ravelry sometime to ask further about that. Regardless, I have a tassel and it seems to be firmly attached to my bag, so I guess the results worked out!
Also, can we talk about the sheer space in this thing? I tried filling it with what I would put in there for a summer afternoon at a craft fair or going to a local winery (two of my favorite things to do on a summer weekend!), and this was as "full" as it got.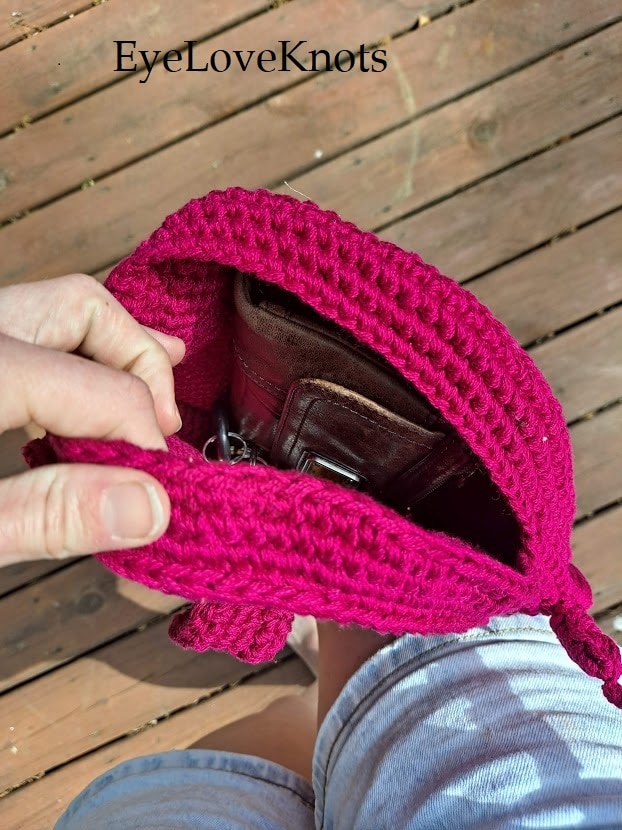 There's plenty more space in there, and I didn't even get to the front pocket yet, which has plenty of extra room!
I really enjoyed all the small touches on this pattern. This is definitely a bag that no one else on the street is going to have! And like I mentioned, 24/7 Cotton has so many more colors that would look absolutely gorgeous with this design. I might have to try out their colorway Beets next, which looks like a beautifully deep purple shade. And then after that, Denim looks lovely for yet another one of these bags! I just might have to start making these for everyone in my life.
I can't stop singing the praises of this pattern. It was fun, it was simple to understand, and it gave me a sturdy and adorable bag that I will be proudly carrying around all summer! Please check out this pattern and make one for yourself (or two or more!).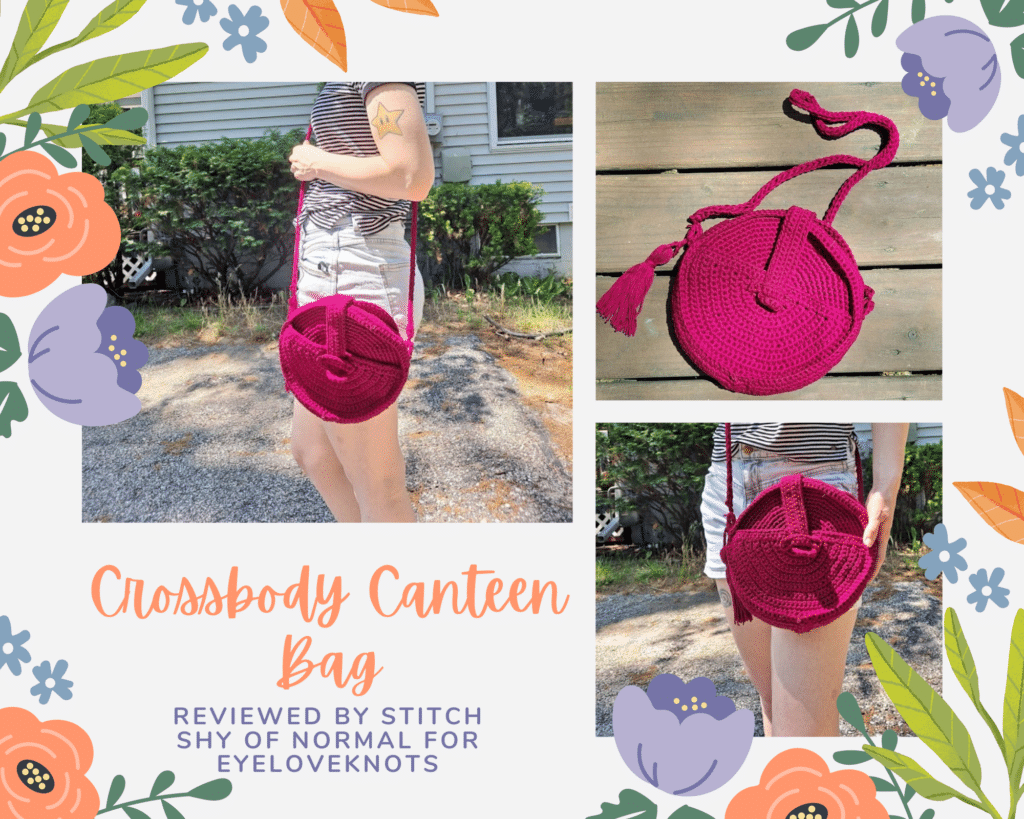 Don't forget to visit with me on Instagram @astitchshyofnormal for all kinds of awesome crochet makes and inspiration.
Join one of our awesome Facebook groups to share your creations, and see what others are up to!
– EyeLoveKnots Crochet & DIY Community
– DIY Home On Rockwood Lane
– Alexandra Lane Lifestyle
Linked Up To…
The Wednesday Link Party 403 – Oombawka Design Crochet
Creatively Crafty Link Party #280 – Life Beyond the Kitchen
Saturday Sparks Link Party 427 – Pieced Pastimes
Craftastic Monday Link Party – Sew Can Do
Ginx Woolly Linx Party June – Ginx Craft
Linky Ladies Party #213 – The Purple Poncho
The Loop Scoop #16 – Moogly Blog
Weekday Wear Link Up – Away from the Blue
Sunday Showcase – Chez Mireille
Turning Heads Tuesday – Elegantly Dressed and Stylish
Confident Twosday Linkup – I do deClaire
Style with a Smile Link Up – Style Splash
Style Six – The Queen in Between
Style on the Daily Link Up – Straight A Style
Thursday Fashion Files Link Up #310 – Curly Crafty Mom
Chic and Stylish Link Up – Mummbastylish
Fancy Friday Linkup – Nancy's Fashion Style
Style Link-Up – The Grey Brunette
{Wow Me} Wednesday #509 – Ginger Snap Crafts
Handmade Monday #232 – Sum of their Stories
The Really Crafty Link Party #271 – Keeping it Real
Happiness is Homemade Link Party #379 – Decor Craft Design
Craft Schooling Sunday – Creative Jewish Mom
Artsy-Fartsy Party #349 – Artsy-Fartsy Mama
The Hearth and Soul Link Party – April, the 21st Century Housewife
Unlimited Link Party 28 – Grammy's Grid
You're the Star Blog Hop – Decor Craft Design
593rd Inspire Me Tuesday – A Stroll Thru Life
Fabulous Party 376 – Lou Lou Girls
Party in Your PJs #363 – The Apple Street Cottage
Your Whims Wednesday #516 – My Girlish Whims
Wonderful Wednesday #263 – Oh My Heartsie Girl
Thursday Favorite Things #494 – An Artful Mom
Grace at Home No. 427 – Imparting Grace
Encouraging Hearts and Home Blog Hop – Scratch Made Food
Traffic Jam Weekend Linky Party #286 – My Bijou Life
Friday Favorites – Busy Being Jennifer
Funtastic Friday Link Party #337 – Simply Beautiful by Angela
A Morning Cup of Joe – The Cottage Market
Style Link Up – Lizzie in Lace