This is a crochet pattern review of the Samira Top pattern from designer The Crazy Aunt. Review done by A Stitch Shy of Normal for EyeLoveKnots.
This post contains affiliate links for Lion Brand Yarn and WeCrochet. If you make a purchase by clicking on them, I make a small commission at no extra cost to you. Thanks for your support!
Find the crochet pattern review below, or click here to find it available for purchase on Ravelry!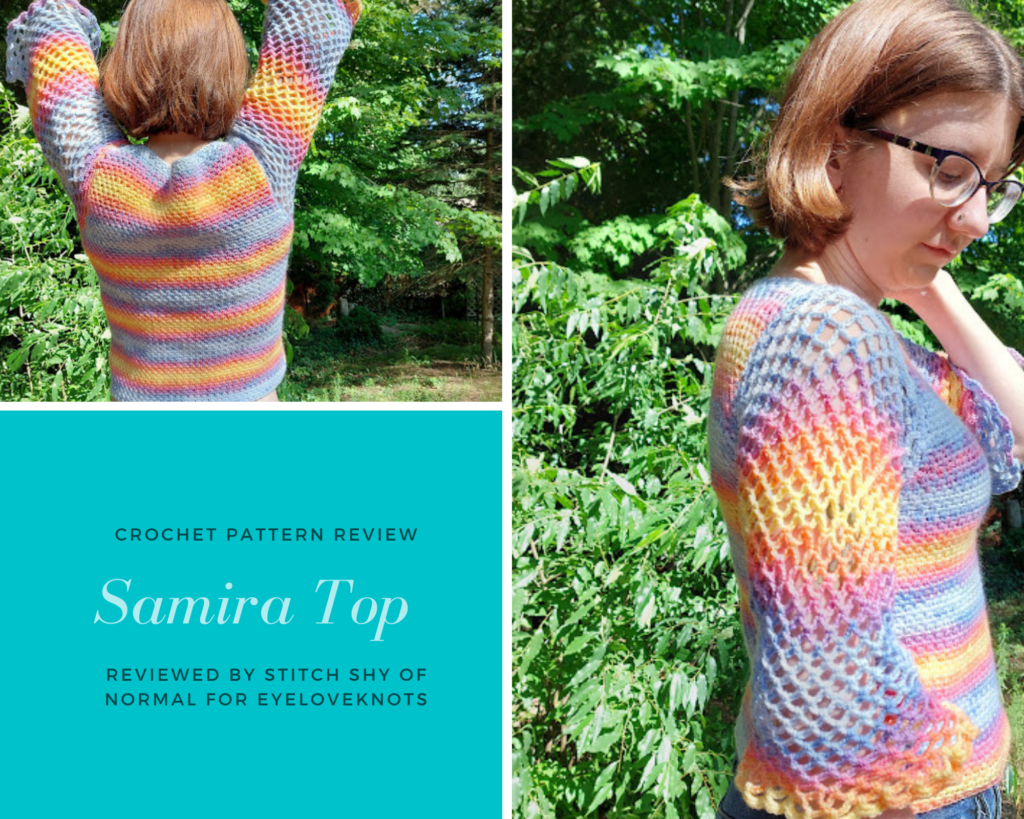 Visit with me on Instagram @astitchshyofnormal for all kinds of awesome crochet makes and inspiration!
I love the versatility of crochet. Does that ever just blow your mind, that with the same hook and yarn we can make a big comfy afghan or a stuffed toy or a fashionable top? I mean, yes, not literally every yarn can do all of these, but it's all the same basic movements and the same set of tools. We do all of that with our hands, that's crazy! This is really on my mind right now because I'm just in awe that this top was handmade and I made it myself. The color is unbelievable, the fit of this top is just amazing, and this whole piece is just so unique.
This project was such a fun time. The main panels of the top go by pretty quickly and have very little shaping, and yet the fit feels like it had tons of customization involved. And the real conversation piece on this piece is the sleeves! It's what caught my eye when I saw the pattern picture on Ravelry, and it's the part I can't stop staring at in the finished top. The color came out beautifully in this stitching, and the top is lightweight and adorable. I'm so happy with this project and I really strongly recommend you check it out for yourself!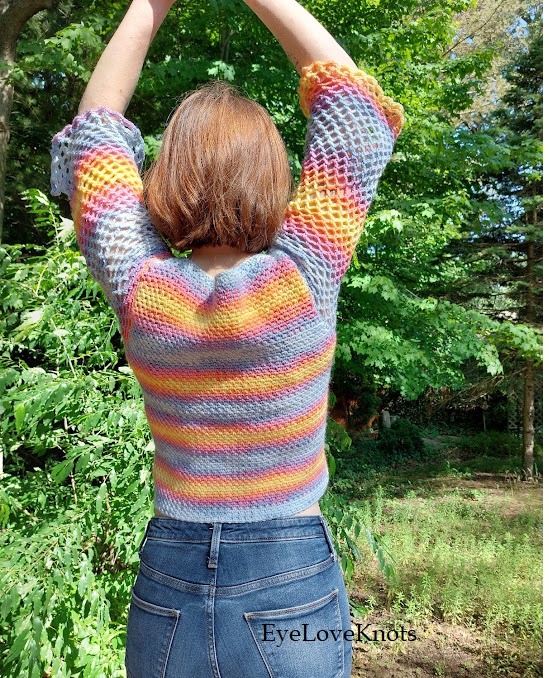 What Materials Do I Need to Make This Top?
850ish yards of Lion Brand Ice Cream in "Parfait" (just a bit more than two full skeins so three)
G6/4mm hook – I like to use Clover Amour
Scissors and yarn needle for assembly
Samira Top, Paid Crochet Pattern via Ravelry
Material Notes:
The designer does actually recommend a natural fiber for this top, and specifically mentions something bamboo or linen. I had a few skeins of this Lion Brand Ice Cream yarn and decided to work up a gauge swatch anyway just to check, because the color was irresistible. The gauge worked out and I went ahead with the combination! This may not have been the smartest choice, because with the whole thing finished I can see why a natural fiber is suggested. It would be lighter and cooler, and might drape better. But was this a bad idea? Definitely not. It works, it's wearable, and it looks super cute.
When you've been doing a craft for a while, you start to learn where you can bend the rules a little bit, and that's what I did here. I also thought it might be useful for the purpose of this review, letting you all know if acrylic works here instead! Can you imagine this in something like Lion Brand Mandala yarn? Or even better, their newer sparkle version? I'm getting off-track here but I felt it was useful for "science" to try this out and report back on how it worked. And it did work, pretty well if I may say so myself! I'd love to try it again in a natural fiber, though, and find out what the difference is for real.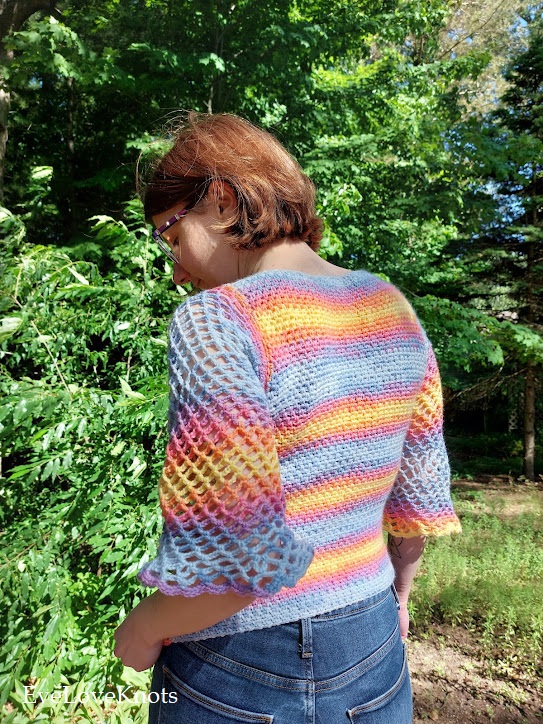 Would I use this again? For sure. I would use this Ice Cream yarn or Mandala like I said, but I'd also be very willing to try a linen or cotton yarn for sure.
How Long Does it Take to Crochet a Top?
This one took me somewhere in the realm of 16-18 hours by my count, faster than I expected a top to be. The trick is the sleeves, that mesh works up so quickly you won't believe you're done!
Gauge:
The pattern gauge is meant to be 20 stitches by 20 rows being equal to 4 inches. Mine is pretty close, I have 22 rows in that height and exactly 20 stitches. This might even be due to measuring it just now after wearing it, anything like that is going to stretch the stitching out a bit.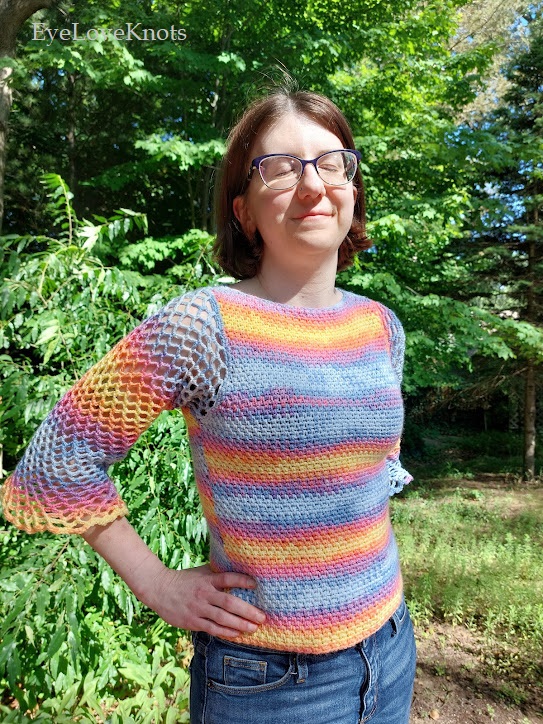 Measurements:
The designer actually gives you clear instructions on how to customize your sizing for this one so my measurements being accurate is not that important, but I'll let you know anyway. I chose to make the size "2", which I think is roughly similar to a size Small in most clothing brands and lists a bust size of 34. I decided to follow this directly rather than make up my own size because this is my bust size, and I figured I could try it on against my body as I worked and alter if necessary.
The actual fit was perfect! You can see how it hugs the body, it's not loose or too tight at all. It's snug, and flattering, and beautiful. However, I would have made my top a little bit longer (as well as my sleeves) if I could go back in time. But this fit will also be cute for summer!
It does include full dimensions for each size, so I'm going to compare those here for your reference:
Width right below the sleeves (laying flat): 17″ (mine is about 16.5″ )
Sleeve length: 18″ (I got that exactly!)
Armhole depth: 7″ (right on for me)
Width at the shoulders, sleeve to sleeve: 12″ (I have just over 11″)
Height: 18.5″ (mine is 18″)
Taking these all into account, I got pretty darn close and I would do this again for sure!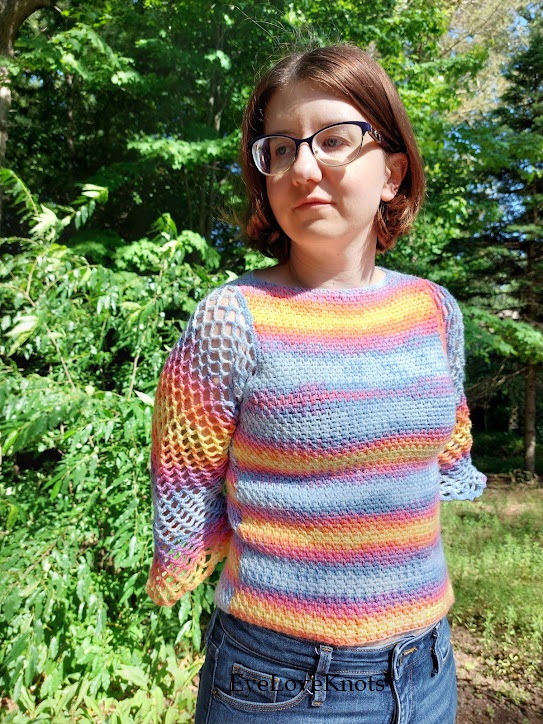 Pattern Notes:
This pattern is just plain old fun. There's plenty of shaping, the stitch is enjoyable to work up, and the sleeves are so interesting to make! It's beautiful and flirty and flattering, and I strongly recommend you make one for yourself or your girlfriends for the summer. There's still plenty of reasons to go out and have some fun before the warm weather is done this year, and I think this would be an excellent top to wear while you do it!
What would I change if I could? I would make my top longer, although it's pretty much how it was written. Same with the sleeves, I got the correct size but I would have made it longer if I was making it up myself. That's about it though! It fits so comfortably, and it looks so adorable. I wouldn't be surprised to find something like this in Target for summer (although hopefully not crocheted, but that's a topic for another time).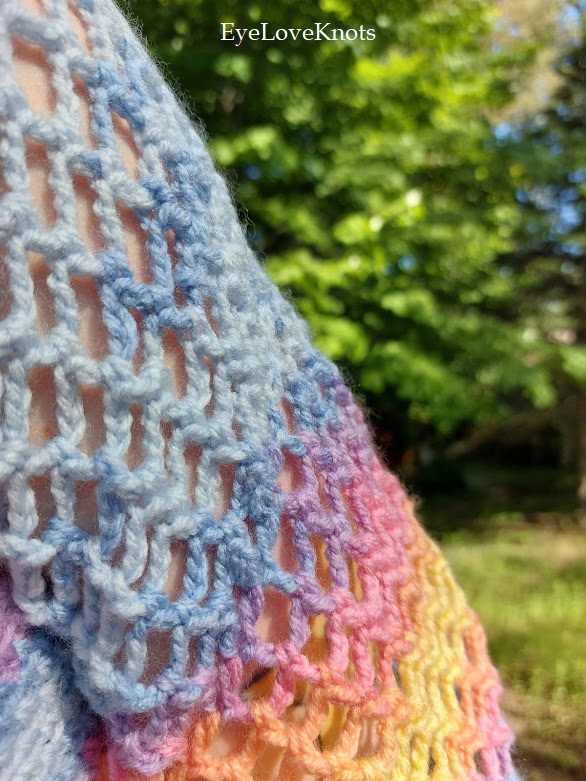 The actual process of working it up is pretty simple. You just stitch along until a shaping portion, do some simple decreasing, and then work another portion. Even the sleeves are just a basic technique around and around in a circle until your desired length! The sewing is minimal, no more so than any basic crochet top (shoulders, sides). I chose not to block mine because I'm impatient and lazy, but I'm sure blocking it would make it even prettier and still not add that much time to the whole thing. It's just a dream pattern all around.
I mentioned it at the beginning here but I just love that crochet can be so many different things. Just sitting here in my living room, I can see the same craft being used for a blanket, a basket, a couple of wall decorations, some dishcloths, and a gorgeous top (or five). I have a lot of yarn in my house, either still in skeins or already stitched up. And that's what I love, that the same basic concept can be used to make so many different things, with just different yarn and hook sizes! This top is just another great example, it's something gorgeous and one-of-a-kind, and it's so much more special knowing I made it myself.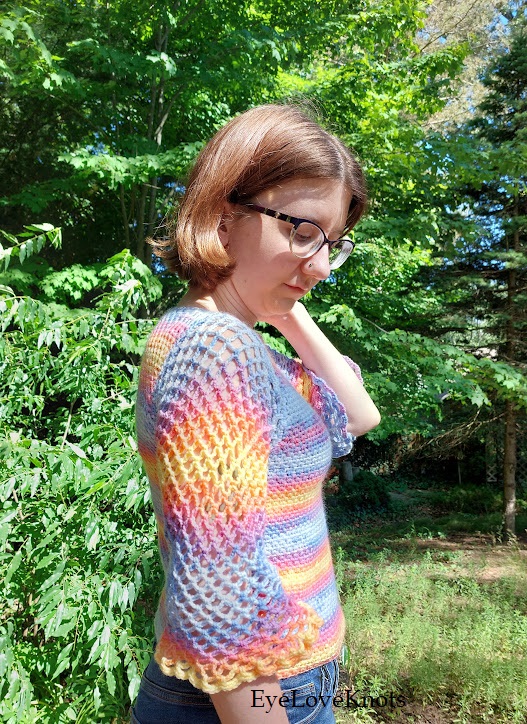 Don't forget to visit with me on Instagram @astitchshyofnormal for all kinds of awesome crochet makes and inspiration.
Join one of our awesome Facebook groups to share your creations, and see what others are up to!
– EyeLoveKnots Crochet & DIY Community
– DIY Home On Rockwood Lane
– Alexandra Lane Lifestyle
Linked Up To…
Handmade Monday #285 – Sum of their Stories
The Really Crafty Link Party #324 – Keeping it Real
Link-up Potpourri #52 – My Bijou Life
Craftastic Monday Link Party – Sew Can Do
Ageless Style – My Slices of Life
Thursday Fashion Files – Doused in Pink
Chic and Stylish – Mummabstylish
Remarkable Rags #14 – My Bijou Life
Neverending Style Link Up – The Grey Brunette
Fancy Friday Linkup – Nancy's Fashion Style
Link Up on the Edge #305 – Shelbee on the Edge
Weekday Wear Link Up – Away from the Blue
Fashion Link Up – Fine, Whatever Blog
Link Up – Scribbling Boomer
Turning Heads Tuesday – Elegantly Dressed and Stylish
Confident Twosday Linkup – I do deClaire
Style with a Smile Link Up – Style Splash
Wow on Wednesday – Is This Mutton?
Style Link Up – Straight a Style
Thursday Favorite Things #550 – An Artful Mom
Creatively Crafty Link Party #337 – Try It – Like It – Create It
Encouraging Hearts & Home Blog Hop – My Slices of Life
Grace at Home No. 475 – Imparting Grace
Linky Party #280 – Karins Kottage
Crafty Creators Link Party #27 – Life as a LEO Wife
Traffic Jam Weekend Link Party #333 – My Bijou Life
Create, Bake, Grow & Gather Party #529 – Shabby Art Boutique
Funtastic Friday Link Party – Simply Beautiful by Angela
Saturday Sparks Link Party 524 – Pieced Pastimes
Pink Saturday – How Sweet the Sound
A Morning Cup of Joe – The Cottage Market
You're the Star Blog Hop – Decor Craft Design
Happiness is Homemade Link Party – Decor Craft Design
Hello Monday – Pink Lady
Anything Goes Linky #338 – My Random Musings
Sundays on Silverado #103 – The House on Silverado
Craft Schooling Sunday – Creative Jewish Mom
The Wednesday Link Party 461 – Oombawka Design Crochet
Team Creative Crafts Link Party #104 – Artsy-Fartsy Mama
Wonderful Wednesday Blog Hop – My Life Abundant
Wednesday Link Party #306 – To Grandma's House We Go
647th Inspire Me Tuesday – A Stroll Thru Life
Fabulous Party 434 – Lou Lou Girls
The Happy Now Blog Link-Up #331 – JENerally Informed
Share the Wealth Link Up #23 – Big Fat Menopausal Life
Linky Ladies Party #227 – The Purple Poncho
The Loop Scoop #44 – Moogly Blog