I clean my face every morning with rubbing alcohol and some toilet paper or a paper towel (whatever is closest). Some say that rubbing alcohol is a little harsh for your face but it works great for me. Doesn't dry out my skin and keeps my face clear. 

I decided rather than continue to use toilet paper or paper towel, I would crochet myself up some facial scrubbies.  

I have been using these for the last week and washed them once already and they have held up well!
*Keep in mind, certain products (like the rubbing alcohol) will cause your scrubbies to fade!

Make a set for you or to give as a gift! I'm not a make up person but I'm sure these would even work great for removing it!

With a scratchy scrubber attached to one side, they would even work for the dishes!

*10.05.14 UPDATE: I've added a free pattern on Square Facial Scrubbies in Sand Dune Ombre.



Materials:
     – 50 yards of Worsted Weight Cotton Yarn – I used Lily Sugar n Cream in Rainbow Bright Ombre 
     – H8/5mm Hook
     – #18 Tapestry Needle for Weaving in Ends
     – Opt. Flat Nose Pliers (found in the Jewelry section of your craft store)

Material Notes:
     Yarn Alternatives: Bernat Handicrafter Yarn will also work great! Lion Brand Kitchen Cotton will work up a tad bit bigger.
I do not recommend using Hobby Lobby's I Love This Cotton. It's too soft, and isn't as durable.

     Cotton yarn is a little tougher when it comes to weaving in your ends. You will want a tapestry needle with a larger eye, and duller point otherwise, it will take you longer to weave in your ends and hurt your fingers from tugging at the needle and yarn.

     Flat nose pliers are great for use with chunky and super bulky weight yarns as well as cotton. Insert the needle as you normally would for weaving but instead of struggling to get it out the other side, use the pliers to pull it out. Works like a charm!

Time Spent:
   I worked up the set of four in about fourty five minutes.

Measurements:
   These scrubbies measure 3.5″ across.

Abbreviations:
   CH – Chain
   HDC – Half Double Crochet
   ST – Stitch
   Sl St – Slip Stitch
   SC – Single Crochet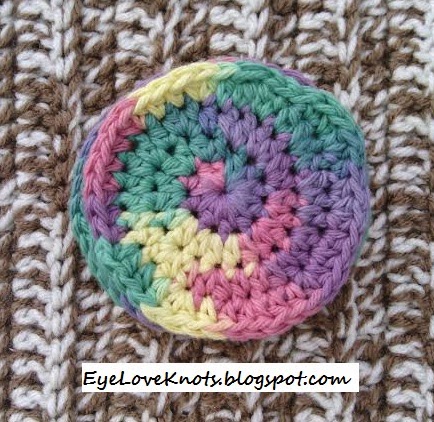 Pattern Notes:
   This pattern is worked in a continuous motion but if you'd prefer not to, feel free to join at the end of each round and chain one at the beginning of the next.

The skipped stitch and final three slip stitches will help to even out your circle.

Pattern:

CH 5. Join to form a ring. CH 1, 10 HDC in ring. Pull center tail tight to close center hole.

Round 2:  2 HDC in ea HDC around. Join to first HDC with a Sl St. (20 HDC)

Round 3: 2 HDC in 1st HDC, HDC in next HDC, (2 HDC in next HDC, HDC in next HDC) around. (30 HDC)

Round 4: 2 SC in 1st HDC, SC in next 2 HDC's, (2 SC in next HDC, SC in next 2 HDC's) around. SK next ST, Sl St in the next 3 STs. (40 SC).

Fasten Off and Weave in Ends.
Please feel free to make and sell these facial scrubbies, but please DO NOT claim this pattern as your own nor should you sell my pattern, and DO NOT re-publish my photos as your own. DO NOT copy and paste my pattern anywhere, link to it instead.

*If you would like a PDF version of this post, you may get one through my Etsy shop for a small fee. This fee is to compensate for the view/s lost once you no longer need to return to the blog for the information, as you will have your own copy. Plus! It helps fund supplies for new projects to share with you!
Shop EyeLoveKnots – Rainbow Bright Round Facial Scrubbies.

Care Instructions:
   Lily Sugar n Cream yarn is machine washable and dryable. Throw them in with the rest of your clothing, but you may want to put them in a lingerie bag to keep track of them, and then lay flat to dry. 
*Colors may fade depending on what you use to clean your face with and/or in wash.

*10.05.14 UPDATE: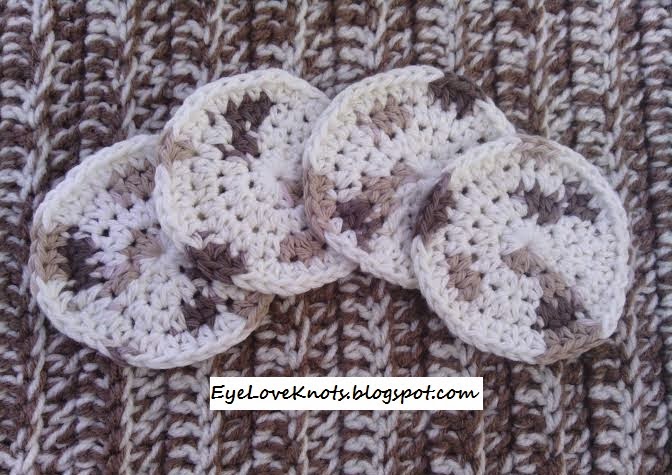 In Sand Dune Ombre
*If you would like a PDF version of this post, you may get one through my Etsy shop for a fee. This fee is to compensate for the view/s lost once you no longer need to return to the blog for the information, as you will have your own copy. Shop EyeLoveKnots – How to Crochet Round Facial Scrubbies.

Linking Up To…
August Sharing Time Week 4 – Raising Memories
6 Fun DIY Paint Projects & Inspiration Monday – Scattered Thoughts of a Crafty Mom
Creative Collection Link Party – Blooming Homestead / The Cards We Drew
Wonderful Wednesday Blog Hop #87 – Day 2 Day Supermom
Serenity Saturday #147 – Serenity You
Do Not Fear Share Your Creativity #126 – It's Overflowing
Yarn Fanatic Party #3 – The Philosopher's Wife
Hookin on Hump Day #77 – My Merry Messy Life / Moogly
The Sunday Showcase Party #256 – By Stephanie Lynn
Your Whims Wednesday #177 – My Girlish Whims
Awesome Things Tuesday #26 – Krafting Kreations