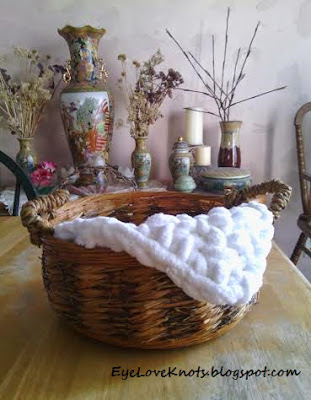 Yesterday, I came across the Toot Sweet Newborn Bonnet found on Moogly. It is made with Super Bulky blanket yarn. 

I haven't used the blanket yarn before, but every time I go to JoAnn's, I stop and look at the Bernat Baby Blanket yarn.
I bookmarked the pattern and added Super Bulky blanket yarn to my shopping list…

Today, I attempted to crochet this bonnet using Yarn Bee Chinchilla Super Bulky yarn (no link available – not found online!) in White Invite that I found at Hobby Lobby on Clearance. NO LUCK!

I decided to use this yarn to make a mini blanket and attempt the beautiful newborn bonnet at a later time with a different type of Super Bulky yarn. Find my mini blanket pattern below!

This mini blanket is thick, sturdy and has a subtle sparkle. It makes a great basket filler, and would be perfect to use in photos during the holiday season.

Materials:
– Small Hook (such as a D3/3.25mm) to weave in your ends
– P15/11.50 Hook
– 30 yards of Super Bulky Blanket Yarn – I used Yarn Bee Chinchilla Yarn in White Invite 

Material Notes:
     Yarn Alternatives: Bernat Blanket, Lion Brand's Hometown USA, 2-3 strands of Worsted Weight Yarn held together
Because this mini blanket is meant to use as a photo prop, and baby will most likely lean against it, I do not recommend wool yarn as many babies are allergic to it.

Yarn Review:
     This yarn is difficult to work with as it is very bulky with no stretch. Even making the starting slip stitch was difficult!

     Try to be sure about your stitches beforehand, this yarn is very difficult to pull out and once you have pulled it out, it makes a mess!
(If it wasn't 10pm and dark, I would pull out my phone and take a photo of the fluffy pieces all over my crocheting chair!)

     I think this yarn would probably work well for Arm Knitting projects.

     It is also nice and cushion-y, making it great for photo prop pillows.

Time Spent:
   I was able to complete the blanket and edge finishings in 45 minutes.

Measurements:
   9″ x 10″

Gauge:
   Each row adds 1.25″.

Abbreviations:
   HDC – Half Double Crochet
   SC – Single Crochet

Pattern Notes:
   Weaving in ends will be done with the smallest crochet hook and fingers – since weaving the thick yarn with an embroidery needle is difficult. You will have the same result and it will be easier than trying to fight with the needle and yarn.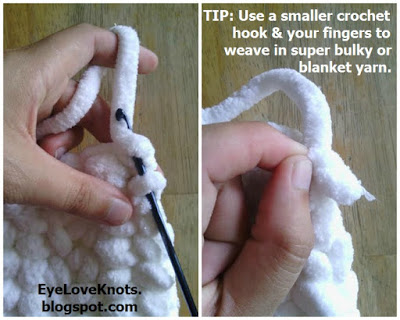 LEFT:
First, you'll want to use the small crochet hook to pull the tail under several stitches as if you were weaving it in.
RIGHT:
Once through, use your left index finger and thumb to hold the loop of the last stitch you've just finished weaving your tail under, and your right thumb and index finger to pull the loop through. Tighten up and trim.
If you're more comfortable using a needle for weaving in your ends, feel free to do so instead! 

Pattern:
     Chain 11. HDC in the 2nd chain and in each across. Chain 1, turn.

R2 – 10: HDC in the 1st HDC and in each HDC across. Chain 1, turn.

Edging (to give it a finished look): Evenly SC in each HDC side and each HDC stitch all the way around. In each corner, make two extra SC's – otherwise, your blanket will pull up on the sides.

Please feel free to make and sell your own Super Bulky Mini Blankets using this pattern, but please DO NOT claim this pattern as your own nor should you sell my pattern, and DO NOT re-publish my photos as your own. DO NOT copy and paste my pattern anywhere, link to it instead.

*If you would like a PDF version of this post, you may get one through my EyeLoveKnots Etsy Shop or EyeLoveKnots Craftsy Shop for a small fee. This fee is to compensate for the view/s lost once you no longer need to return to the blog for the information, as you will have your own copy. Plus! It helps fund supplies for new projects to share with you!
Shop EyeLoveKnots Etsy – Super Bulky Mini Blanket; 
or EyeLoveKnots Craftsy – Super Bulky Mini Blanket.

With so many size, yarn type and color options, I would love to see them! Please share your photos on my EyeLoveKnots Facebook page!

**Share your version of this Super Bulky Mini Blanket Photo Prop on Ravelry! Check out the EyeLoveKnots Ravelry page to keep track of all your EyeLoveKnots favorites in your que, and share your WIPS and finished projects!

Don't miss out on new crochet patterns, reviews, jewelry tutorials and more! Subscribe to EyeLoveKnots by using the box on the right side toolbar, or follow me via Bloglovin!

Linking Up To…
The Creative Collection Link Party – The Cards We Drew
Craft Schooling Sunday – Creative Jewish Mom
August Sharing Time Week 1 – Raising Memories
Show & Tell Saturday – Be Different Act Normal
Serenity You #144 – Serenity You
Nifty Thrifty Sunday #167 – Nifty Thrifty Things
Think Pink Sunday #176 – Flamingo Toes
Seems Impossible Until it's Done Creativity Link Party #123 – It's Overflowing
7 Summer Treats & Inspiration Monday – Scattered Thoughts of a Crafty Mom
Best DIY Projects & Recipe Party – The 36th Avenue
The Sunday Showcase Party #254 – By Stephanie Lynn
12 Bright & Fun 30 Minute Craft Ideas Monday Funday Link Party – Club Chica Circle
Yarn Fanatic Link Party #1 – The Philosopher's Wife
Hookin on Hump Day #76 – My Merry Messy Life
Your Whims Wednesday #174 – My Girlish Whims