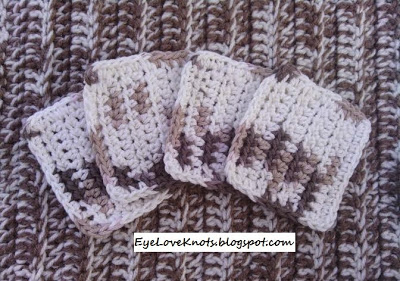 Back at the end of August, I posted the Crochet Facial Scrubbies in Rainbow Bright Ombre. This pattern was a big hit. I found some BIG skeins of Handicrafter Nautical yarn on clearance at Joann's, so I figured it'd buy two and work up some more facial scrubbies, and coasters, along with some wash cloths.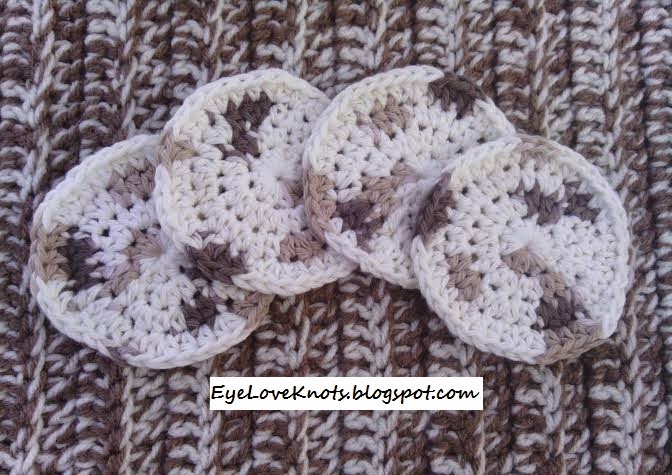 Round Facial Scrubbies in Sand Dune Ombre
About halfway through crocheting up some of the round facial scrubbies (as found in the above post), I decided to try some square ones. 

I personally use the round ones I made – I have a set made of the Nautical Twists for myself – and although they do work and feel great, the beginning ring of the circle is a little bulky. I figured the flat square would be smoother on my face, and also better for removing make up.

Work up a set for yourself, or make a set to give as a gift!

These will work as coasters too, although they are a tad bit small. 

You can also attach a scratchy scrubbie to make these ideal for washing dishes.

Enjoy this free pattern!

Materials:
   – Worsted Weight Cotton Yarn – I used about 50 yards of Bernat Handicrafter Nautical in the color Sand Dune Ombre
   – H8/5mm Hook
   – #18 Tapestry Needle for weaving in ends

Material Notes:
     Yarn Alternatives: Lily Sugar and Cream, Lion Brand Kitchen Cotton.
     A similar yarn colorway is the Chocolate Ombre from Lily Sugar n Cream. I've used it on some washcloths before and it's colorway can be seen a lot more – very nice color. The Sand Dune colorway is very subtle.
     Cotton yarn is a little tougher when it comes to weaving in your ends. You will want a tapestry needle with a larger eye, and duller point otherwise, it will take you longer to weave in your ends and hurt your fingers from tugging at the needle and yarn.

Time Spent:
   I was able to work up a set of four in about 45 minutes.

Measurements:
   These scrubbies measured 3″ across before adding the single crochet border, and 3.75″ across after.

Abbreviations:
   HDC – Half Double Crochet
   SC – Single Crochet

Pattern Notes:
   Crochet over your beginning tail while you work your border across the foundation row. It will be secure and save you from having to weave it in later.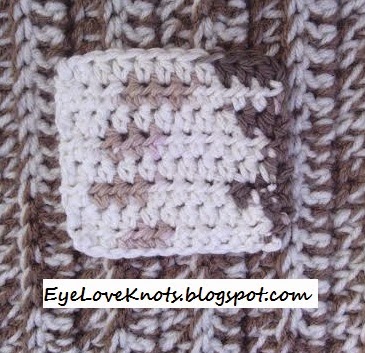 This is a square before I added the border.
   If you find your finished scrubbie to be shorter in width along the foundation row after you are finished crocheting your border, simply tug on the ends a little to loosen it up.

   The border is optional. I like the finished look the piece gets from having the single crocheted border, but it is up to you! Keep in mind, without the border, the piece will only measure about 3″ across. You will need to extend your beginning chain to about 14 if you plan on leaving off the border, to equal the 3.75″.

Pattern:

     Chain 13. HDC into the 3rd chain, and into each chain across. (11 HDC)

R2 – 8: Chain 1, turn. HDC into the 1st HDC, and into each HDC across. (11 HDC)

Border: Chain 1, turn. SC into the 1st HDC, and into each HDC across, add 2 SC into the last HDC to create a corner, evenly SC down the side adding 2 SC in the last stitch (corner), SC across the opposite side of the foundation chain, add 2 SC in the last stitch (corner), and then evenly SC up the other side adding just 1 SC in that last stitch to complete the corner (since your first ST will be in that same ST). Join to the 1st SC.

Fasten Off and Weave in Your Ends.

Please feel free to make and sell these facial scrubbies, but please DO NOT claim this pattern as your own nor should you sell my pattern, and DO NOT re-publish my photos as your own. DO NOT copy and paste my pattern anywhere, link to it instead.

Care Instructions:
   Bernat Handicrafter yarn is machine washable and dryable. Throw them in with the rest of your clothing, but you may want to put them in a lingerie bag to keep track of them, and then lay flat to dry.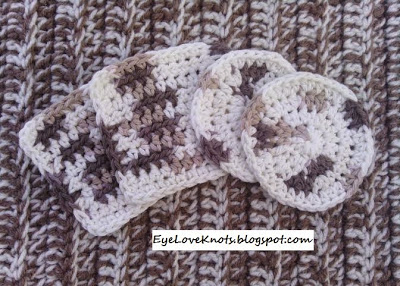 Join the EyeLoveKnots Crafting Community to share your creations, and see what other's are up to! 

Check out the EyeLoveKnots Ravelry page to keep track of all your EyeLoveKnots favorites in your que, and share your WIPS and finished projects!

Don't miss out on new crochet patterns, reviews, jewelry tutorials and more! Subscribe to EyeLoveKnots by using the box on the right side toolbar, or follow me via Bloglovin! You can also find me sharing on the EyeLoveKnots Facebook page, and @EyeLoveKnots on Twitter


Linked Up To…
XOXO Print Party – It's Overflowing
Serenity Saturday #150 – Serenity You
Best DIY Projects and Recipes Party – The 36 Avenue
Kitchen Fun and Crafty Friday #134 – Kitchen Fun with my 3 Sons
Yarn Fanatic Party #10 – The Philosopher's Wife
Friday Fridays Link Party – Craftaholics Anonymous
237th Inspire Me Tuesday – A Stroll Thru Life
The Sunday Showcase #262 – By Stephanie Lynn
7 Fall Decor DIYS, 7 Halloween Treats, Monday Funday – Club Chica Circle
Think Pink Sunday #185 – Flamingo Toes
Awesome Things Tuesday Link Party – Krafting Kreations
Time to Sparkle #81 – Inside Bru Crew Life
October 2014 Sharing Time Week 1 – Raising Memories
Inspiration Monday Party – Scattered Thoughts of a Crafty Mom
Craft Schooling Sunday – Creative Jewish Mom
Creative Exchange Link Party #22 – The Happy Scraps
Your Whims Wednesday #183 – My Girlish Whims
Hookin on Hump Day #80 – Moogly Blog