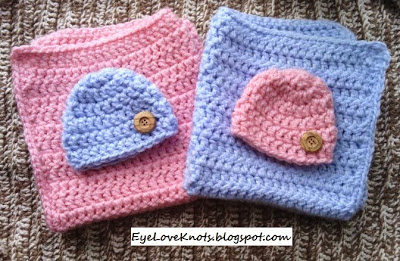 The day after writing up the draft for the 10″ x 10″ Mini Blanket (back in May – yikes!), I drafted the following post on a 18″ x 18″ Mini Blanket. 

After completing my 10″ x 10″ Mini Blanket, I took a trip back to Joann's to get some more chunky yarn and start on a bigger mini blanket.

These mini blankets are great as photo props! They also work great for baby dolls!

Materials:
     – L11/8mm Hook
     – Chunky Yarn (5) – I used about 146 yds (2 balls) of Deborah Norville's Chunky Serenity Yarn in Alaskan Blue and Lilac Chiffon.
     – Tapestry Needle for weaving in ends

Time Spent:
   I was able to complete this larger mini blanket and the matching hat in about an hour and 45 minutes.

Measurements:
   17″ x 17″ plus 1″ border = 18″ x 18″

Gauge:
   2 rows = 1.5″. Border adds 1″ to total.

Abbreviations:
   DC – Double Crochet
   SC – Single Crochet

Pattern:
     Chain 40. DC into the 4th chain, and in each chain across. (38 DC)

R2 – 25: Chain 2, and turn. DC into the 2nd DC, and in each DC across. (38 DC)

R26: Chain 2, and turn. DC into the 2nd DC, and in each DC across. (38 DC)

R27: Chain 1, and turn. SC in 1st DC, and in each DC across. (38 SC)

Border: (Add 2 SC to the last stitch (to create a corner), evenly SC along the side, and around the blanket until you reach the beginning of Row 27. Join to the first SC.

Fasten Off, and Weave in Ends.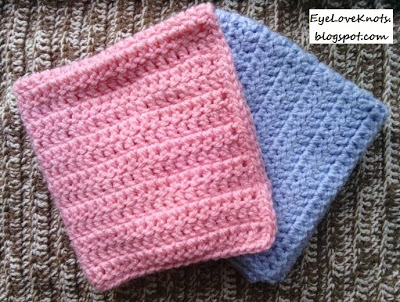 Please feel free to make and sell this mini blanket, but please DO NOT claim this pattern as your own nor should you sell my pattern, and DO NOT re-publish my photos as your own. DO NOT copy and paste my pattern anywhere, please link to it instead.

With so many size, yarn type and color options, I would love to see them! Join the EyeLoveKnots Crafting Community to share your creations, and see what other's are up to! 

Check out the EyeLoveKnots Ravelry page to keep track of all your EyeLoveKnots favorites in your que, and share your WIPS and finished projects!

Don't miss out on new crochet patterns, reviews, jewelry tutorials and more! Subscribe to EyeLoveKnots by using the box on the right side toolbar, or follow me via Bloglovin! You can also find me sharing on the EyeLoveKnots Facebook page, and @EyeLoveKnots on Twitter!
Linking Up To…
The Creative Collection Link Party – The Cards We Drew
Craft Schooling Sunday – Creative Jewish Mom
August Sharing Time Week 1 – Raising Memories
Show & Tell Saturday – Be Different Act Normal
Serenity You #144 – Serenity You
Nifty Thrifty Sunday #167 – Nifty Thrifty Things
Think Pink Sunday #176 – Flamingo Toes
Seems Impossible Until it's Done Creativity Link Party #123 – It's Overflowing
7 Summer Treats & Inspiration Monday – Scattered Thoughts of a Crafty Mom
Best DIY Projects & Recipe Party – The 36th Avenue
The Sunday Showcase Party #254 – By Stephanie Lynn
12 Bright & Fun 30 Minute Craft Ideas Monday Funday Link Party – Club Chica Circle
Yarn Fanatic Link Party #1 – The Philosopher's Wife
Hookin on Hump Day #76 – My Merry Messy Life
Your Whims Wednesday #174 – My Girlish Whims