These Apple Spice Cupcakes were a BIG hit with both my fellow employees and family! Enjoy!
Save this to your Favorites on RecipeLion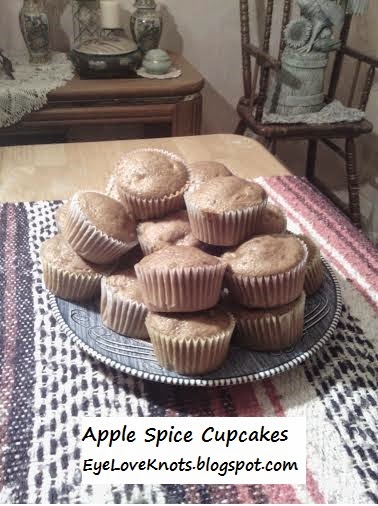 The combination of baked apples and spices,
make this a great fall dessert! It's moist
with a slight tartness, and the frosting is very
creamy, sweet and delicious!
And, it's quick to make too!

Yields
24 Cupcakes (or 1 Cake)

Prep Time
30 minutes (cupcakes) + 20 minutes (frosting) 

Cook Time
15-17 minutes plus cooling
Ingredients – Cupcakes
     – 24 Cupcake Liners
     – 2 Tart Apples (I used Granny Smith)
     – Spice Flavored Cake Mix 
[you could also use Carrot Cake Mix if you don't mind the small pieces of carrot, or Yellow Cake Mix and add in your own flavor using Pumpkin Pie Spice (or a combination of Nutmeg, Ginger, Allspice and Cinnamon).]
     – Eggs, Water and Oil as required for Cake Mix (mine needed 3 eggs, 1 cup water, and 1/3 cup oil.)
     – A Cupcake Pan
     – Cooking Spray, or All Purpose Flour and Butter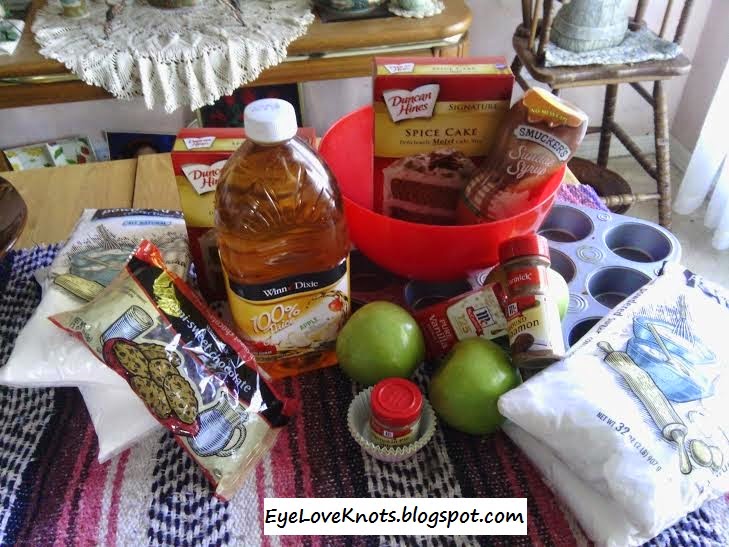 Ask me why there is Apple Juice in this photo? Ha!
I have no idea.
*Alternatively, you can use two 9″ pans or a 13″ x 9″ pan in place of the cupcake pan. 

You will also need
     – a spoon to mix with
     – a medium – large bowl for mixing cake mix
     – optional hand mixer
     – a small bowl to hold chopped apples
     – a knife for cutting apples
     – a plate to cut apples on
     – toothpick for testing cupcake centers

Ingredients – Frosting
      – 1 oz of Cream Cheese at Room Temperature
     – 1 Tablespoon of Soft Butter
     – 1 Teaspoon of Vanilla Extract
     – 1.5 Cups of Powdered Sugar (also called Confectioners Sugar)
     – 1.5 Tablespoons of Milk
     – Pinch of Salt
     – Garnishments, ie chocolate chips or caramel sauce (I used cinnamon)

*Frosting recipe above is – World's Best Cream Cheese Frosting Recipe from Laura of the Pink Cake Plate, but for a smaller batch. 
If you are making a cake instead of cupcakes, you will want to double the above ingredients (or perhaps make only 3/4 of her recipe , depending on your cake size. In addition to these cupcakes, I also made a 9″ square cake, and half of the recipe (as covered in above ingredients) covered just enough but 3/4 would have been perfect.)

Recipe: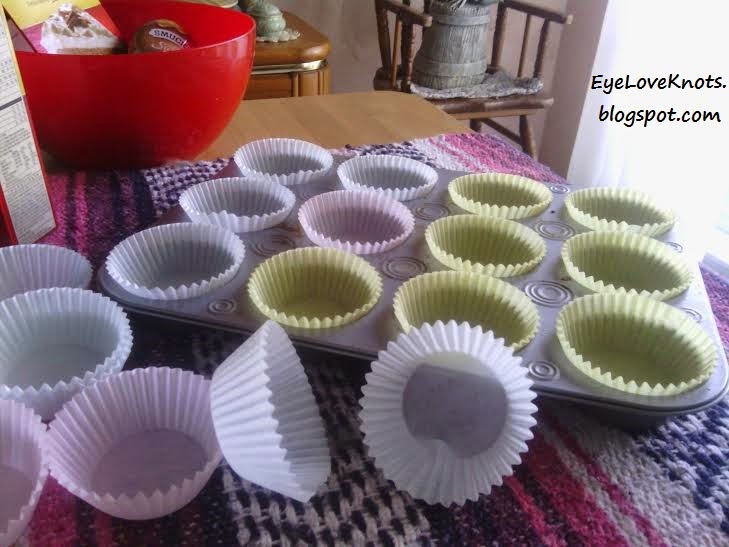 Step 1: PreHeat Oven to 350F. Place liners into muffin pan, and set aside.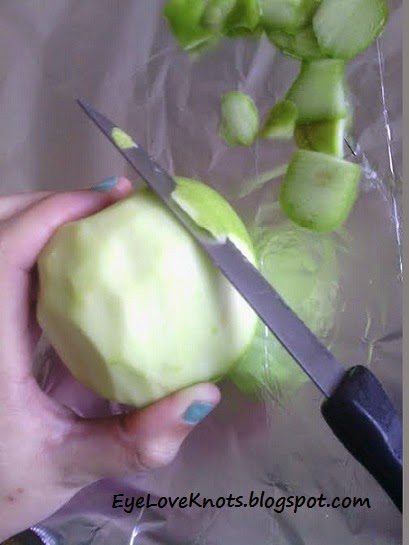 Step 2A: Peel Apples. Be careful!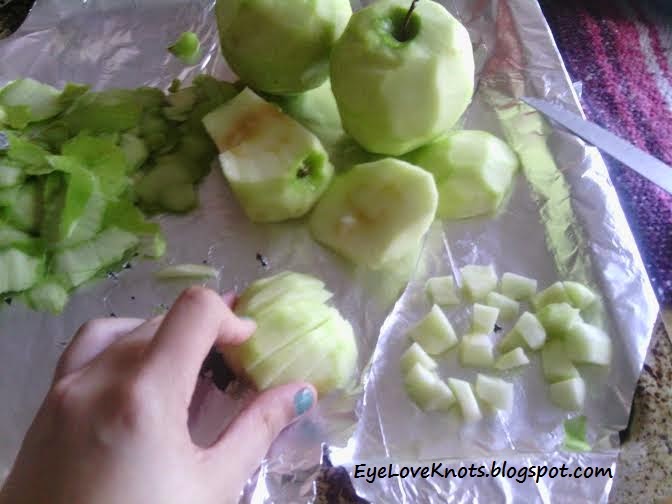 Step 2B: Chop into nickel sized pieces. Be careful, times two!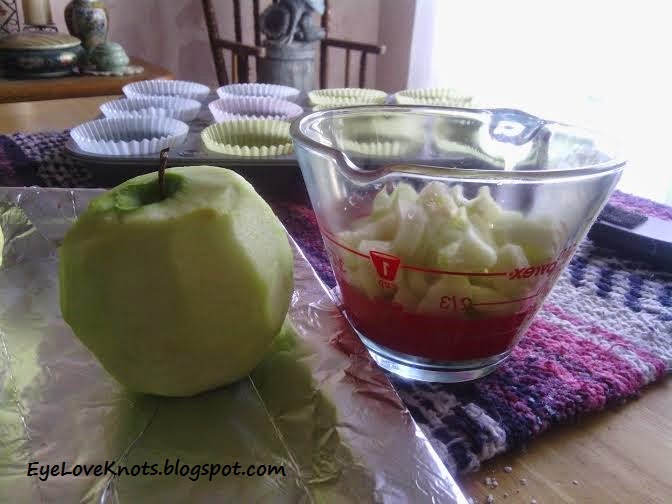 1 Granny Smith Apple = 2 Cups of Chopped Apples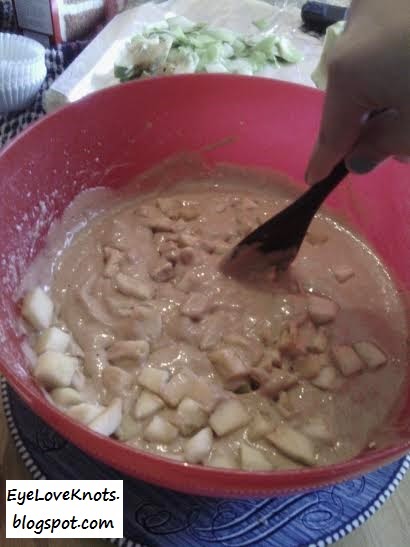 Step 3: Prepare cake batter according to package instructions. Stir in chopped apples.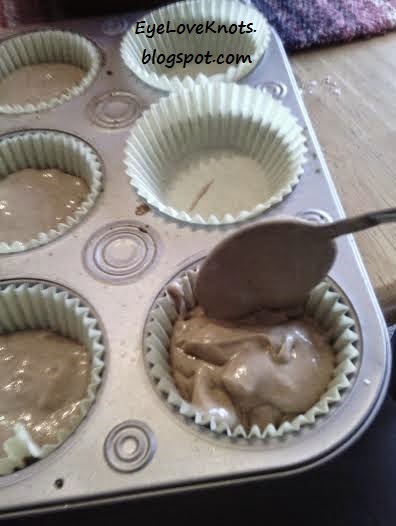 Step 4: Fill cupcake liners 3/4 full.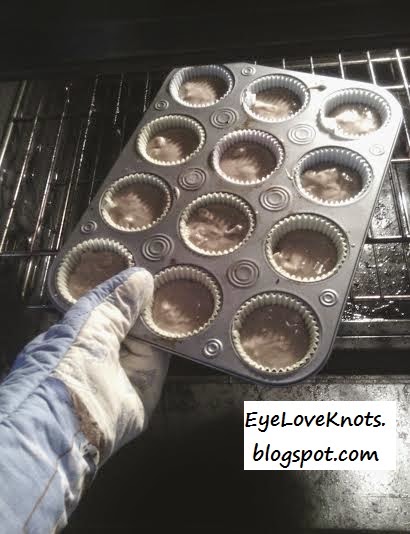 Step 5: Bake for 15-17 minutes. 
Check with toothpick to make sure the inside has thoroughly baked.
*If making cake instead, Bake for about 45 minutes.

Allow to cool completely before frosting. I waited about two hours.

I used the World's Best Cream Cheese Frosting Recipe from Laura of the Pink Cake Plate. It was made for the Pumpkin Pie Cake, so the yield was higher than I needed. I cut the recipe in half and it came out perfect! (If you are making a cake, you may want to make 3/4 of her recipe, rather than 1/2.)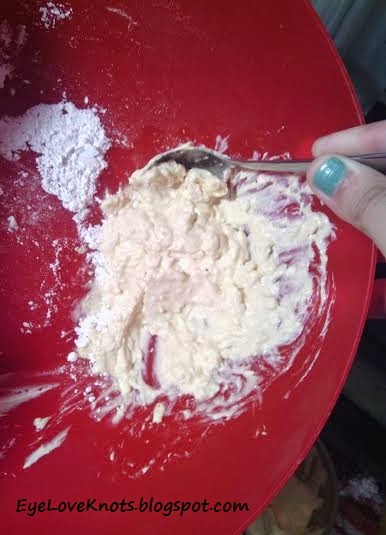 I decided not to use my hand mixer for the frosting. I just used a teaspoon and worked on mashing up the ingredients together. While it didn't come out quite as smooth and fluffy as it should have AT FIRST, I think it was the best thing. I do not like working with cream cheese and a hand mixer – I find it frustrating. After adding in some milk, it will smooth out.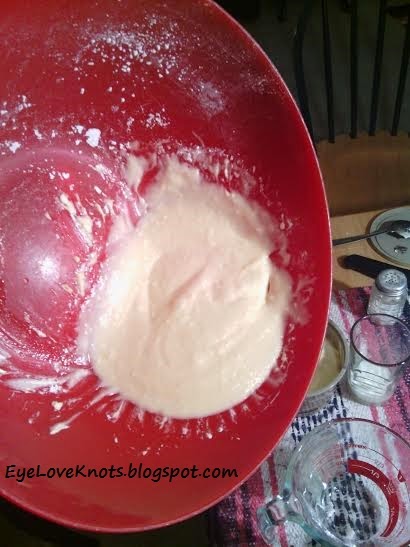 This was after adding in my first cup of the powdered sugar (of 3 – I was making enough for the cupcakes and a cake) and a touch of milk.
Slowly, your frosting will grow with the addition of the powdered sugar and milk. I do recommend adding at least the first full cup of powdered sugar before adding in the milk as the milk will make it very liquid-y if there isn't enough powdered sugar in it to thicken it up.

I also recommend adding in your powdered sugar in parts – I added about 1/3 a cup at a time so I could easily mix it all together.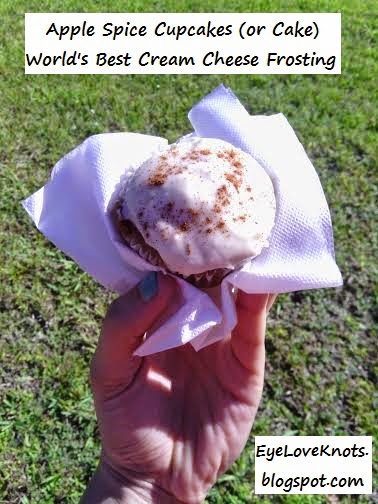 I frosted the cupcakes so late at night, I decided to
get my frosted cupcake shots next day.
This is the one cupcake I took to work with me, by the
time I got home for Thanksgiving dinner, all were unavailable for photos.
I put about 1/2 – 3/4 a teaspoon of the frosting per cupcake, and embellished with some ground cinnamon. 
You could also garnish with chocolate chips, caramel sauce, or some chopped apples.


Linked Up To…
Share Your Creativity Link Party No. 140 [Better Together] – It's Overflowing
Lou Lou Girls Fabulous Party #35 – Lou Lou Girls
Hit Me With Your Best Shop #47 – One Krieger Chick
Share Your Inspiring Creations FDTR #147 – The DIY Dreamer
Awesome Things Tuesday – Krafting Kreations / Sowdering About
Time to Sparkle #89 – Inside BruCrew Life
Take a Look Tuesday – Sugar Bee Crafts
Tutorials & Tips Link Party {187} – Home Stories A to Z
Your Whims Wednesday #191 – My Girlish Whims
245th Inspire Me Tuesday – A Stroll Thru Life
Just Only Home Link Party #2 – Just Only Home
The Creative Exchange Link Party #30 – The Happy Scraps
The Sunday Showcase Party No. 269 – By Stephanie Lynn
Make it Monday – Etcetorize
December 2014 Sharing Time – Week 1 – Raising Memories
Friday Finds Link Party 12.6.14 – Craftaholics Anonymous
Best DIY Projects and Recipe Party – the 36th Avenue
Craft Schooling Sunday – Creative Jewish Mom
Inspiration Link Party #74 – Scattered Thoughts of a Crafty Mom
The Party Bunch Link Party – The Idea Room
The Creative Exchange Link Party #31 – The Happy Scraps