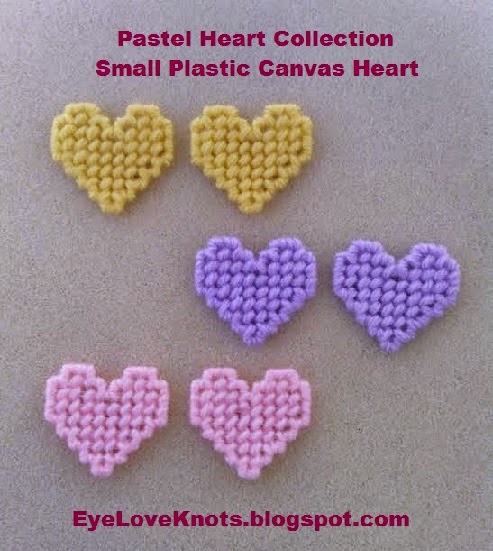 A couple years ago, I put together the Conversation Hearts Headband you see below. It's been very popular on Etsy and Pinterest, so I was thinking about sharing the tutorial as part of my 14 Days of Valentine Inspired Crafts Self Challenge, but I didn't get around it to.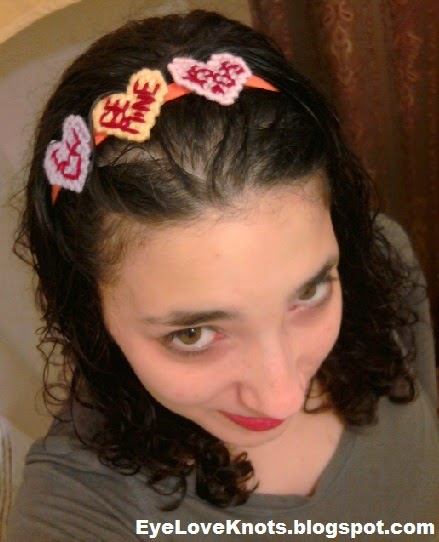 Because hearts are great all year, and not only for Valentine's Day, I still want to share the heart pattern with you.
You can use these small hearts in so many projects! Attach to some chain to make into a keychain, use are part of jewelry, use as a scrapbook embellishment.
I have two earring tutorials ready to share with you over the next few days, but I have lots of other ideas for these cute little plastic canvas hearts. Other tutorials in the works.

Materials:
– Small Amount of 7 Mesh Plastic Canvas – I used Clear and Christmas Red
– 1 Yard of Worsted Weight Yarn Per Heart – I used Red Heart Super Saver in Cherry Red and Baby Pink, and Caron One Pound in a Lavender-like color and pastel yellow color but I am unsure of the color names. These have all been in my stash for years.
– #18 or #20 Embroidery Needle

Material Notes:
I have been working plastic canvas projects for almost 10 years now, and of all the yarns that I have worked with, my favorite for plastic canvas projects are Red Heart Super Saver, Caron One Pound and Bernat Super Value. They aren't as soft so they tend to stay a little fluffier within the canvas, plus they are a little more durable and come in a large color variety of economically priced and packaged skeins.

Time Spent:
Each stitched heart will take about fifteen minutes to complete.

Measurements:
1.25″ Tall by 1.5″ Wide
Pattern: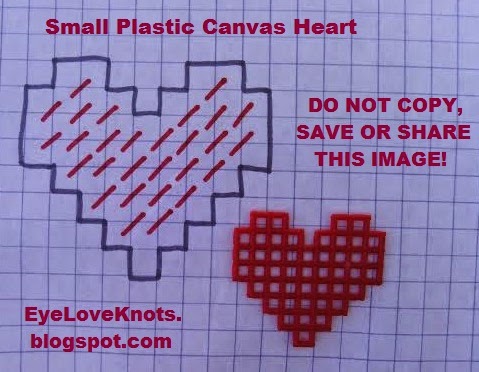 Work the red slashes as a continental stitch,
and then whipstitch around edges after.
Since I do tend to work stitching a little different than the "correct" way,
I have included photos below to show how I find it best/easiest to work.
Cutting: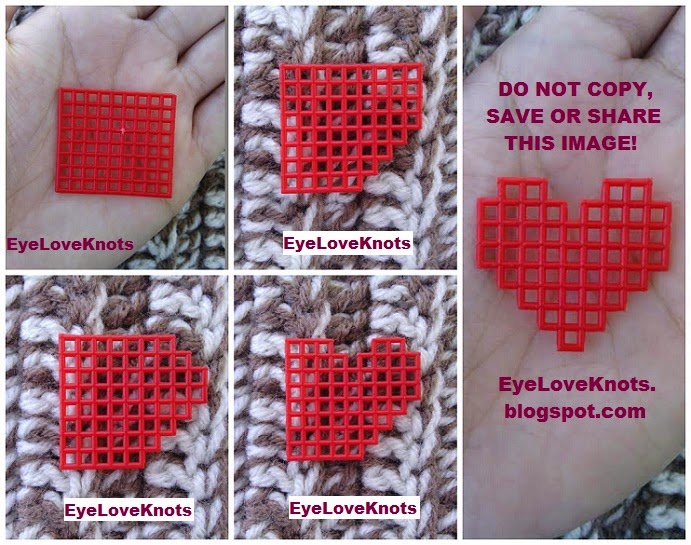 Continental Stitch: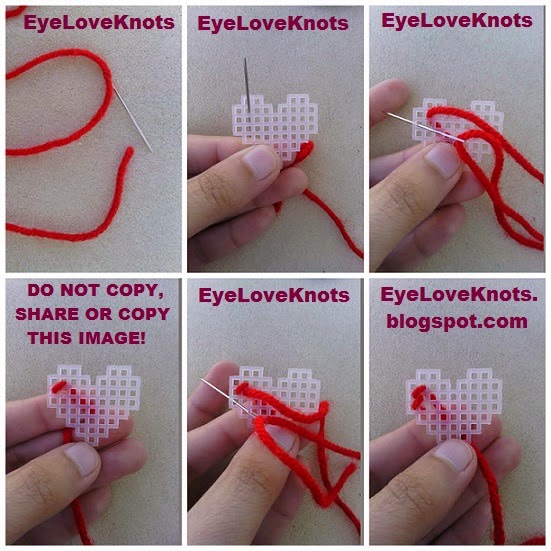 Cut a strand of yarn and thread your needle.
This heart takes about 30″ worth of yarn, just under a yard.
I like to work from top to bottom, and then top to bottom of the following row…
If you are still new to plastic canvas, you will start by bring your needle up from behind, and then down diagonally.
This can be seen in the second, third and fourth images.
Make sure you keep at least a 0.5″-0.75″ tail
when you make your initial insertion.
Through the rest of the rows, you will be working around this tail to secure.
You can see in the fourth image that my index finger is holding the yarn tail.
Also make sure you are following the
pattern image of where to start your first stitch!
I have intentionally left the top corner piece unworked, so work over at the end.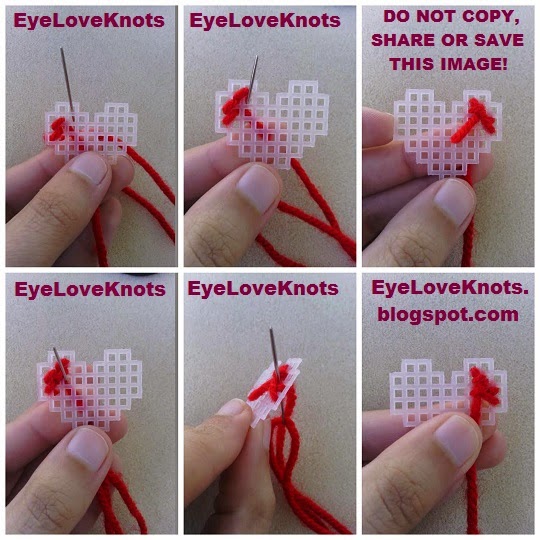 At the end of the first row, I like to start again at the top (of the next row).
You will continue in the manner of inserting your needle at the top right,
and bring it down diagonally on the left.
Make sure you are working around your tail piece to secure.
You can see the tail piece more in these images.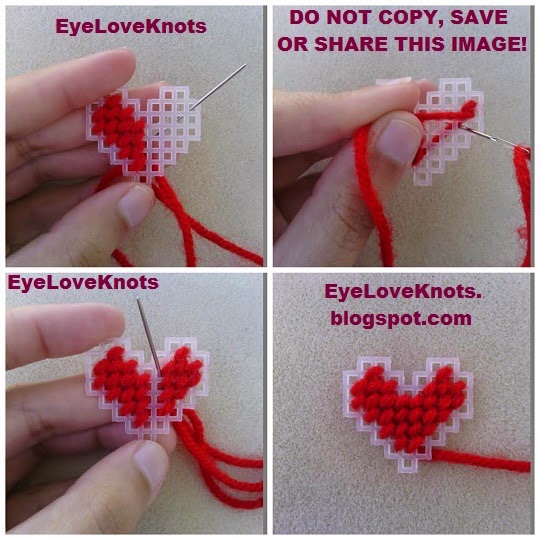 After working down through the center of the heart,
I like to start from the top down on the opposite side –
because of the upward diagonal "stair case" in the canvas.
In the second image, you will see how I like to keep the tension on my yarn.
Whipstitch: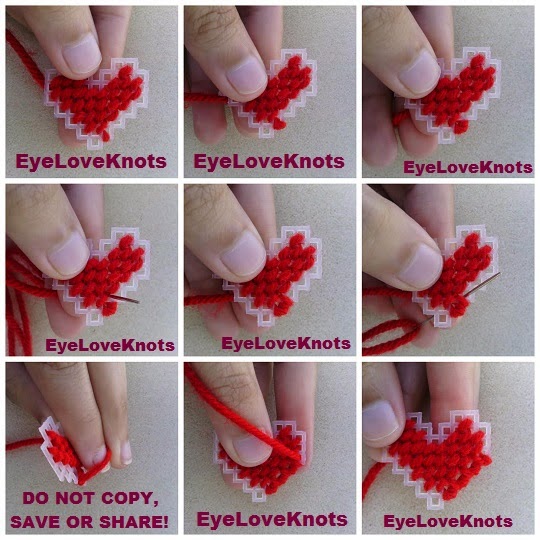 I like to work my whipstitch counter clockwise.
I find it easiest to hold the project and tension
in my right hand going in this direction.
I place 2-3 stitches per hole. You will see in the second, third and fourth
images I use 3 stitches per corner –
with the second of this three to cover the point.
In the sixth image, you'll see how I like to keep the tension.
The last image stops before I worked up the side of the heart –
in the sides I place 2 stitches per hole.
I like my plastic canvas projects to have a nice full look.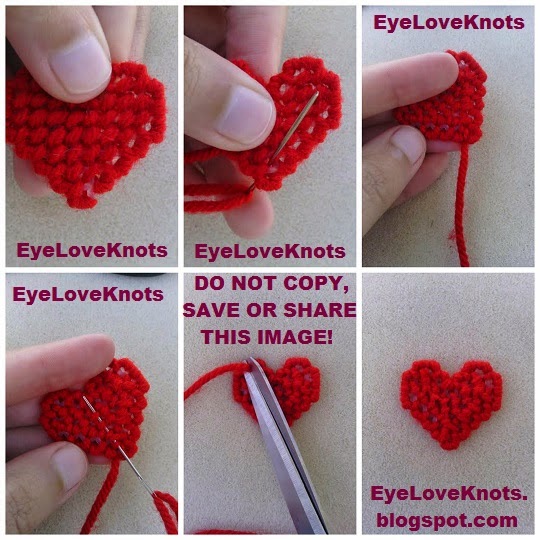 When you are back around to where you started,
work the stitch as usual, but on the backside of the
piece you will take your needle under a few stitches, and then trim.
I like to be extra sure with my weaves so I go back and forth once –
you don't have to.
The last image shows the back of the piece – nice and clean.
If you don't like this showing, you can cut a piece of felt and hot glue to the back to cover it up.
Enjoy your adorable little hearts!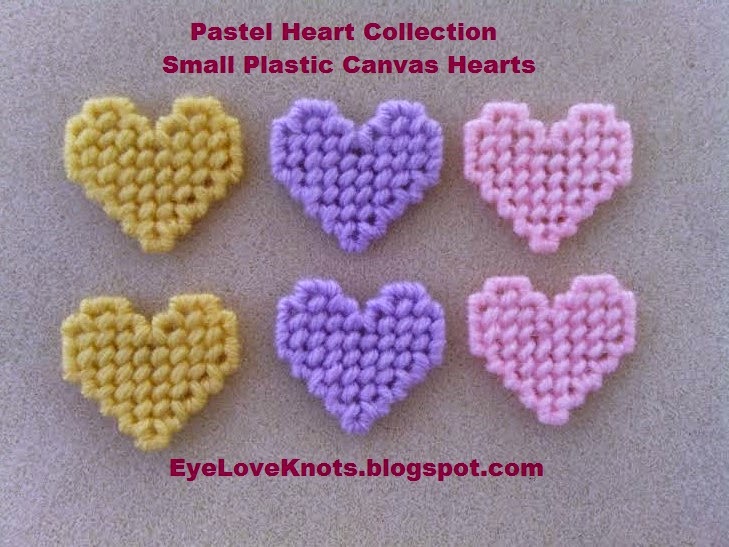 These are the colors I picked in my Conversation Hearts Headband.
I've had the yarn in the stash for so long that I don't remember the color names.
I know that the Yellow and Lavender colors are by Caron

One Pound

–
but I didn't see them in their online store.
The pink ones I know for sure are Red Heart

Super Saver

, Baby Pink.
Please feel free to make and sell your own Small Plastic Canvas Hearts using this pattern, but please DO NOT claim this pattern as your own nor should you sell my pattern, and DO NOT re-publish my photos as your own. DO NOT copy and paste my pattern anywhere, link to it instead.
With so many color options, I would love to see them! Please share your photos on my EyeLoveKnots Facebook page!


Don't forget to tune back in tomorrow when I share an Earring Tutorial using the basic heart cut out! Subscribe using the bottom found on the right side of the screen, or follow me on Bloglovin so you don't miss out!


Linked Up To…
Link Your Stuff Party – Lunamon Design
My Favorite Things #70, 4/8 – Budget Girl
Snickerdoodle Sunday #76 – 2 Crochet Hooks, Sadie Seasongoods
Share it One More Time #6 – Vintage, Paint and More…
Creativity Unleashed Link Party No. 64 – Practically Funcational
Friday Finds Link Party 04.10.15 – Craftaholics Anonymous
Craft Schooling Sunday – Creative Jewish Mom
The Creative Exchange Link Party #49 – The Happy Scraps / Summer Scraps
Make it for Mom, I'm Lovin' It – Tidy Mom
Pin Junkie Pin Party #114 – Pin Junkie
Totally Terrific Tuesday #30 Link Party – Live Randomly Simple
Inspiration Monday – Scattered Thoughts of a Crafty Mom
Create Link Inspire Linky Party #74 – The Crafty Blog Stalker
Lou Lou Girls Fabulous Party #56 – Lou Lou Girls
9 Fun Spring Projects for the Whole Family + Monday Funday – Club Chica Circle
Motivational Monday 34 – Dwelling in Happiness
Inspire Me Monday Week 173 – Create with Joy
Best of the Weekend – Hello Little Home, Little Miss Celebration
Kitchen Fun and Crafty Friday Link Party #163 – Kitchen Fun with my Three Sons
Funtastic Friday #22 – Olives n Okra
Crafting Along #88 – Be a Crafter
Your Whims Wednesday #209 – My Girlish Whims
Worthwhile Wednesdays #66 – Crafty Allie
Stitch it Up Link Party #10 – The Purple Poncho
Merry Monday Link Party #52 – Ash and Crafts
Nifty Thrifty Sunday #199 – Nifty Thrifty Things
The Creative Collection Link Party – The Cards We Drew, Blooming Homestead
My Name in Lights, Share Your Creativity Link Party No. 160 – It's Overflowing
Tutorials & Tips Link Party {207} – Home Stories A to Z
Sunday Showcase Linkup 5/3 – My Crafty Spot
May 2015 Sharing Time Week 1 – Raising Memories
Bowdabra Saturday Crafty Showcase {May 02} – Bowdabra Blog