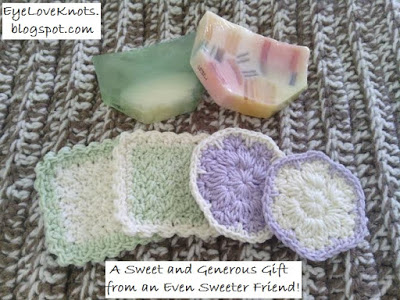 A few weeks ago, I shared a free crochet pattern for some Robin's Egg Slanted Shell Facial Scrubbies. I was excited to get it up as I was just in love with the pattern and color choice, but what really made posting this pattern the most rewarding was when Milena of Milena Places shared her Scrubbies and Soaps post with us at our Yarn Fanatic Party #35. It was the first time (that I know of) that someone actually used one of my patterns to make something and boy did I get super excited! I did touch on it when I featured this post as one of my EyeLoveKnots Yarn Favorites on the Yarn Fanatic Party #36. I think what I love even more than just seeing her use my pattern, was the addition of the loopy edge. It took a feminine stitched facial scrubbie and took it to the next level. Such a great idea!

I enjoyed reading her post and seeing the refreshing looking soaps and just imagining the amazing aromas and feel of them.

Milena and I conversed a few times back and forth as I wanted to know more about her soap making and such. I had been wanting to try some handmade soaps and wanted to know more about it. I have sensitive skin and it is hard to find a good soap to use. Typically, I just go with oatmeal.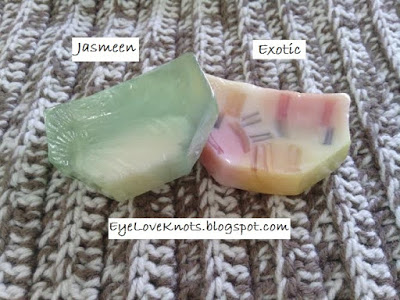 She went one step further and offered to send me some soap! I patiently waited to receive them from across the world, and was so delighted when I did! I knew immediately what was in the package, and opened it before anything else.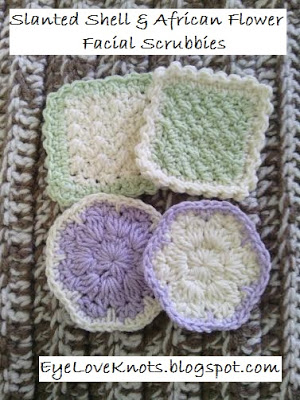 I was so surprised to have not only received two soaps, but also the facial scrubbies she blogged about! They are made of such soft cotton, and being packaged with the soaps, have taken on the delightful aromas.

I have not yet had the opportunity to try out the soap as I am trying to finish the soap that I had been using prior to receiving these soaps but I am so excited to try them! I will be sure to report back 🙂

Make sure to check out Milena's blog, Milena Places! There is plenty there to inspire you, especially all of the items that she makes on a weekly basis for donation to charity – like this Cherry Blossom Backpack, Colorful Tunisian Throw, Tunisian Throw with Daisies, and this beautiful Candy Mayflower Baby Blanket.

I just wanted to share this sweet and generous gift I received. Have any of you received such a gift? Or sent such a gift and received lots of gratitude in return?

Do any of you use handmade soaps? Which is your favorite combination of ingredients?