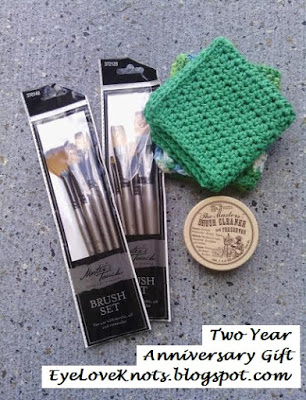 My boyfriend, Chad, and I just celebrated our two year anniversary together – dating, not married. My go-to gifts for him are usually a gift basket full of goodies (ie body wash, shampoo, toothpaste, hair ties, peanut butter snacks and candies, gatorade, etc) or some new painting canvas. I wanted to do something a little different so I went to my cousin, Tiffany, and friend, Ashley, for suggestions.

My cousin, Tiffany, threw out the idea of going with marriage gift categories. For a two year wedding anniversary the Traditional gift is Cotton, and the Modern gift is China so I got to brainstorming (the day before our anniversary!).

My initial idea was to buy a styrofoam ball, some paint brushes and a [china] mug and make a little mug-bush-like gift with $2 bills as the leaves, but since I was already at Hobby Lobby, I decided against the extra stop to pick up a mug. Plus, I wanted to incorporate something crocheted with cotton yarn.

I then got to thinking that Chad could use a place to put his paint tubes – since they are currently ALL over the table, floor, kitchen counter… I figured I'd make a basket out of some cotton yarn so before I made my way over to the yarn aisle, I decided on two variety packs and some brush cleaner – something different than the big jug of liquid cleaner.

I was a little disappointed in the yarn aisle as I couldn't find the heavier worsted weight cotton in my color choice and quantity that fit a good price. The options there were too little yardage for too much for my need, so I made an extra trip over to JoAnn's and I am so glad I did!

JoAnn's always has some neat seasonal-like options in the large skeins of Handicrafter Yarn. Last summer I picked up some Bernat Handicrafter Nautical Yarn which I loved, and this trip I picked up some Bernat Handicrafter Geometric Yarn which came in the perfect shade of green! (Chad's favorite color).

Unfortunately, the basket idea didn't quite work out like I was hoping so I decided on some washcloths that he could use to dry off his brushes, wipe off the excess paint or just lay his brushes out on.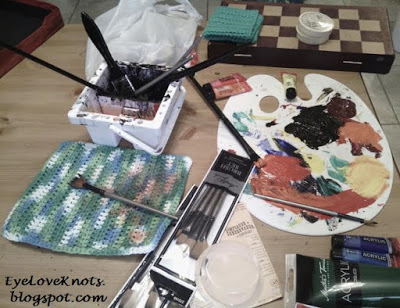 All in all, my thought was the washcloths were made of cotton, and the paint brushes were made in China. Hehe! He loved the gift! And started using everything right away.
What have you given or been given in celebration of your two year anniversary?