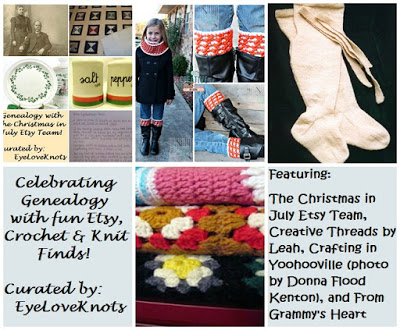 I absolutely love the idea of Genealogy! Researching and celebrating where you've come from and the family members/ancestors who helped you get there is so fun and exciting! I invited members of the Christmas in July Etsy Team AND my fellow blogging friends to share an item from their shop and/or craft project that represented family, and a story about their item or what Roots meant to them.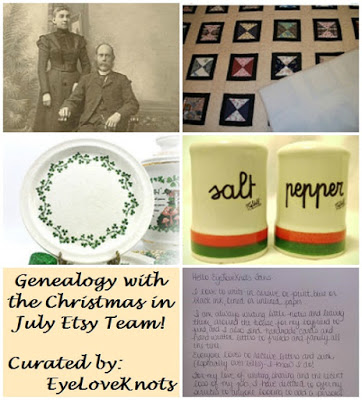 I am including my item below though!

I'm sharing Custom Made Handwritten Letter from my EyeLoveKnots Shop.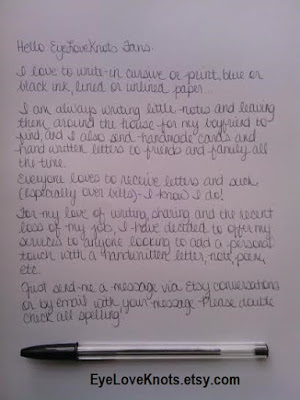 I love to write old fashion letters and send them off to my family and friends! It is and has always been a great way of sharing a little bit of myself with those that I don't regularly keep up with in email/by phone or on Facebook. You can also send fun little trinkets or photos along with it. This is much like they used to do generations back as they didn't have internet, computers and cell phones. While men were off at war, I can picture my aunts, great-aunts, grandmother and great-mothers jumping for joy with a letter received from their loves.
And from my blogging friends…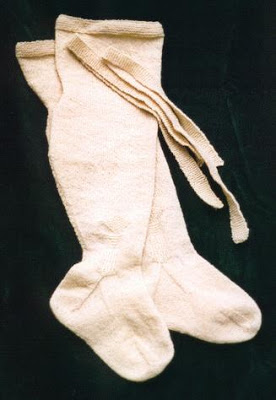 Concetta of Crafting in Yoohooville shared this post on

Handknit Hose and Daniel Walker (1172-1851)

, photo credit to

Donna Flood Kenton out of the Archives

. The idea of searching for your ancestors is very interesting to me, though I haven't attempted finding any of mine YET. In this post, it sounds like Concetta has given a lot of thought to one man that puzzles her, Daniel Walker. In the search of documentation with more information on Daniel Walker and family ties, she discovered these Handknit Hose designed by Donna Flood Kenton as these are the same type of stockings her late ancestor would have worn back in his time over in England. What a neat way of bringing back a little history, plus they look really warm!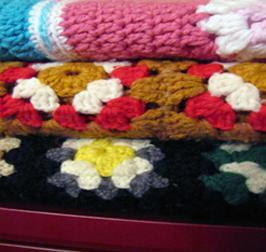 Deborah from From Grammy's Heart shared this post on

The History of Granny Squares

, and her personal collection of 3 Generations of Granny Square Afghans! In most of my older relatives homes, I have spotted retro looking granny square afghans in such beautiful colors. Deborah, like I, believes they should be out and appreciated! Honestly, I did not begin to appreciate them until about three years ago when I began crocheting. Up until then, I really did not know much about them. Deborah has done quite some digging on the History of Granny Squares and has some great resources shared in this post including a five part series from Robin of Crochet Nirvana.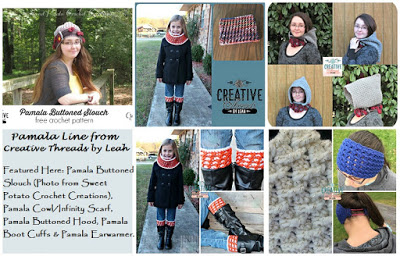 Lots of things can represent family and for many different reasons. I'd love to hear your stories and see your crafted items!