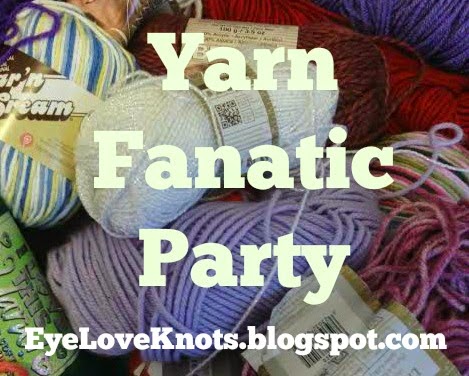 Welcome to the 54th Yarn Fanatic Link Party, and my 37th as co-host, alongside Rachel from The Philosopher's Wife.

For all of my fellow Etsian's or ANYONE with items that fit into these categories!!
For my Fellow Etsians: You can join the Christmas in July Etsy Team and share your items from your shop in the threads for a chance to be featured on the Team blog! And here on EyeLoveKnots!
For my Fellow Crafters: Email me or Facebook message me with the photo of the item, link and a little story.

I am currently looking for:
Craft Booth Advice, Tips & Suggestions.
Next month I will start my journey into the beginnings of a storefront business with opening a booth at my local flea market on the weekends. I know I am not alone when I say, "HELP!" Hehe.
For those of you who have had booths, what items have you found to be easy to make and good sellers? What suggestions do you have on merchandising/displaying the goods? What about packaging and custom order requests?
For those of you who have NOT had booths, your input is still appreciated! What kinds of items are you having success with in your shop currently?

Before I share what I have been working on, I would like to share my excitement with you on my first exclusive design being published in the Happily Hooked Magazine!!!!!!!!!!! You can catch a peak down below in the Giveaway section, and make sure to enter for a chance to win the issue (and others)!

Since our last party I have shared the following projects. They are shown in the order of appearance, newest being last: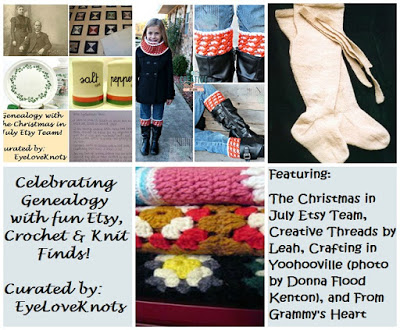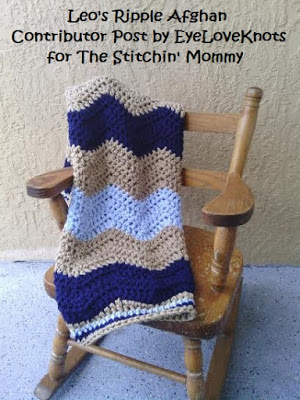 And I have a fun, warm weather inspired pattern to share with you this week! It's scheduled for Saturday at 9:00am EST – don't miss it!
Most Clicked (from the YFP#53):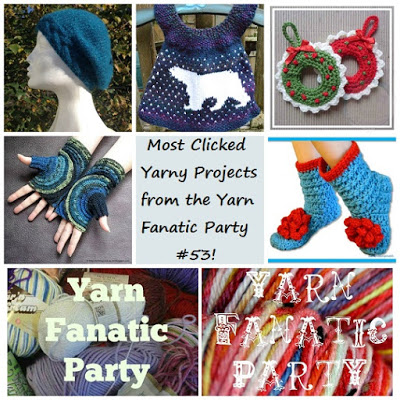 From Left to Right, Top to Bottom:
Rowan Hat from Lunamon Design – Knitting Inspiration from Personal Pattern. I really love the teal color paired with the fun cable across the brim of this hat. It's so neat to me how changing one simple thing as making a more elaborate brim on a basic beanie completely changes the piece.
Love it! May just have to order myself one.

Northern Lights Dress and Intarsia Knitting from Ginx Craft – Knitting Inspiration. This little dress is so sweet with the polar bear walking through the snow. The dark blue color for the dress itself is a gorgeous tone for this project, and definitely adds to the feeling of being out on a cold winter night. Though there isn't a pattern available for this dress – YET – Ginny shares with us a program she plans on using to share future projects. I am going to have to check it out for graph patterns.
Does anyone else have any programs they use for designing patterns?

Christmas Tree Wreath Ornament from Creative Crochet Toys. Joanita designed this wreath ornament as part of the 31 Days of Handmade Christmas Ornament Blog Hop. There are some really fun ornaments on there! Make sure to scroll down to the bottom of this point for the complete list and link up.
I like that this wreath is made like a donut – hehe. It can easily be stuffed, and decor changed to become a different type of ornament – not just a donut, but a tire and lifesaver also come to mind. What fun Joanita! Thanks for sharing 🙂
Did anyone else make ornaments for your own tree or to gift? I know I personally participated in two ornament exchanges, and gave crocheted ornaments to all of my friends and family this year.
Kreisel Fingerless Gloves from Knitting And So On – Free Crochet Pattern. What a great accessory to add to your cold weather wardrobe and what better pair to start with than "these stylish and unique fingerless gloves"? They start off in the round and spread from there. These look like so much fun to make, and wear. There are lots of photos and details to help you finish your own pair, as well as a bunch of good photo ideas should you be thinking, 'how can I photograph my own pair of gloves'?
They're definitely going on my list to create, how about you? Or are you busy working up a bunch of different gloves? Share your links and photos below!

Quick and Easy Crocheted Slippers from Little Shop of Treasures – Semi-Crochet Review, Link Included. These slippers come from the Starlight Women's Slippers, a Free Crochet Pattern from My Hobby is Crochet. With a little adjusting, Darlene had a fun pair of boot slippers for her granddaughter. I love the combination of the cool, fun turquoise color paired with the bold red embellishments. Love 'em!
Has anyone else tried any projects using the Star Stitch? I attempted it once before and couldn't get my rows to come out straight so I frogged it, and haven't returned yet. Any tips?


Have You Been Featured? Grab Your Button!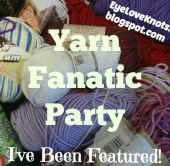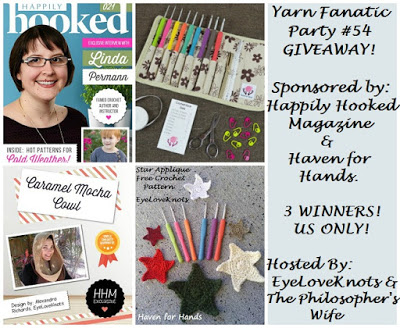 Shown in this image is the current issue of the Happily Hooked Magazine, #21, in which my Caramel Mocha Cowl is featured as an Exclusive Design! As well as the Ergonomic Hooks, kit and goodies you'll be receiving if you are the grand prize winner (top right), and my hooks along with

Review

(bottom right). Stars not included… Unless you want them – you can email me hehe.
This Month's Giveaway is sponsored by Happily Hooked Magazine and Haven for Hands. One lucky grand prize winner will receive a year's subscription from Happily Hooked Magazine and a set of Ergonomic Crochet Hooks from Haven for Hands! Two runner up's will each receive a three month subscription from Happily Hooked Magazine. Such generous donations! Good luck to all!
Must be 18 Years or Older to enter. US only. Void where prohibited. Winner has 48 hours to respond to notification, or another winner will be chosen. Social media not affiliated with this giveaway. Happily Hooked Magazine and Haven for Hands are responsible for prize fulfillment, not EyeLoveKnots nor The Philosopher's Wife.



Are you a pattern designer – Crochet, knit, plastic canvas, embroidery, latch hook, pom pom crafts, and other yarny crafts… Or do you design yarn related graphics, shirts, buttons, printables, tote bags? Maybe you are a yarn dyer? Or perhaps you have a really large yarn stash and you are looking to do a de-stashing of them? We are in need of giveaway sponsors for the Yarn Fanatic Party! If you are interested in teaming up with Rachel of The Philosopher's Wife and I to sponsor a giveaway at one of our parties, PLEASE contact either Rachel or I.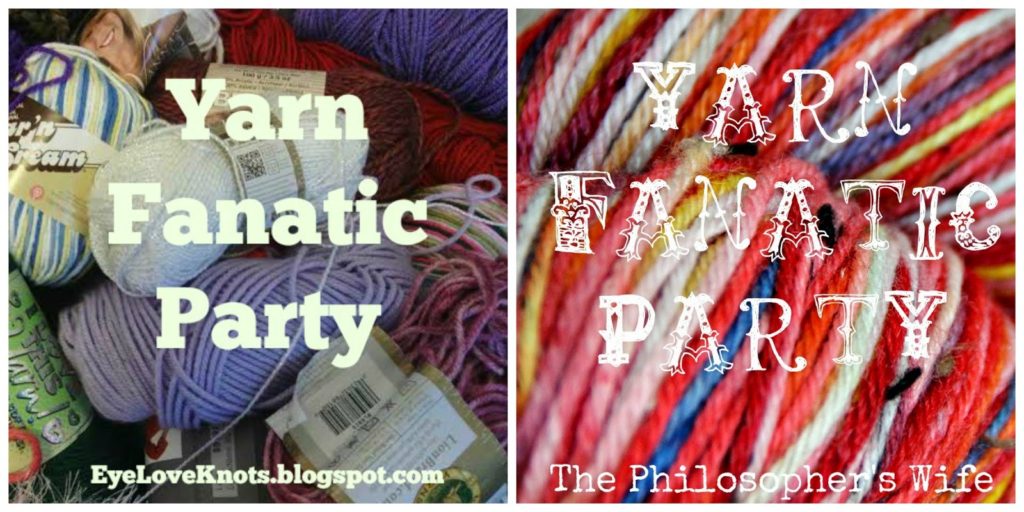 Join the Party!
The Yarn Fanatic Party will begin every Monday afternoon, and run through Sunday night. You have all week and weekend to post your fantastic yarn related projects!
Please share projects that are family friendly, and YARN RELATED; ie Crochet, Knit, with an extension to include Cross Stitch, Needlepoint on Plastic Canvas and Embroidery.
Also make sure you are linking up to your blog post, and just just your blog's home page.
*Become a Follower of the blog where you linked up. Following both is also greatly appreciated!
Alexandra of EyeLoveKnots
Rachel of The Philosopher's Wife
*Check out the other Great Projects that have been linked up!
*Spread the comment love!
Features will be chosen weekly. By linking up, you give us permission to feature your item.
*If you don't have a blog, you can still share with us by creating a Free

Flickr

Account – powered by Yahoo.
Add your projects there, and then come back here with the link for the project.
*Link ups cannot be to Etsy listings or Ravelry pages where patterns are sold. You can link to blog posts, Flickr or Facebook pages, Pins, etc that are directed towards it, but can't directly link to it.
To be clearer though, Raverly pages of finished projects are okay to share. Sorry for the inconvenience! That's per InLinkz guidelines. Thanks!