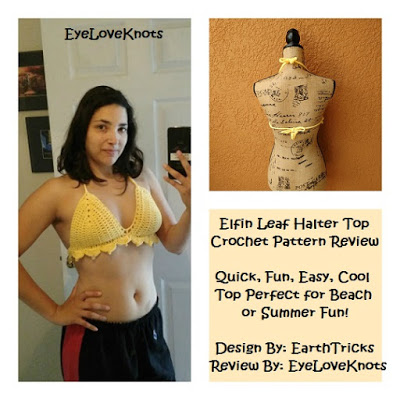 I have been wanting to try some festival style tops so I went a searching on Etsy and decided to try this Elfin Leaf Halter Top from EarthTricks.

There are so many other fun designs from this shop, I definitely plan on stopping by for more patterns!

Materials I Used:
     – Almost a full 4 oz/200 yard skein of Lily Sugar n Cream in Yellow
     – 4.5mm Crochet Hook (larger than recommended in pattern)
     – #18 Tapestry Needle
     – Elfin Leaf Halter Top, Paid Crochet Pattern from EarthTricks

Material Notes:
     Yarn Alternatives: Bernat's Handicrafter, Lion Brand's Kitchen Cotton, Peaches n Cream, Hobby Lobby's Crafters Secret Cotton

Time Spent:
     I had my top ready in just under two hours.

Measurements:
     One Size through C Cup. It fit me perfectly at a 35″ bust, but if I were making for an A cup, I would drop down a hook size, because it didn't fit my mannequin too well. Hehe.
Finished Cup measured 7″ Wide by 6.5″ in Length.

My Gauge: 
     8 DC by 3 Rows = 2 1/8″ x 1.75″ 
*My gauge did not quite meet the gauge from the pattern, but top came out to fit fine.

Pattern Notes:
     Overall, I had a lot of fun working up this top and even learned a new technique. Pattern had a few errors and was a little fuzzy in following, but I had no issues working through it. This top was exactly what I was looking for, and I plan on working up a bunch more.


You could use the basic top and embellish in a variety of ways including adding a fringe along the bottom, working a different openwork pattern, or a color change to name a few. Though I don't think it needs it, you could also add a lining, or elastic.

I DO NOT recommend this top for use in the water – the cotton will absorb the water, the top will become heavy and lose it's shape.

The great thing about using Lily Sugar n Cream yarn for this top is the fact that it machine washes and dries well, it'll keep you cool in the hot weather, and it's very durable to withstand machine washes and wear-after-wear. I have a few projects made from it that I have machine washed and dried. I just threw them in with my regular clothes and they have come out just fine. I would suggest if machine washing this top to throw in a lingerie bag. 

I plan on working up some others colors to add to my etsy shop – link below. These will definitely be great for upcoming music festivals or just hanging out in the hot summer weather.


I found a few things in the pattern that I'd like to point out:


*I found a stitch count error that though brought to the designers attention, I want to bring to yours because I ended up having to take out my work and redo: After the first cup, chain 6, and after the second cup, chain 7 – then you will end up with the correct number of 61 stitches.


*After the last cup, I found myself working along the wrong side of the cup so I took out my stitches, fastened off my yarn and reattached it to the other side so I'd be working across the right side.


*Turning is throughout the whole piece, though not stated. Work it regularly.


*I have never worked the crocodile stitch before, so this was new to me. I felt uncomfortable working the slip stitch into the base of the double crochet because it sounded odd to me – and even almost caused me to put the piece down and work on something else. It's supposed to feel odd though. You are working the row of scales over top of the openwork you created with the upside-down v-stitches. Work your stitches loosely so the work underneath doesn't bunch up.
*Prior to working the finishing row, I started with the neck tie of the right cup as outlined below, once I worked the final slip stitch, I worked the finishing row, and once to the chain 2 space of the other cup, I worked my final neck tie in the same manner as the first. This saved in a little time from now having to fasten off and weave in so many ends.
*I worked my neck/back ties as chain 58 (55 measured 15″). DC into the 4th chain. Work 5 SC into the space created between the chain and the double crochet, and join to the first SC to create a little decorative bobble. Then I slip stitched down working into the back loop of each chain. to create a nice, clean edge and sturdy tie. For a C cup, I might suggest working a larger chain because the chain 58 made me consider adding more to mine.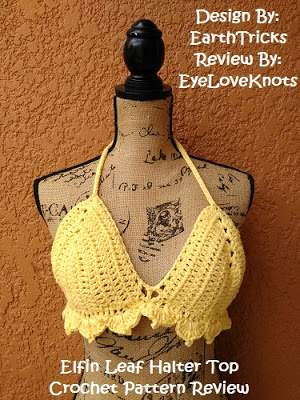 With so many size, yarn type and color options, I would love to see them! Please share your photos on my EyeLoveKnots Facebook page, or our latest Yarn Fanatic Party Link Up!

Don't miss out on new crochet patterns, reviews, jewelry tutorials and more! Subscribe to EyeLoveKnots by using the box on the right side toolbar, or follow me via Bloglovin!



You May Also Like…